Create a portable bike rack to help keep your campsite organized.

We love to take our bicycles with us when we camp. We ride them to the shower house and longer distances around the area. My bike does not have a kick stand and our daughter's bicycle seems to fall over all the time. We created this simple bike rack using scrap wood we had on hand. This wooden rack can be moved around to park bicycles wherever we want them. Great to keep in the trailer for camping trips.
DIY Portable Bike Rack
Supplies
one 2×6 board
one 1×6 board
2″ Wood Screws
Saw
Drill
Directions
Cut the 2×6 into 18″ lengths. We were parking three bicycles, so we cut 4 pieces. You will need to cut one more piece than you have bikes.
Cut the 1×6 into two 24″ lengths. This will need to be longer if you are going to be parking more than 3 bicycles.

Figure out the order you are going to park your bikes in and mark the placement. My bike has much fatter tires, so the slot to park it needs to be wider.

Screw the 2x6s into the bottom of the 1×6 using the wood screws. Use one screw at each point where the wood meets.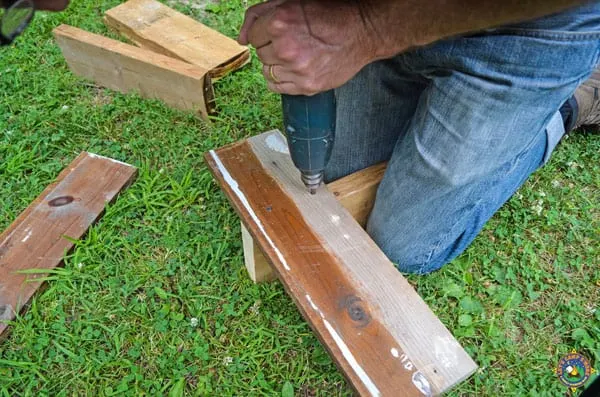 For a little more stability, I suggest that you make your base pieces wider than we did. Ours measure 20″ but that gave us about an inch on each side. We added 4″ to the directions above to reflect a wider base.
We are pleased with how this project turned out.
This had been great for keeping our campsite tidy. No more tripping over bikes! Not only does it serve a purpose, but it was also made with wood scraps we had on hand. Simple and frugal! Where do you keep bicycles when you camp?