Are you in need of camping recipe ideas for your upcoming weekend trip? Look no further! We have compiled a list of the 51 best Blackstone recipes online. These delicious and simple meals are perfect for your camping menu.
This week we finally ordered ourselves a Blackstone Griddle. Until now, we cooked with our camping buddies and used theirs but decided to strike out independently. We knew it was time to get it before heading to Canada, where fire bans are in place. See our list of Recommended Camping Gear for Fire Restrictions.

What does a flat-top griddle owner need? A compilation of delicious recipes to make. Here is a recipe collection of favorite things to make at home or campground.
Easy Blackstone Recipes
These griddle recipes are in categories as follows:
These fantastic options are sure to satisfy the appetites of many happy campers!
Savory Camping Breakfast Recipes
Studies show that breakfast is the most important meal of the day. Begin your day on the right note with one of these filling breakfast griddle recipes.
Hash Brown Omelet
Indulge in the perfect breakfast with Hash Brown Omelets on the Blackstone. This mouth-watering dish combines hash browns, eggs, ham, and cheese for a fantastic flavor experience.
Griddle Hash Browns
Elevate Griddle Hash Browns by putting eggs on top.
Breakfast on the Griddle
If you want more variety, try this Hearty Griddle Breakfast that combines eggs, potatoes, two types of meat, and cheese.
Easy Breakfast Hash
This simple Blackstone Breakfast Hash is satisfying enough to enjoy as a dinner meal.
Breakfast Burgers
If you're craving a filling breakfast, try these Breakfast Burgers. They are loaded with goodness and guaranteed to satisfy any hearty appetite.
Breakfast Croissant Sandwiches
Learn how to create delicious Breakfast Croissant Sandwiches on the Blackstone griddle with this fun recipe.
Bacon & Egg Grilled Cheese
Indulge in a breakfast twist on a popular lunch dish by trying these Bacon & Egg Grilled Cheese Sandwiches.
Copycat McGriddles
Is it sweet or savory? These Blackstone McGriddle Sandwiches are both!
Blackstone Breakfast Quesadillas
You can easily make Griddle Breakfast Quesadillas, which are a fun and unique breakfast option. Everyone can customize their own quesadilla to their liking.
Sweet Breakfast Recipes
Look at these delicious breakfast Blackstone recipes cooked on a flat-top grill if you crave something sweet.
Smashed Cinnamon Rolls
See how fun and easy it is to make Cinnamon Rolls on your griddle top.
Apple Spice Donuts
Yes, you can fry donuts on top of a flat top. Check out these Apple Pie Spice Doughnuts.
Blackstone Texas French Toast
Texas toast makes nice thick French Toast. Top with your favorite fruit and lots of maple syrup.
Banana Pancakes
Do you prefer fluffy pancakes? They are a cinch with this Banana Pancake recipe.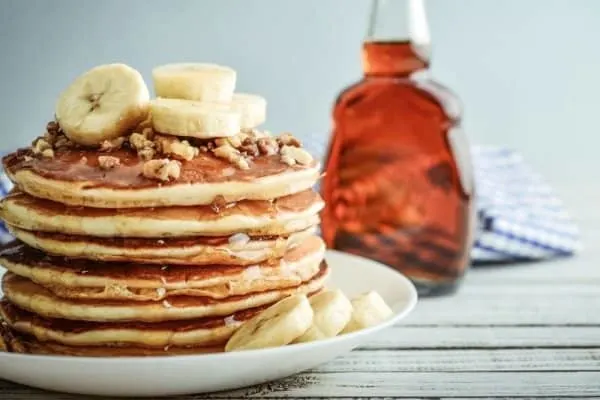 Lunch & Sides for the Griddle
Make the most of your lunchtime by using your Blackstone Grill to cook up some delicious lunch options and easy side dishes.
Pesto Grilled Cheese
Adding tomato and basil enhances these Pesto Grilled Cheese Sandwiches, creating a delightful flavor combination.
Blackstone Steak Quesadillas
Here's another tasty option – Steak Quesadillas! This recipe is excellent for using up any leftover steak you may have.
Chicken Quesadillas
Preparing a delicious Cheesy Chicken Quesadilla is easy by using pre-cooked chicken breast. You can even make them at home and heat them on a hot griddle.
Pizza Sandwiches
Although these Pizza Sandwiches come with instructions for using a pie iron, you can also cook them on a griddle. Fill them with your favorite toppings.
Monte Cristo Sandwiches
Indulge in the deliciousness of a Monte Cristo Sandwich with this recipe. It is sure to satisfy your hunger.
Leftover Steak Sandwiches
Use leftovers to create these fantastic Steak Sandwiches on your Blackstone griddle.
Apple Ham & Cheddar Quesadillas
Satisfy your cravings with a tasty blend of flavors by giving these Apple Ham & Cheddar Quesadillas a try.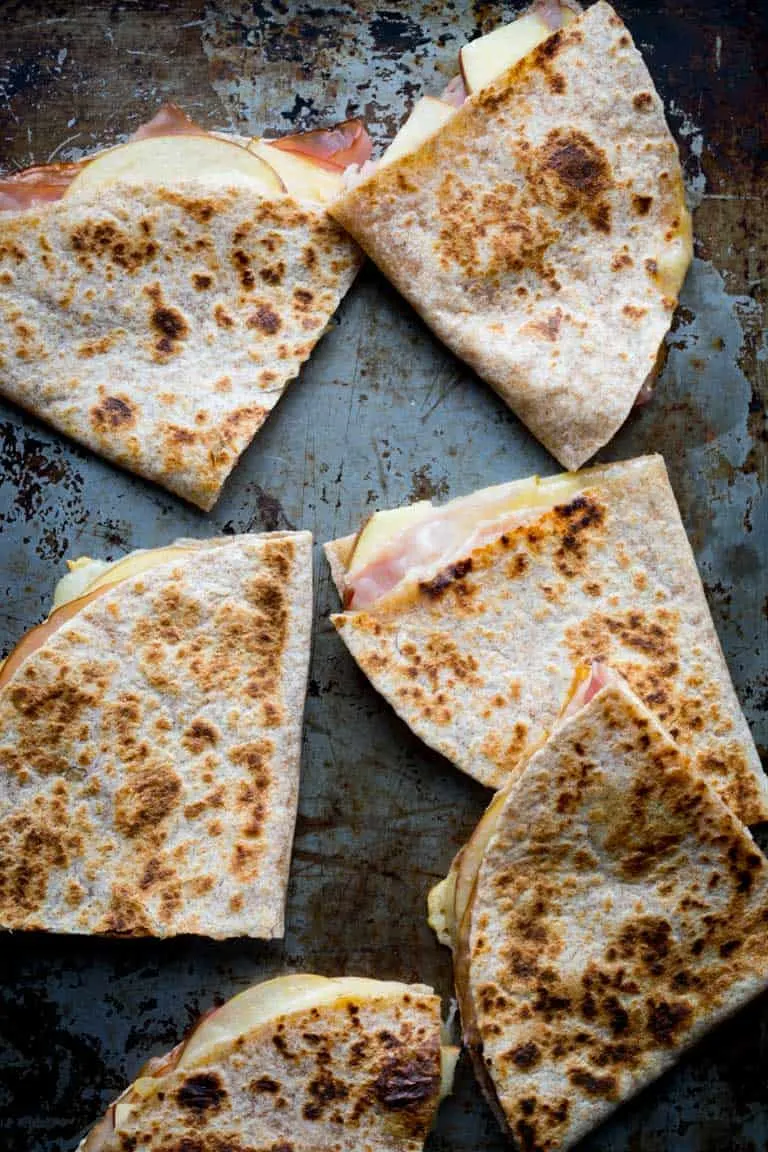 Grilled Panzanella Salad
Grilled Panzanella Salad is the perfect summer bread salad to cook up on a Blackstone griddle. This Tuscan salad combines toasted focaccia with summer veggies like tomatoes, bell peppers, parsley, and basil.
Loaded Potato Slices
These Fully Loaded Grilled Potato Slices are full of flavor and are sure to satisfy your taste buds!
Mexican Street Corn
No need to go south of the border to enjoy some Mexican Sweet Corn. This recipe feeds a crowd and complements steak fajitas or camping tacos perfectly.
Bacon-Wrapped Asparagus
For an excellent side dish, wrap Asparagus with Bacon and grill it on the Blackstone.
Burgers & Sandwiches to Make on a Blackstone
Enjoy a diverse selection of mouthwatering burgers and sandwiches, and treat yourself to these delectable choices.
Blackstone Smash Burgers
Enjoy a juicy burger with this simple recipe for a Smash Burger on your griddle.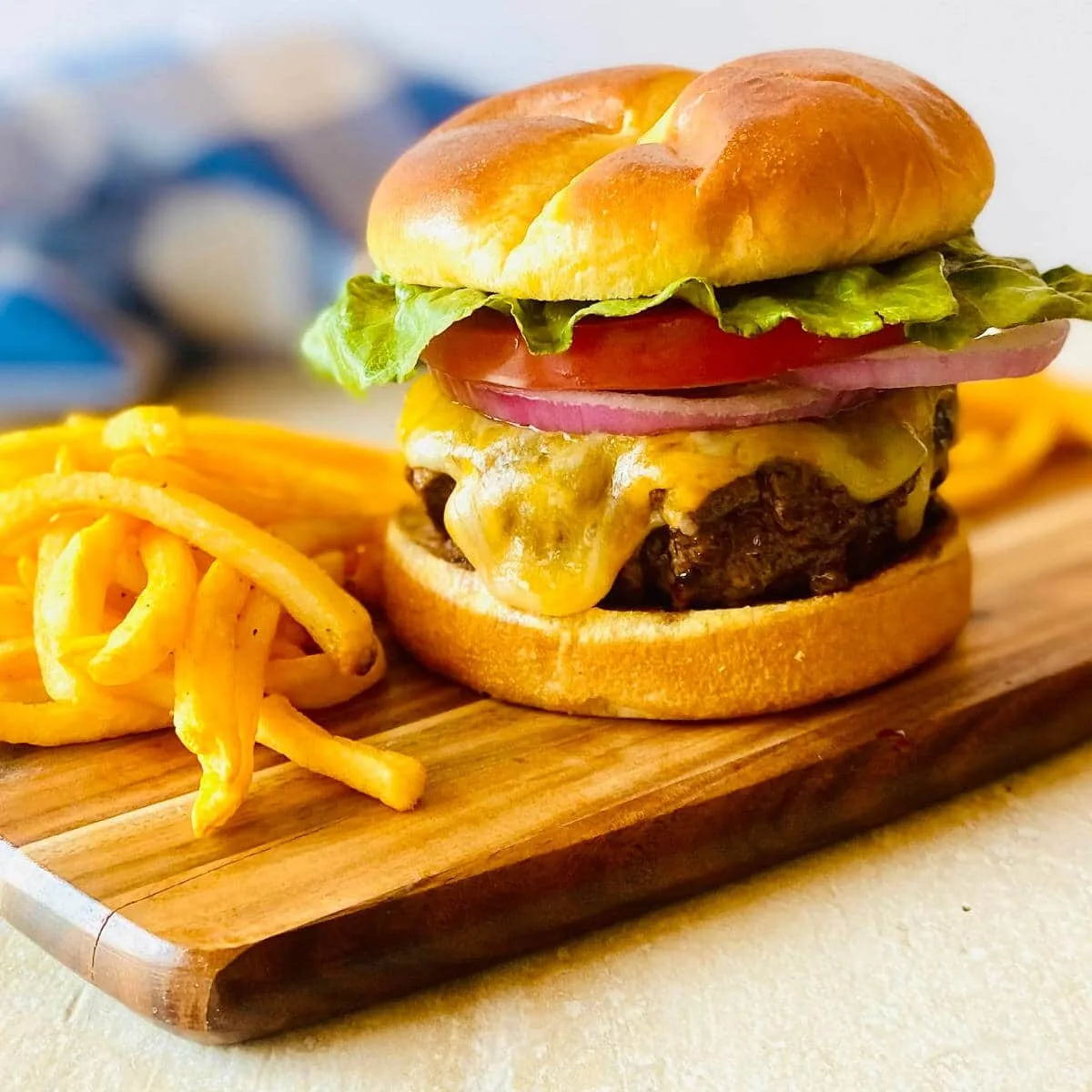 Hangover Burgers
You do not have to be hungover to enjoy a loaded Hangover Burger. It is topped with a fried egg, bacon, and cheese.
Grilled Cheese Burger Sandwiches
Enjoy a burger sandwiched between two crispy grilled cheese sandwiches for a truly satisfying meal.
Chimichurri Burgers
Indulge in the ultimate Chimichurri Burger Recipe! A mouth-watering patty garnished with a homemade chimichurri sauce elevates every bite's taste.
Southwestern Bacon Cheeseburgers
These hearty Southwestern Bacon Cheeseburgers are made with ground beef and chorizo and topped with bacon and guacamole.
Flamin' Hot Cheesesteaks
Oh yes, that is Flamin' Hot Cheetos on top of these Spicy Cheesesteaks.
New York Chopped Cheese Sandwich
This New York Bodega-Style Sandwich is a quick and easy recipe for your flat top grill. These seasoned hamburger patties are served on hoagie rolls with cheese, tomato, lettuce, and garlic aioli.
Philly Cheesesteak Sandwiches
Shaved ribeye steaks with sliced onion and bell pepper create tasty Blackstone Philly Cheesesteaks. This recipe uses some great shortcuts for a quick meal!
Asian-Inspired Blackstone Recipes
The following recipes are inspired by Asian cuisine and go together quickly on the hot flat surface of a Blackstone.
Sweet & Tangy Pineapple Chicken
A famous restaurant's sweet & tangy sauce makes this Pineapple Chicken Recipe go together quickly on a griddle. Make it a game changer by serving it in a pineapple.
Chicken Stir Fry
To quickly prepare this Camping Stir Fry while at the campground, it is best to do the chopping at home beforehand. Customize with your favorite veggies.
Egg Roll in a Bowl
Egg Roll in a Bowl is a stir-fry recipe with ground pork, coleslaw, sauce, and egg. Yum!
Steak Stir Fry
Your whole family will love this Steak Stir Fry that is practically effortless on the Blackstone.
Ham Fried Rice
Discover the simplicity and enjoyment of creating Ham Fried Rice on your Blackstone griddle.
Chicken Fried Rice
Don't forget about the chicken! This simple Chicken Fried Rice recipe will surely be a hit at the campground.
Blackstone Chicken Teriyaki Fried Rice
The marinade makes all the difference in this easy Chicken Teriyaki Rice Recipe. You can do the chicken prep at home before heading to the campground.
Spam Fried Rice
One of the easiest recipes is this Hawaiian Fried Rice made with simple ingredients, including canned Spam and Pineapple. Don't knock it until you try it!
Marinated Hibachi Steak
Hibachi Steak made on the griddle is delicious and tender.
More Tasty Blackstone Recipes
From sausage to fish to pork, here are a few more easy Blackstone griddle recipes to try out in your backyard or at the campground.
Blackstone Grilled Kielbasa, Tortellini, & Spinach Casserole
Kielbasa with Tortellini & Spinach is a delicous dinner recipe prepared on a flat-top griddle. Your kids will be asking for seconds of this unique meal.
Kielbasa & Cabbage
This Kielbasa and Cabbage Recipe comes together quickly over medium-high heat.
Grilled Chicken Spiedini
Based on the popular dish from Olive Garden, this Chicken Spiedini is an easy meal to make on a griddle.
Blackstone Fajitas
Discover the simplicity of preparing Chicken Fajitas on a Blackstone.
Chicken Dijon with Garlic & Jalapeno
This Dijon Chicken With Garlic & Jalapeno Recipe has a little heat and zing from the simple homemade marinade.
Cabbage Steaks
One of my favorite recipes is these Cabbage Steaks with Bacon served with a side of cornbread.
Honey Mustard Glazed Salmon
Fish enthusiasts will frequently request this delicious Honey Mustard Glazed Salmon for its rich flavor.
Mahi Mahi with Mango Salsa
You can savor this Easy Mahi Mahi With Mango Salsa at home or while camping.
Grilled Salmon with Rub
Here's a simple recipe for Salmon with Rub prepared on a griddle. It's quick to make, and if you're camping near a source of fresh salmon, you're in luck.
Blackstone Pork Chops
Enjoy tender meat with this simple Marinated Balsamic Pork Chop Recipe from Blackstone. No more tough and dry meat to chew on.
Don't forget dessert. Try this Blackstone Strawberry Shortcake recipe.
​We hope you have enjoyed this collection of the best Blackstone griddle recipes. Do you have any new recipes you want to see added to this list?
More Recipe Collections