Enjoy a Boundary Waters Day Trip in the Superior National Forest. This Northern Minnesota wilderness is popular for canoeing, fishing, hiking, and camping.
On our Lake Superior trip, we took a detour inland on the Gunflint Trail. This 57-mile scenic byway leads to the famous Boundary Waters Canoe Wilderness Area. We rented a canoe for the day and spend several hours paddling around the beautiful waters.
Over the years, I have heard several references to the Boundary Waters. All I knew was that it is a series of lakes in Minnesota near the Canadian border where outdoorsy people go to paddle and camp. I thought it was WAY remote with a few access points that are difficult to get to.
I was not far off on my pre-assessment, although you do not have to be rugged to visit and paddle. It turns out that getting there is not difficult at all.
Boundary Waters Day Trip Ideas
If you only have a day to visit the Boundary Waters, you should plan the following:
pack a lunch, water, and snacks
drive the Gunflint Trail
rent a canoe
paddle
eat lunch in the boat or onshore
look for wildlife
take photographs
relax in serenity
You can also:
If you happen to overnight in the area, check out the night sky as the BWCAW is a designated Dark Sky Sanctuary.
Accessing the Boundary Waters
The Gunflint Trail starts in Grand Marias. I thought it was going to be gravel, but it is paved the entire way.
There are a few rough spots on the road, but our small motorhome had no problem handling it. The drive took us 90 minutes.
Ely is another way into the Boundary Waters, but we have not been there. There might be other access points that we are not aware of.
BWCAW Canoe Rental
There are numerous launch areas up along the Gunflint Trail. Bring your own canoe or kayak, rent a canoe, or take a guided trip from the numerous outfitters in the area.
We rented an aluminum canoe for the day from Way of the Wilderness Outfitters. They are located at the end of the Gunflint Trail, right outside of Trails End Campground. The all-day canoe rental cost us $30
We picked up our paddles and life vests from the store and then walked out to the launch area on Seagull Lake.
We filled out a day-use permit right before we got in. There is no charge or limit on daily permits. It is basically an acknowledgment of the rules.
Paddling the Boundary Waters
It was a glorious day for a paddle. The water was like glass. We could not get over the beauty.
We floated on Seagull Lake, paddling around islands and into inlets. There are moose and bears in the area, but we did not see any.
We did see several Loons. A trio of them swam right by us.
We packed our lunch and enjoyed eating it as we floated. If you prefer to eat on land, find a spot and park it.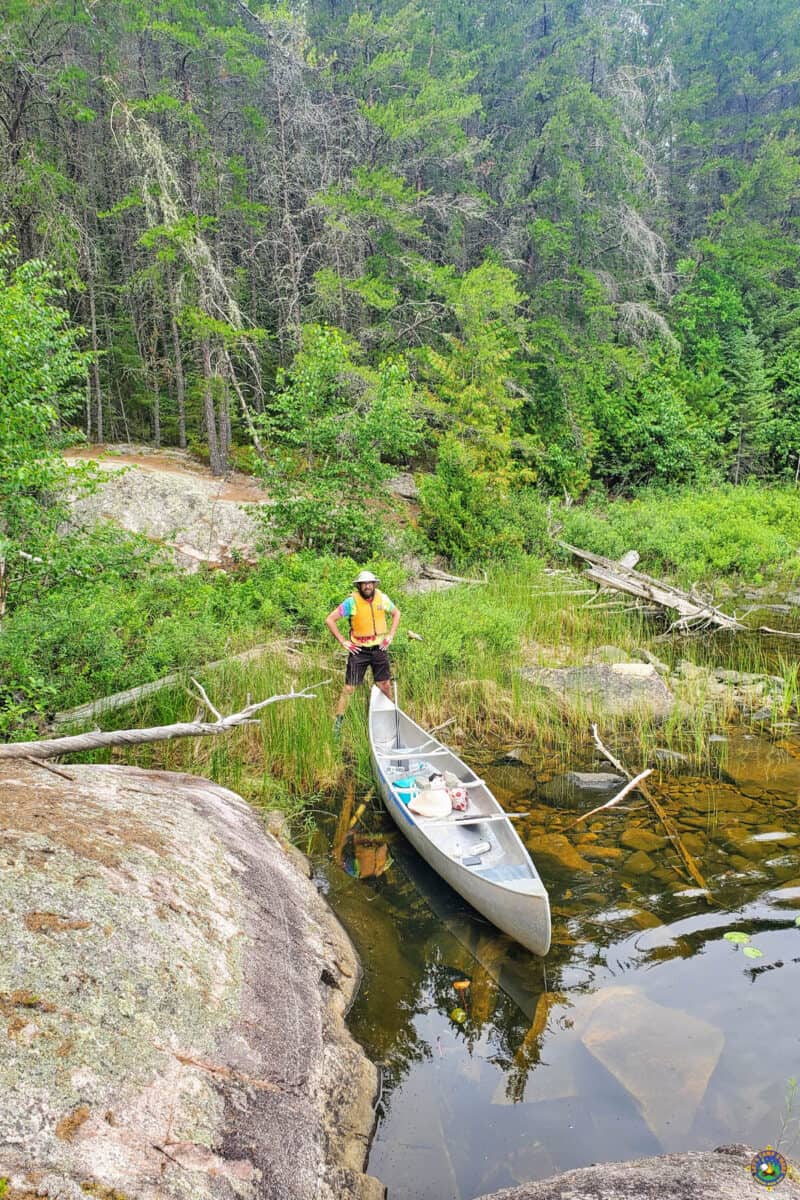 The weather was perfect in the middle of July. We appreciated the overcast conditions. The clouds made lovely reflections in the water.
It sprinkled as we started, but did not last. The rain started in earnest about 30 minutes after we returned, which we were grateful to not get caught in.
Biting flies and mosquitoes are an issue. Those flies LOVE ankles!
We wore shorts and t-shirts and socks with our water shoes, along with a lot of bug repellant, but it was not enough. I put on the net booties from my mosquito suit and they left me alone.
While this is a popular area, we felt like we were all alone on our Saturday visit. The peace and quiet were nice.
Canoeing in the Boundary Waters is a bucket list type of experience that we can now check off. You should take a Boundary Waters day trip too.
More Midwest Destinations