Create Campfire Cookies in pie irons over the fire when camping. Pie Irons can be used to make more than Pudgy Pies.
While S'mores are our favorite camping dessert, we like to try out other sweets at the campsite.
The last time we camp with our friends Peggy and Paul, we baked campfire cookies in pie irons.
This dessert was actually Peggy's idea. We have featured Peggy several times on our blog. Her Rhubarb Crunch is one of our favorites and her Apple Crumble is great for potlucks!
Peggy made up a batch of chocolate chip cookie dough ahead of time at home before coming out to the campground.
She created cookie dough with a little less flour in it. Peggy used a cookie scoop to form balls of dough, which she then froze.
She defrosted the dough for about 30 minutes before we made the cookies.
How to Make Campfire Cookies
These camping cookies can be made with pre-made refrigerated cookie dough from the store or your own cookie dough from scratch. Recently, we used this tasty caramel chocolate chip cookie dough. The caramel was bubbling when we opened the pie iron, but cooled off and crisped up quickly before eating.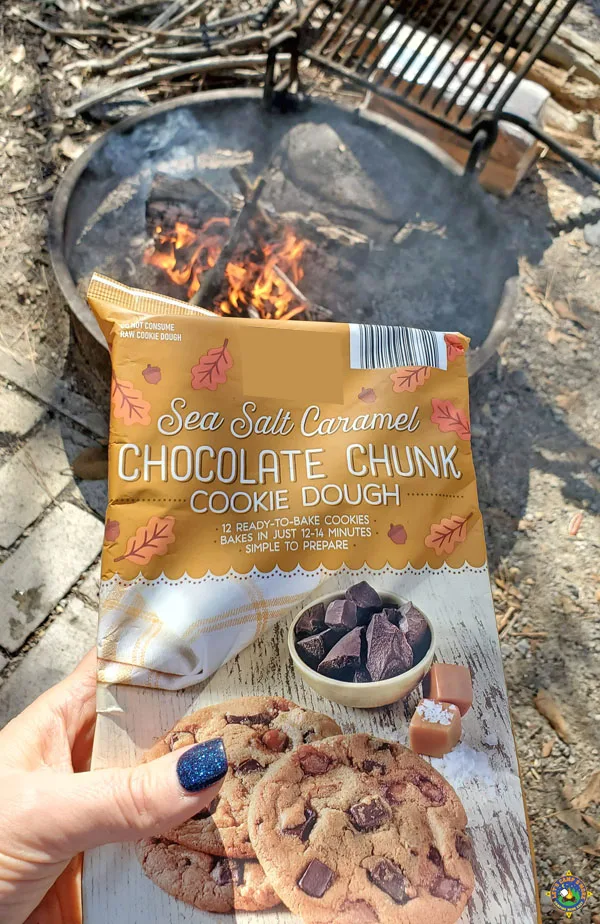 If you want to use homemade cookie dough, it is easiest if you make up it before you head out to the campground. We made peanut butter cookie dough, which we baked along with the dough above. We burned our first batch of peanut butter because we cooked it as long as the caramel chocolate chunk, but it was a much smaller cookie.
Pie Iron Cookies
The key to these camper cookies is a proper campfire. We like to have hot coals just like we use for Nacho S'mores. Get your campfire going ahead of time so that the wood can burn down to coals.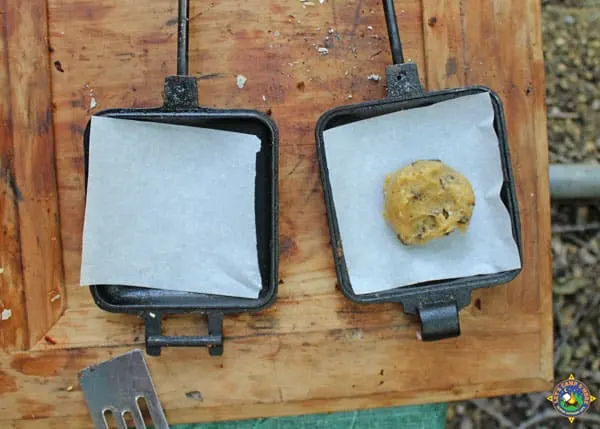 This campfire cookie recipe is made in a pie iron. Make sure it is cast-iron and not aluminum. You can also use your pie iron to make Campfire Frozen Pizza.
We have quite the collection of cast-iron pudgie pie makers, including a double-wide sandwich maker. They are all great for making Campfire Reuben Sandwiches, Pizza Sandwiches, or Grilled Cheese Sandwiches.
We love that we can eat these delicious hot cookies right after pulling them off the campfire. They will harden it up a bit if you let them cool.
These pie-iron cookies won't be perfectly shaped, but it is the taste that matters! They are such a fun and delicious camping dessert!
What flavor of cookie are you going to cook on your next camping trip?
Campfire Cookies
Bake your favorite kinds of cookies the next time you camp with this easy baking tutorial.
Additional Time
10 minutes
Instructions
Prep your campfire to have cooking coals. Flames will burn the cookies!
If frozen, defrost your cookie dough for 30 minutes.
Cut 2 small pieces of parchment to fit inside your pie iron.
Open the pie iron and place a piece of parchment on one side.
Place a scoop of cookie dough on the paper.
Place the other piece of parchment paper on top of the scoop of dough.
Press down to flatten the cookie dough a little bit.
Close the pie iron and snap the clip in place.
Place over the hot coals.
Bake for 5 to 7 minutes per side, depending on the heat of the fire.
Carefully open the pie iron to see if the cookie is done. Bake longer if necessary.
When the cookie is done to your liking, carefully remove the cookie and parchment paper from the pie iron.
Notes
Use your favorite cookie dough, whether it be store-bought or homemade.
Recommended Products
As an Amazon Associate and member of other affiliate programs, I earn from qualifying purchases.