Make an amazing Camping Charcuterie Board for family and friends on your next camp out. A downloadable shopping list is included at the bottom of the post so you can throw an epic charcuterie party.
Charcuterie boards are all the rage right now. While these French boards started in the 15th century and focused on preserved meats, they have evolved to include so much more.
We also have directions and a shopping list for a S'more Charcuterie Board.
Since we have refrigeration and ice chests, we add cheese, dips, and processed meats that do need to be kept cool. Keeping this in mind, we have created a simple charcuterie spread that is suitable for the campground. We purchased everything for our layout at Aldi.
Serve more great food with our Simple Weekend Camping Menu.
How to Build a Camping Charcuterie
With so many great meats, cheeses, fruit, vegetables, and dips available, the possibilities are endless for an epic board. Start with your favorites and build it from there.
Setting up a charcuterie picnic board can take quite a while, so make it easy on yourself by using prepared food. I had the foods packed together, so it took about 15 minutes to set this up by myself.
We recommend that you wash produce ahead of time, especially if you will have limited access to running water. Chopping and slicing can also be done at home.
Meats for a Picnic Charcuterie Board
Hit the deli and pick out your favorite sliced meats. For cubes of meat, ask the deli attendant for thick places that you can cut yourself. For simplicity, purchased prepackaged lunchmeats.
Leftover meats such as ham or turkey work well too.
Canned meats are a good option to use out at the campground. We used Vienna sausages on our board, but Spam, luncheon meat, or even spreadable meat such as deviled ham are suitable.
Picnic Cheese Board
There are so many options when it comes to cheese. You can use sliced, cubed, spreadable, or even squeeze cheese.

Since camping is all about relaxing and taking it easy, we purchased cheese cubes and cheese sticks. I cut the cheese sticks in half so they were about the same size as the Vienna sausages.
Cheese lovers will also like our Bacon-Wrapped Moz Sticks or Pizza Sandwiches.
Charcuterie Party Breads
Rolls, loaves, pitas, naan, sandwich thins, bagels, or regular sliced are among the many bread options for a shark cooter board. 😉
I purchased a loaf of Italian bread, sliced it into one in pieces, and we grilled it on the end of a roasting stick over the campfire. It was so good that now we want to start a campfire at home to toast our bread.
Our other favorites to include are whole-wheat sandwich thins cut in half or pita pockets.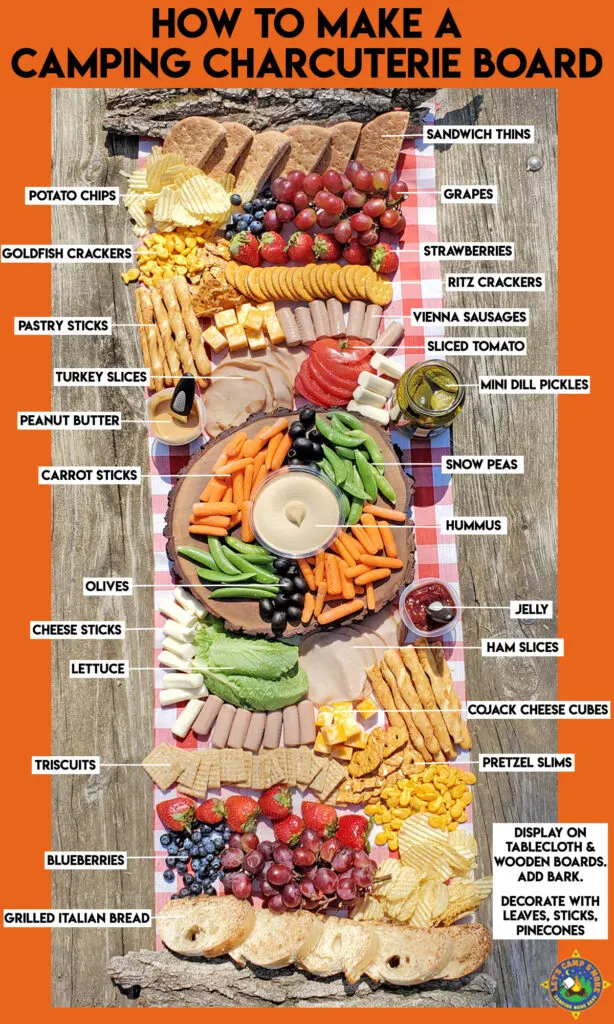 Tasty Sandwich Toppings
Tomato slices and lettuce leaf are great additions for making sandwiches off a simple charcuterie board. You can include condiments such as mayonnaise or mustard.

We love eating peanut butter and jelly sandwiches, so I included little containers of each of these sandwich fixings. Peanut butter makes a good dip for some fruits and vegetables.
Chips and Crackers for Your Camping Cheese Board
Our favorite things to eat when we camp are salty and crunchy. Therefore, we do not think a board is complete without chips, crackers, and pretzels.

We included a variety in our spread. Wavy potato chips, fish crackers, pretzel things, woven wheat crackers, round battery crackers, and cheesy puff pastry sticks were on our board.
Veggies and Dip
Ranch dip, salsa, queso, or onion dip are great additions. Hummus was at the very center of our board.
The dip had many different finger-friendly vegetables around it. There were carrots sticks, black olives, and snow peas.
Other vegetables such as cherry tomatoes, celery, cucumber, and different olives are options. Think of your family's favorites and include those in your board.
A jar of mini dill pickles was on the edge of our buffet.
Picnic Charcuterie Board Ideas for Fruit
Add some sweetness to your day with fresh fruit. Berries and grapes are the easiest because you do not have to cut them up.

Apple, pineapple, figs, or even dried fruits are great alternatives. You can even use nuts, as we did in our Charcuterie Cups below.
Cheap Charcuterie Decorations
A red checkered fabric served as a base for my camping charcuterie board. You can achieve this look by placing three checkered napkins end to end to form a table runner on top of a picnic table.
You cannot see it, but I laid a long piece of parchment paper down the middle of the fabric to place food on. A variety of cutting boards or a plank of wood can provide a base for your set-up.
A round wooden display board was in the middle of the table. I got this board at Aldi, so this is truly an Aldi Charcuterie!
Mini Charcuterie Cups
If you are trying to limit the spread of germs, consider making charcuterie party cups. These handheld versions of the board are fun for kids, especially when you put food on a stick.
Fruits & vegetables or even meat & cheeses are great for skewers. Goldfish crackers, nuts, or dip make a good base in a cup.
Pinwheel straws were put in each cup for some visual fun.
As you can see, our outdoor charcuterie board display turned out well. It was almost too pretty to eat. This should help you to make your own spectacular charcuterie party!
We would love to see your camping charcuterie board. Please share a photo with us on Pinterest or tag us on Instagram.
Download the shopping list in the list (#1) below.
Camping Recipe Collections
Pin one of these!
Yield: 1 board
Picnic & Camping Charcuterie Board
Build a simple Charcuterie Board on your next camping trip or picnic. Make it easy by using prepared foods.
Additional Time
30 minutes
Ingredients
Sliced, cubed, and/or canned meats
Sliced cubed, and/or spreadable cheeses
Sandwich toppings
Rolls, sliced bread, pita pockets, and/or sandwich thins
Chips and crackers
Fresh vegetables
Dips
Fresh and/or dried fruits
Nuts
(download) specific shopping list below
Instructions
Download the Charcuterie Board Shopping List here.
Create a base for your food display using wooden boards, napkins or fabric, plates, or parchment paper.
Start at the middle and create a colorful focal point with fruits or vegetables to build out from. We placed vegetables and hummus dip at the center of our board.
Add meats, cheeses, and sandwich toppings next. A layout that is symmetrical will add a real wow factor.
Next add crackers, chips, dried fruit, and/or nuts to your board.
Place larger items, like berries, grapes, and bread along the edge of your arrangement.
Respectfully collect bark, pinecones, leaves, sticks, or flowers to decorate your board with.
If spreading germs is a concern, build charcuterie cups.
Recommended Products
As an Amazon Associate and member of other affiliate programs, I earn from qualifying purchases.