Enjoy these Camping Christmas Cards for you to download and print.

Today we have something really fun for all you camping fans. It's a Camping Christmas Cards Free Download. Diana created these cute holiday xmas cards with a vintage trailer on the front.
The two sayings that come on the cards are Happy Camper Holidays and Merry Christmas from our camper to yours.

Free Camping Christmas Cards
Each card has a vintage trailer with holiday lights on it against a green tree background. We recommend that you print them on cardstock with the best quality picked on your printer.

Do you send out holiday cards to friends and family each year? We send a photo greeting card each December. There used to be about 100 people on our list, but it seems as if hardly anyone sends them anymore. We have cut it down to around 40, half of which are extended family members.
Diana already designed and ordered our card and of course, it features photos from our big summer trip. We will be sending out that card in our December newsletter. Please sign up at the top of the blog or at the bottom of this post to get on our camping newsletter.

These cards are perfect to go with a camping gift. We also have Camping Gift Tags available for download.
What do you have on your camping wish list this year? Are you hoping someone will give it to you as a holiday gift? If you need to give them a hint, share our Hottest Camping Gifts Suggestions with them.

Who will you be sending or giving these camping holiday cards to this year? Happy Holidays to you and yours!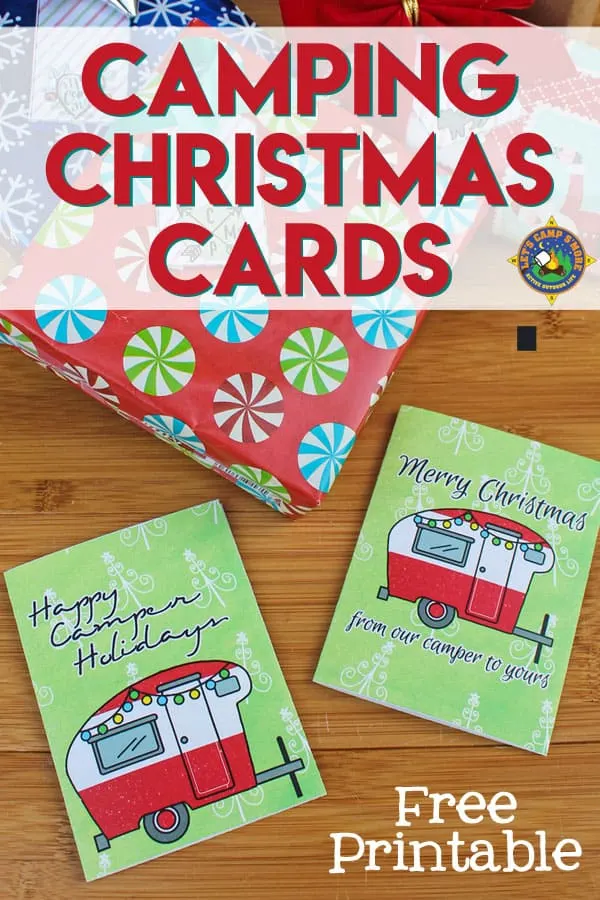 Download the cards here or by clicking the image below. It prints as two cards on one 8.5×11 sheet.