Enjoy a fun adventure Camping in Lower Michigan with this itinerary, which includes camping near Lake Michigan, Lake Huron, and Lake Erie.

Michigan is an amazing state to camp in, especially if you want to be near water. You are never more than 5 miles away from a river, lake, or stream in Michigan.
Of course, the most popular waterways are the Great Lakes, of which Michigan touches four.
Camping in Lower Michigan Map
This camping itinerary encompasses the lower part of Michigan, so it only touches three of the Great Lakes. You have to Camp in the Upper Peninsula of Michigan to see Lake Superior.
Michigan Adventure Camping
Last summer we had an amazing trip circling the mitten of Michigan. We spent half the time along Lake Michigan and the other half along Lake Huron.
This Michigan Camping Adventure Itinerary goes clockwise starting in the southwest corner. It can easily be reversed or started from any point along the way.
Best Michigan Camping
Please note: Entry fees or passes are required for the properties that we recommend. Purchase a Michigan Recreation Passport before your trip.
Lower Michigan Road Trip Itinerary
| Campground | Nearby Waterway | Things to Do & See |
| --- | --- | --- |
| Warren Dunes SP | Lake Michigan | Dunes, Beach |
| Hoffmaster SP | Lake Michigan | Sunset, Muskegon Attractions |
| Ludington SP | Lake Michigan | Big Sable Lighthouse, River Float |
| Sleeping Bear NLS | Lake Michigan | Climb the Dunes |
| Petoskey SP | Lake Michigan | Look for Petoskey Stones |
| Wilderness SP | Lake Michigan | Hike, Stargaze |
| Cheboygan SP | Lake Huron | Paddle, Beach, Fireworks |
| Harrisville SP | Lake Huron | Beach, Sunrise |
| Tawas SP | Lake Huron | Walk Out to the Point, Sunset |
| Bay City SP | Lake Huron | Bike or Hike Tobico Marsh |
| Port Crescent SP | Lake Huron | Boat to Turnip Rock |
| Lakeport SP | Lake Huron | Beach, Watch Freighters |
| Algonac SP | St. Clair River | Watch Freighters |
| Sterling SP | Lake Erie | Beach, Fishing |
Best Camping in MI
Campgrounds Near Lake Michigan
Campgrounds along Lake Michigan in Michigan are the most popular in the state. Michigan Camping Reservations for state parks open 6 months in advance, so jump on early to secure a camping spot, particularly for weekend camping.
Warren Dunes State Park
Warren Dunes has beautiful sand dunes and a large beach, making it popular, especially with the Chicago crowd. This part of the park has a huge parking area, food vendors, and restrooms.

The park has two campgrounds with over 200 sites. The larger Mount Randall modern campground has two loops with electrical hookups, bathhouses, and a camp store that sells camping essentials and souvenirs. The smaller Hildebrandt campground is for tents and does not have any hook-ups.
Visit the St. Joseph Lighthouse
We recommend that you stop at the Saint Joseph Lighthouse, which is 30 minutes north of Warren Dunes. Parking is at Tiscornia Park, which includes a fee. We found room in the lot for our small motorhome on a mid-week visit.
Take a walk out along the breakwater. There are lighthouse tours available.
PJ Hoffmaster State Park
Our favorite state parks along Lake Michigan is Hoffmaster State Park. We love it so much that we served as volunteer campground hosts there in 2023.

Hoffmaster has 297 campsites over four loops. There are two modern shower houses, a large playground, great hiking, and a large visitor center.
The best part of this park is the amazing beach, which is not crowded. The sunsets are so beautiful!
This state park is located just south of Muskegon, which has many bike paths, museums, shopping, and so much more.
Hoffmaster State Park will be undergoing construction and be closed from July 7 through the end of the year in 2023. Alternative campgrounds are Holland State Park to the south or Muskegon State Park, just a little bit north.
Campgrounds in Central Michigan
Ludington State Park
One of Central Michigan's most popular camping destinations is Ludington State Park. This park has nearly 400 campsites spread out over four campgrounds. The campgrounds of Pines, Cedar, and Beechwood are modern, with many of the sites close together. The primitive hike-in tent-only campground is Jackpine.

In addition to the beautiful beach, which is a great place to watch the sunset, there is a lot to do at Ludington. You can float down the river to the lake, fish, hike, bike, and swim. The walk to the Big Sable Lighthouse is worth it as the views of the shoreline are breathtaking.
The town of Ludington is a fun place to visit. Check out the Maritime Museum or watch the SS Badger, the car ferry that crosses Lake Michigan to Manitowoc, Wisconsin, from the lighthouse breakwater.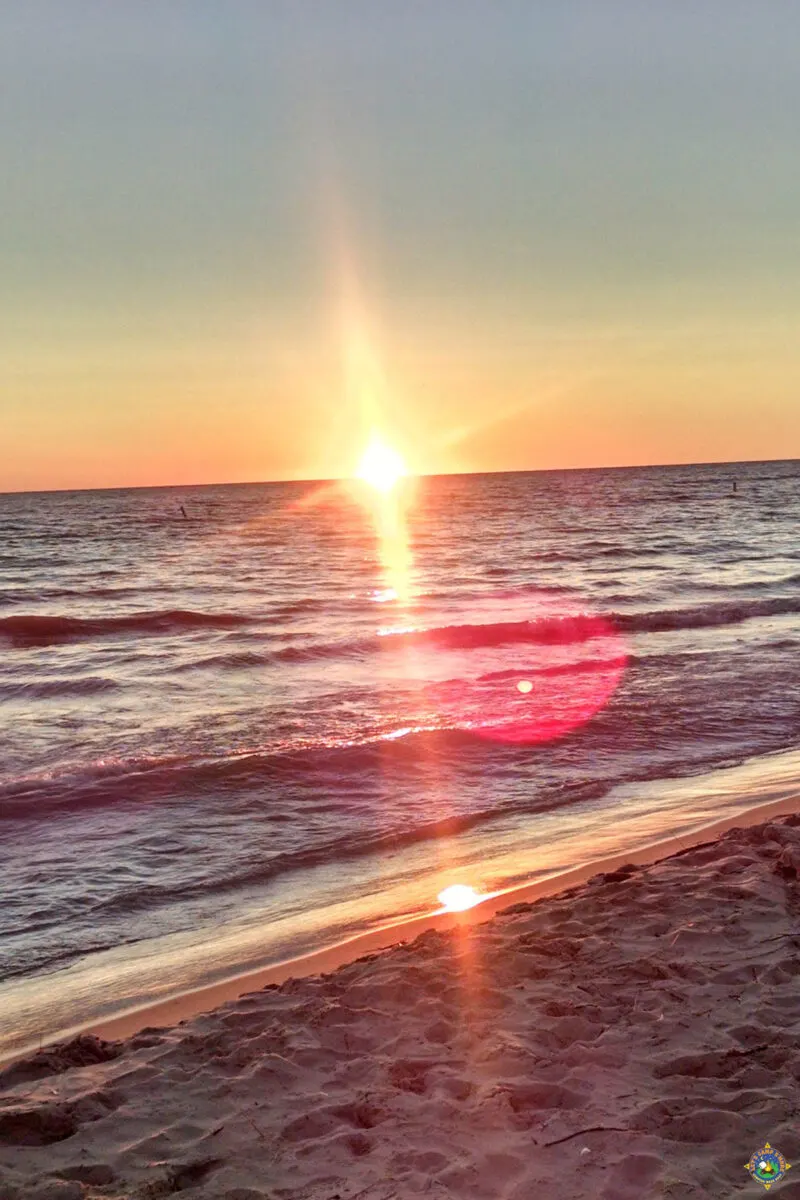 Sleeping Bear Dunes National Lakeshore
Sleeping Bear Dunes is a large national park known for its massive sand dunes. The Dune Climb is quite an arduous hike all the way down to the lake and back. Heed the warning of the sign and just take in the expansive views if you are not up for the hike down and up.
Platte River and DH Day are the two campgrounds in the park. About half of the campsites at Platte River Campground have electricity. The sites at DH Day Campground are non-electric and the roads and pads are with packed dirt.
Reservations can be made 6 months in advance for both and are required from May 1 through October 15. Platte River Campground is open year-round.
Check out one or more of the numerous hiking trails and overlooks spread throughout the park. You can also kayak, canoe, go river tubing, go to the beach, view dark sky views, take scenic drives, and explore the local towns.
Take the popular M-22 drive north out of the park and around the peninsula to Traverse City, which is a good place to eat and explore.
Camping in Northern Michigan
When you cross the 45th parallel, you are Up North in Michigan. Here are the Best Campgrounds in Northern Michigan.
Petoskey State Park
The town of Petoskey is quite charming! Views from the waterfront are lovely. Enjoy goods restaurants and shopping.
Petoskey State Park, which is located on the eastern edge of Little Traverse Bay, has nearly 180 modern campsites spread over two loops. Both have easy access to the beach, which is the top spot to look for Petoskey stones.
If you cannot secure a reservation at the state park, consider Magnus Park, which is a municipal campground.
Wilderness State Park
Wilderness state park is a remote park at the top of the mitten along Lake Michigan. This large park has 283 campsites, 250 of those being modern. That number includes 18 full hook-up sites.
Some of the 26 miles of shoreline face west, while the rest faces north. The Mackinaw Bridge can be seen in the distance from the north beach line.
Hiking through the dense forest, looking for an elusive Piping Plover, watching the sunset at the beach, or star gazing at the designated dark sky preserve are the top activities at Wilderness.
Mackinaw City
The northernmost point of the Lower Peninsula of Michigan is Mackinaw City. This tourist town is full of fun restaurants and shopping. It also has a ferry port where you can catch a boat to visit Mackinac Island.
There are extra-long parking spaces to accommodate long RVs on Central Avenue, just east of I-75.
If you want to cross the Mackinac Bridge and continue your trip, check out our Upper Peninsula Camping Itinerary and our Circle Lake Michigan Itinerary.
Visit Mackinac Island
Mackinac Island, which does not allow any cars, is a great day trip. The island has amazing views of Lake Huron. There is also shopping, restaurants, and fudge.
We had a great time biking around the island. You can rent bikes when you ride, but we took our own bikes on the ferry. We rode clockwise around the island and enjoyed beautiful stops along the way. Arch Rock was our favorite stop.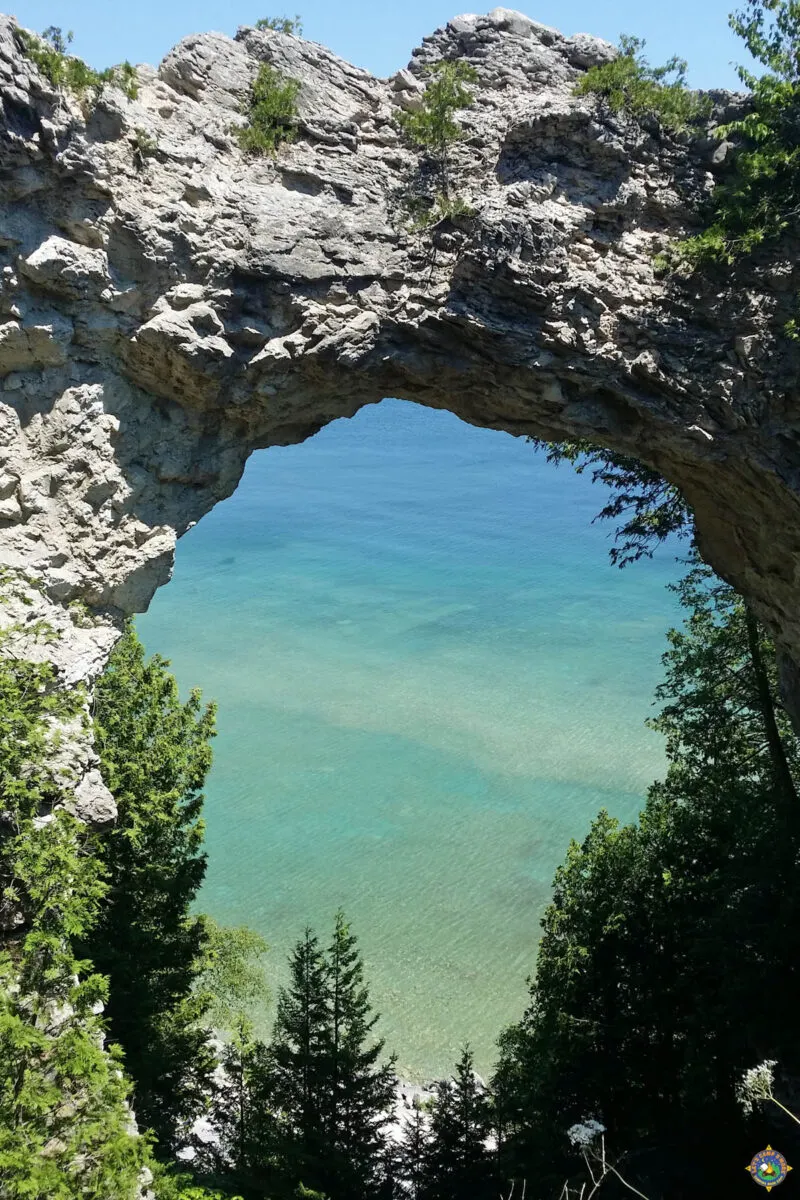 Lake Huron Campgrounds
Please note: Several of the state parks on the Lake Huron side of Michigan only provide 20 amps of electricity. Many have 2 campsites sharing one pole, so you might want to have a long cord on hand.

If you need a place to eat a sack lunch, stop at one of the many state harbors along the lake. We saw a bathroom at each one we stopped at.
Cheboygan State Park
30 miles southeast of Mackinaw City is Cheboygan State Park. This scenic park has 75 campsites.
Bring a kayak, canoe, or paddleboard and explore the shallow areas around this Lake Huron campground. Hike on the well-marked trails to the east side of the park and watch Great Lake freighters go by.

On Friday nights, head to the beach next to the campground and watch the fireworks over Mackinaw City in the distance.
Northern Michigan Sights
The day we visited the following tourist sites was our favorite day of our Northern Michigan Camping trip.
Ocqueoc Falls
We highly recommend that you detour inland to Ocqueoc Falls State Park, which has the best Waterfalls in Lower Peninsula Michigan. The big attraction is the falls which people love to swim in but the park also has great hiking and mountain biking trails. It gets very busy on the weekend.
Seagull Point Park
Signal Point Park in Rogers is an excellent place to stop and eat your lunch. We parked at the tip of the eastern lot and watched kayakers on the lake.
Presque Isle Lighthouses
Take a detour off M-23 to Presque Isle and see the lighthouses. The old lighthouse was built in 1840. Kids will enjoy ringing the huge bell on the grounds.
Pay the nominal fee to climb up both lighthouses. Each has a different amazing view.
The new lighthouse is not exactly new because it was built in 1870. It is the tallest lighthouse that the public can visit along the Great Lakes.

It is a long climb, but oh so worth it! Funny story: When we went to climb down the lighthouse we discovered that the people ahead of us had locked the door behind them, leaving us stuck up 100 feet up on the lighthouse platform. Luckily more people came up so we were able to get out. We laughed about it.
More Lake Huron Camping
All of Lake Huron is clear water. You cannot go wrong, wherever you decide to stop. One-night stays are sufficient for each of the campgrounds along the eastern side of Michigan.
Harrisville State Park
Harrisville State Park campground has 195 campsites, some lakeside. The draw of the park is the beautiful beach. There are volleyball courts, a playground, and a boat launch.
This park is tucked in along the shore of the resort town of Harrisville. The ice cream & fudge shop across from the park entrance is a popular destination with campers.
Tawas Point State Park
Tawas Point is located along a spit of land, creating a bay to the west of the park. This allows for beautiful sunsets from the campground beach.
Much of the 193 campsites are large but uniquely close together due to pole locations. The campground is grassy with a few trees.
Paddling, bird watching, walking out to the point, and seeing the lighthouse are top activities at this park.
Bay City State Park
Bay City State Park is located in the city, but you feel away from it all when you are in the park. The campground is large with 189 spread-out sites.
The beach is nice. We enjoyed riding our bikes around the park and through Tobico Marsh, which has two marsh observation towers.
Port Cresent State Park
Port Cresent is a sliver of a park tucked in between the lake and M-23. The campground is hilly, with many sites unlevel and close together. The campground has a fun beach vacation vibe.
There are 142 campsites. For a unique experience, reserve a Geodome.
Visit Turnip Rock
Drive into the nearby town of Port Austin and boat out to see Turnip Rock. This unique rock that is next to the shoreline looks like a huge turnip with the trees on top as the greenery.
You can rent a kayak for a 4-hour paddle or take a tour boat. We did the latter and got a private tour, which we thought was well worth the expense. Parking for this cute little town can be found at the state harbor.
Sanilac Petroglyphs Historic State Park
We highly recommend a short trek inland to visit Sanilac Petroglyphs. This historic park has a large collection of early Native American teachings carved in stone. Ranger-led tours are available during the summer. We also enjoyed walking around the beautiful park.
Lakeport State Park
The southernmost state park along Lake Huron is Lakeport. This large park has 250 campsites spread over two campgrounds. We stayed in a lakeside spot at the north campground.
The beach is was mostly small rocks. We stayed up along the ridge and watched freighters out on the lake.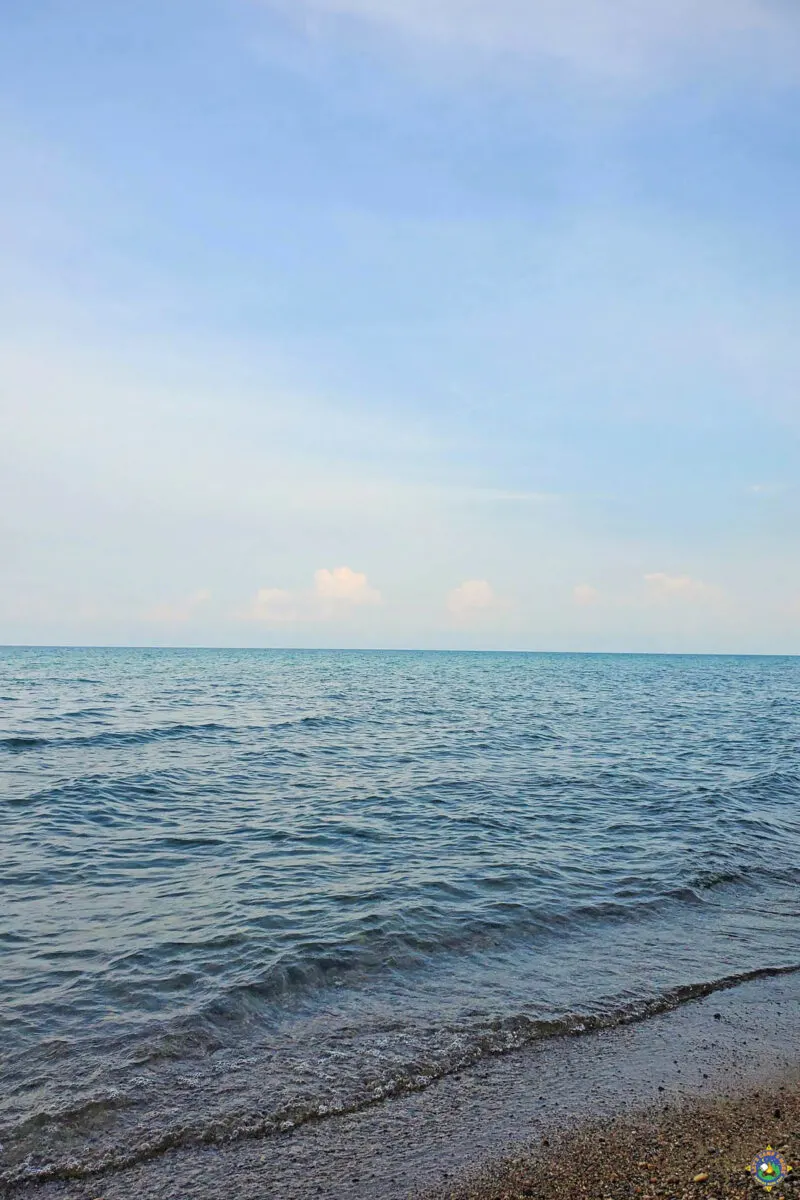 Best Camping Near Detroit
Due to their proximity, the last two state parks are popular with the Detroit crowd. If you want to avoid the metro area, then you can skip these parks. If you enjoy seeing Great Lake freighters, then stop in Port Huron and stop at a riverside park near the Blue Water Bridge. It is also interesting to watch the vehicle traffic on the bridge going to and from Canada.
Algonac State Park
Algonac is situated along the St. Clair river, which makes it a great place to view freighters. The park has a large natural area that is home to several threatened species. There are 296 campsites.
The Bay to Bridge Trail goes through the park, allowing great biking and walking opportunities along the river, where you will see more tankers.
Wm C Sterling State Park
Sterling State Park has lagoons on one side and Lake Erie on the other, making it a great place to go fishing or boating. A sandy beach and 7 miles of trails allow for more outdoor fun.
The 256 campsites reserve quickly, particularly on weekends.
As you can see, our trip was quite an adventure. Whether your family camps along Lake Michigan, Lake Superior, and/or Lake Huron and beyond, we hope this itinerary has inspired you to plan your own Lower Michigan Camping Trip.
Have a wonderful trip!
More Midwest Camping