Make your next camping trip easier with this Camping Menu Planner Template. The free printable includes a camping meal planner for weekend and weeklong trips, a shopping list, and a meal list.
Our Weekend Camping Trip Recipe Cookbook takes out all the guess work with 60 recipes divided into six weekend menu plans. Mix and match for the best camping season ever. Grab it now!
One of our mottos here at Let's Camp S'more is Camping Made Easy. Camping should be easy, but many find the camping experience stressful. Where should we go? What should we eat? What do I need to pack?
We like to take the easy way out, so we have created this camping meal plan template set of to help take away that stress so you can have a good time.
Simplify your next trip with these free printables. You can go to the bottom of this post to gain access to the template or you can slowly scroll down and get tips and meal ideas.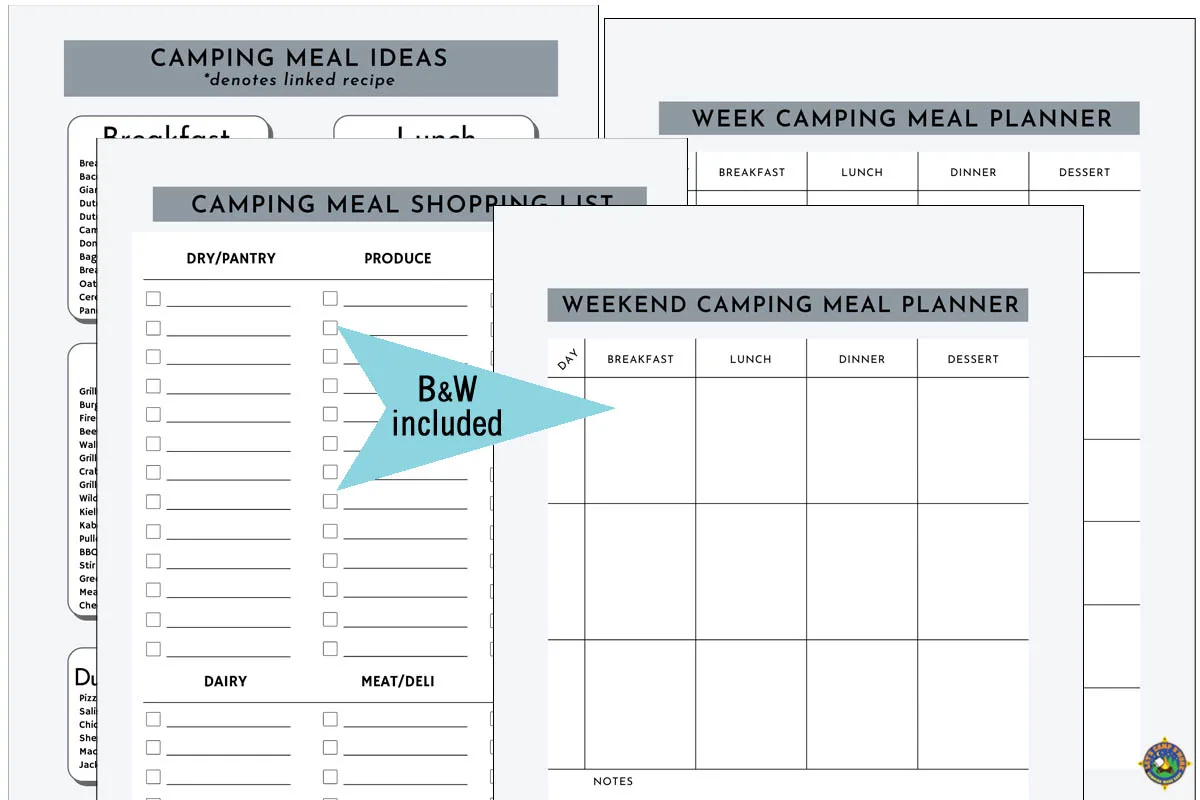 Printable Camping Meal Plan Template
Planning for a camping trip seems like a lot of work. We plan our meals a week at a time at home. I often stress out about this process.
I finally simplified the process by creating a master weekly meal plan. This helps cut down on the time spent planning delicious meals.
I have done the same for camping. Our favorite meals are on a list that we refer to often.
Here is our master meal list for you to reference. These meal ideas are included in the free planner printable.
Camping Meal Ideas
The easy recipes below are prepared with a variety of cookware; propane griddle, pie-iron, cast-iron skillet, grill, over or in the campfire, and a Dutch oven.
Underlined meals are linked to the corresponding recipe
More Recipe Collections
How to Plan a Camping Menu
When you download our meal planners, you can quickly plan your entire trip. The great list of camping recipes above will get you started.
Figure out how many meals you need to plan.
Plan by meal. Ex: Plan all the breakfasts before moving on to lunches.
Print or bookmark recipes.
Fill in the shopping list as your fill in the meal plan.
Use the grocery list as a food packing list.
Use the weekend meal planner for trips that are 3 days or fewer. Get ideas from our Weekend Camping Menu post.
For longer trips, use the weeklong menu template. Print duplicates for multiple week trips.
Meal Planning Tips
The following tips will help you spend less time cooking and more time enjoying the great outdoors!
First Meal Prep Ahead of Time
The first thing you have to do when you arrive at your camping spot is set up camp. This takes lots of time, especially if you have young children to supervise.
The best way to deal with this limited time is to have the first day meal prepared ahead of time. We love to take a pasta salad.
Plan Easy Meals
We create recipes for easy meals that the whole family will love. Check out the list above or in the digital download for easy camping recipes that take less time to prepare.
Stick to the List
Camping can get expensive, especially at the grocery store. Resist impulse buys and only add necessary ingredients and camping essentials to your shopping cart. Your pocketbook and limited storage will thank you.
Separate Ingredients by Meal
If you are taking multiple coolers, separate contents by meal. This will cut down on shuffling food around and the food prep time.
A great way to stay organized is to label each cooler or container with the contents. We also like to separate ingredients into labeled zip lock bags.
Plan for Weather or Issues
Do you plan to cook meals over the campfire? Have a backup plan for rain. Check out these Fire Ban Camping Meals for recipes made over propane.
Take Extra Food
Have you ever run out of food while camping? We have! Who wants to run to the store, if there even is one around?
Pack enough food for an extra meal or snacks in case you have hungry campers or you get stuck out at the campground.
Properly Store the Food
Making sure food is properly chilled is a given, but what about keeping food away from animals? You might not be camping in bear country, but other critters love getting into your food.
Raccoons are brave and will get into a covered cooler or plastic container, even when campers are nearby. Once, a raccoon carried one of our smaller containers into the woods. Keep food in a hard-sided vehicle, such as a travel trailer.
Variety is the Spice of Life
Everyone gets tired of hamburgers and hot dogs. Plan different meals each weekend and make everyone a happy camper.
Make a List of Favorites
Take note of the great meals you eat and create a list of your favorites.
Plan a No-Cook Meal
Make the last meal of your trip without cooking it. This allows you to properly put out the campfire and get the cookware packed up. This meal is usually lunch, so we make sandwiches.
Printable Camping Menu Template Planner
This camping menu planner template set includes four pages: Weekend Camping Trip Menu Planner, Week Menu Planning Template, Shopping List, and Camping Meal Ideas. Pick from full color or black & white sets to print.
Fill in the day of the week to correspond with the start of your trip.
Please note: The digital file has linked recipes on the Camping Meal Ideas page. You cannot access the recipes when printed.
Enter your email address below to gain access to the pdf form of the camping meal template set.