Here is a fun Camping Rock Craft that the whole family will enjoy!
On our Labor Day camping trip we worked on some crafts and tried out some new recipes. Our daughter brought two friends with her to the campground, so we make sure to have something for them to do. They really enjoyed this Camping Rock Craft.
Painting rocks and leaving them for others to find is a fun and popular activity right now. We made our own painted rocks and hid them on our Lake Michigan trip. Those rocks were decorated with markers, paint, and nail polish. We ran into a family at Tahquamenon Falls Campground with two little girls who were into painting rocks. While they were away, we hid rocks on their campsite for them to find. They had lots of fun seeking them out and gave us some rocks. Their rocks had such a precise design. I asked and she told me that she got these paint markers. I ordered them and we used them for this craft.
Campfire Family Camping Rock Craft
This craft requires the markers, small rocks or pebbles, a small block of wood, a tealight, and a hot glue gun. The tealight is the campfire in the craft. Our house is surrounded by river rock, so we picked out some smooth rocks to take with us out to the playground. I recommend rocks that have a flat spot along the bottom.
Creating this adorable rock family is easy. Just paint eyes onto each rock. Our daughter decided to dress her family up with hats and bows and turned one into a kitty cat. They turned out really cute.
After the rocks are painted and dry, it's time to glue them to the block. We heated up the hot glue gun while the glue was drying. First we glued the tea light in place and then arranged the rock family around the campfire. Light the tealight and the family will enjoy their campfire. This is a great craft for a group camp out!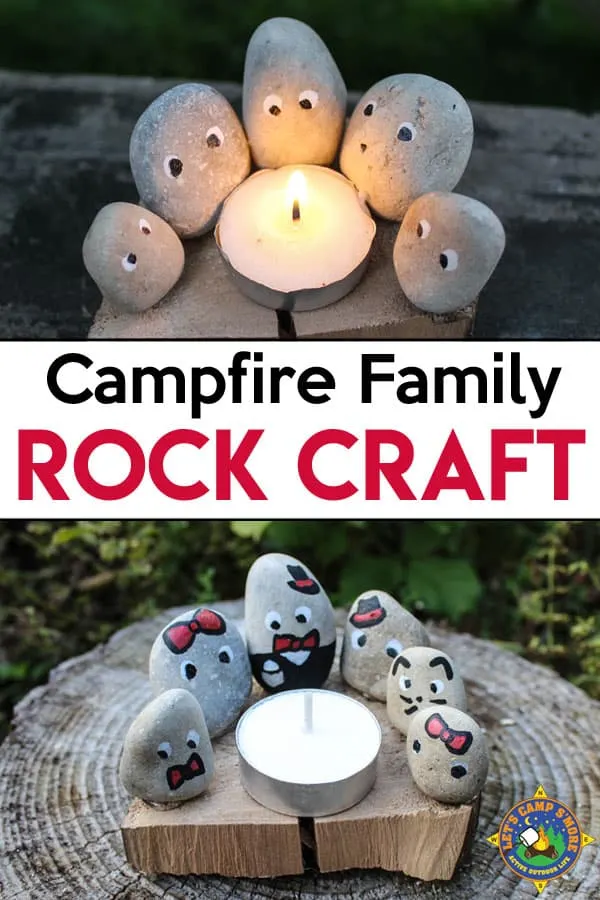 Enjoy More Camping Crafts
Tic Tac Toe Game
Water Bottle Wind Spirals