In the United States, few campgrounds compare to those in Michigan. With over 14,500 Camping Sites in Michigan, it's no wonder the state ranks number one in the country for the total number of camping sites and overnight attendance.
Campers, however, are not attracted to the numbers. They love what the sites offer – age-old hardwood forests of natural beauty filled with regional flora and fauna and golden sunrises and sunsets over the most extensive freshwater system in the world.
Michigan State Camping
If you're looking for great places to camp on your outdoor adventures, here are several state park modern campsites throughout Michigan that offer something for everyone. Each is worth the drive, even if you live out of state as we do.
I divided this list into three sections of the state; western lower peninsula, eastern lower peninsula, and upper peninsula.
You can make reservations for state parks in Michigan six months ahead. The booking window opens at 8 a.m. EST on weekdays and 9 a.m. EST on weekends.
A Michigan Recreation Passport is required to enter any state park or recreation area.
Western Lower Peninsula Michigan Camping
The Michigan Outdoor Adventure Center recently hosted State Park Madness. 32 State Parks were included in the bracket and placed for head-to-head voting. The final two, located in the western lower part of the state along Lake Michigan, are included in this list; Holland and Leelanau.
Our two favorite campgrounds are Holland and Hoffmaster.
Holland State Park Has The Best Water Views
Holland State Park has two campgrounds that are great for camping. Choose from a total of 309 campsites at either Lake Michigan or Lake Macatawa.
The 98 paved sites of the Beach Campground offer easy access to the beach. While they are close together, they get snatched up as soon as the reservation window opens, particularly the 31 full hook-up sites.
Lake Macatawa Campground has 211 more spacious sites in a wooded setting. The modern bathroom is the nicest I have ever seen in a campground.
While there is lake access across the street from the wooded campground, there is easy access to the sandy beaches of Lake Michigan by car, bike, or foot. Views of the channel and lighthouse are spectacular.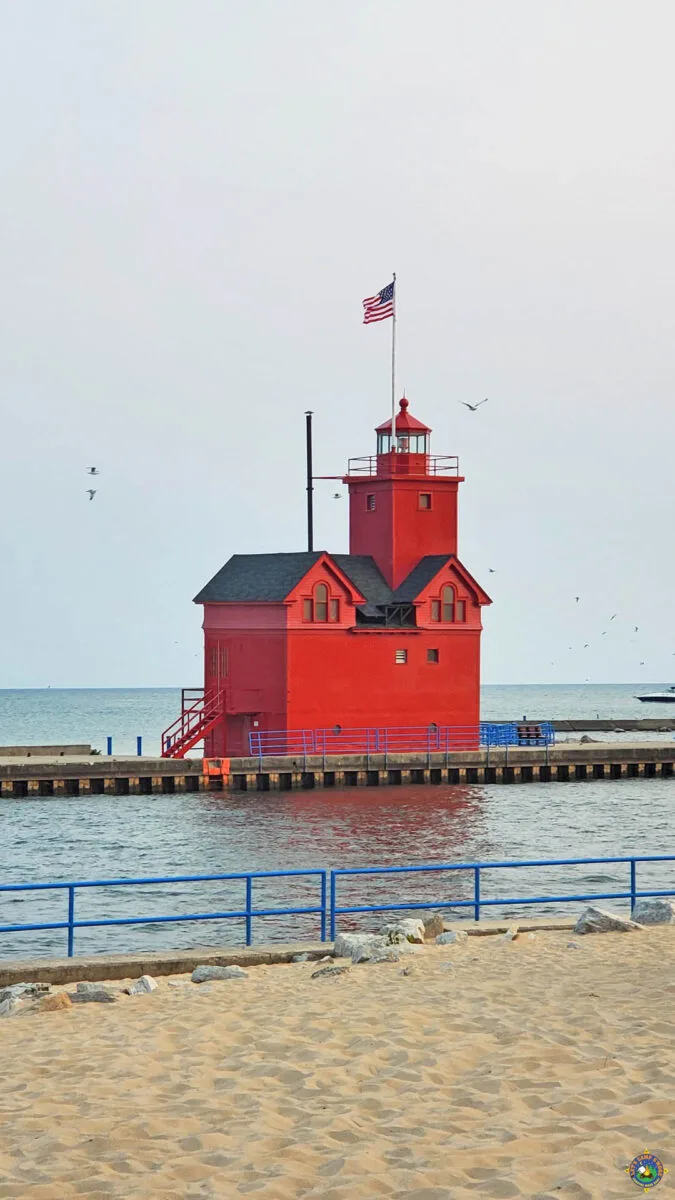 Other activities and amenities include an accessible playground, concessions, a boat launch, Mt. Pisgah Dune Stairway, fishing piers, and nearby general store and paddle rentals.
Holland State Park is a recommended stop on a Circle Lake Michigan Camping Trip.
P.J. Hoffmaster State Park Is One Of The Best Places To Visit
The P.J. Hoffmaster State Park has modern campsites with 297 sites on the southwestern side of Michigan. Campers can set up their tents or RVs on spacious lots surrounded by trees and the coastal dunes of Lake Michigan.
Children can play on the large playground or splash in Black Creek. The big attraction is the three miles of Lake Michigan shoreline beaches that are perfect for swimming or seeing a beautiful sunset.
Hoffmaster is also an excellent place for hikers with many popular activities. Most nature trails winding through the forest have an 8% grade or higher, and many leads you up and around dunes more than 700 feet above sea level.
Nature lovers and bird watchers will enjoy seeing regional wildflowers, birds, and animals along these hiking trails.
They can also browse through the Gillette Sand Dune Visitor Center, which features exhibits on the dune habitat. If you are looking to add to your trip, Hoffmaster is between the lakeside town of Grand Haven and the city of Muskegon, so there is always plenty to do.
We served as Campground Hosts at PJ Hoffmaster in June 2023.
Leelanau State Park Is The Perfect Place For Hiking
The Leelanau Peninsula is one of Michigan's most beautiful and charming areas, making it ideal for campers. Leelanau State Park, located north of Traverse City, has a rustic campground with 51 sites.
No RV hook-ups or flush toilets are available. Vault toilets are the only facilities in the campground.
Visitors can take a short walk on the shores of Lake Michigan or even swim in the summer months, walk on the pebble-covered beach, and find a Petoskey stone or two. Hikers can enjoy nearly nine miles of trails leading through fields and state forests.
The park is an excellent spot for picnics. Nature lovers can catch a glimpse of wildlife in Leelanau's brushland and wooded areas.
Visitors may also enjoy seeing the Grand Traverse Lighthouse and Museum, which provides a history of the park and the surrounding area.
Sleeping Bear Dunes National Lakeshore Has Massive Dunes
Sleeping Bear Dunes National Lakeshore is a large park known for its towering dunes and expansive views of Lake Michigan.
There are two main campgrounds in the park, comprising 266 campsites. Platte River is a semi-modern campground with numerous electric spots. DH Day Campground is rustic, with unpaved roads and non-electric sites.
North and South Manitou Islands are home to backpacking tent sites.
The park has many hiking trails and overlooks. The most popular is the Dune Climb. The hike down to the lake and back comes with a warning at the top. We heeded its warning and just enjoyed the beautiful vistas.
Visit the Sleeping Bear Point Maritime Museum, Port Oneida Farms Heritage Center, or Empire Historical Museum. Outdoor park activities include bicycling, tubing, kayaking, canoeing, beachcombing, watching the sunset and dark sky views, taking scenic drives, and exploring Glen Harbor and Glen Arbor.
More Modern Campgrounds Along the East Shore of Lake Michigan
Warren Dunes State Park
Ludington State Park
Wilderness State Park
Eastern Michigan Camping
A few summers ago, we went on a Lower Peninsula Camping Vacation around Michigan's lower peninsula. We visited several of the parks above and the following along Lake Huron.
Tawas Point State Park Is Great For Large Groups Of Campers
Tawas Bay has been called the "Cape Cod of the Midwest." With its picturesque views of Lake Huron, excellent fishing, and the Victorian-era Tawas Point Lighthouse, it's easy to see why. Travelers to this area can make the most of their visit by camping at the Tawas Point State Park.
Situated on the end of the sand split that forms Tawas Bay, the modern campground has 193 spots available for camping. A small beach is perfect for swimming and viewing the sunset across the water.
While the boat launch is outside the park, the waters around the point are great for sailing or fishing for pike, perch, or small-mouth bass. The Sandy Hook Nature Trail offers an excellent view of the lighthouse in the park and leads to the tip of Tawas Point.
With so many birds and animals in the area, the park is also ideal for bird watchers and nature lovers. Bug repellant is strongly encouraged out on the point.
Bay City Recreation Area Is One Of The Best Michigan Campgrounds
Bay City State Park is located in southeast Michigan. The campground is spread over 189 large campsites offering RV and tent camping.
A large sandy beach and a fun playscape for the kids are nearby.
The park is home to Tobico Marsh, a 2,000-acre wetland area that is one of the largest remaining freshwater, coastal wetlands on the Great Lakes. Nature lovers and bird watchers can view the variety of waterfowl and migratory birds from the boardwalk or two observation towers.
They can also view the park's award-winning Saginaw Bay Visitor Center, which presents exhibits on local wildlife and their bay habitat, and then hit the Andersen Nature Trail, a three-mile stretch of the converted railway line. Hikers and bicyclists can also enjoy this trail which leads into the Bay City Trailway System.
In addition to wildlife viewing, visitors can enjoy fishing can cast off at an accessible fishing pier or boat in the Tobico Lagoon.
Camp in a Geodesic Dome at Port Crescent State Park
Port Crescent State Park is along the thumb of Michigan. The park is home to a dark sky preserve with a viewing platform.
The campground has 142 tent and RV sites adjacent to the shores of Lake Huron. Experience glamping in a cabin, cottage, or GeoDome.
Two Geodesic Domes are available for rent in the campground. Each has modern amenities like a bed, electricity, air-conditioning, a mini-fridge, a microwave, and a coffee maker, along with an outdoor area with a picnic table and fire pit.
The park has 3 miles of sandy beaches, hiking, biking, picnic tables, paddle rentals, and a wooden boardwalk. Enjoy bird watching or sunsets over the lake.
Take the short drive to Port Austin, where you can rent a kayak or take a boat tour to visit Turnip Rock.
Best Upper Peninsula Michigan Camping
The Upper Peninsula of Michigan is located well north of the 45th parallel, making it one of the most beautiful regions to visit. Check out our Upper Peninsula Camping Itinerary.
Straits State Park is One Of The Best Campgrounds
If you are driving across the Mackinac Bridge into or from the Upper Peninsula, consider staying at Straits State Park in St. Ignace. This modern campground offers 270 sites that are tree covered, in open view, or on Lake Huron. Some have views of historic Mackinac Island or the Mighty Mac Bridge.
Straits is a good home base for exploring the area. Catch a ferry and spend the day on Mackinac Island, biking, shopping, or enjoying the fantastic views.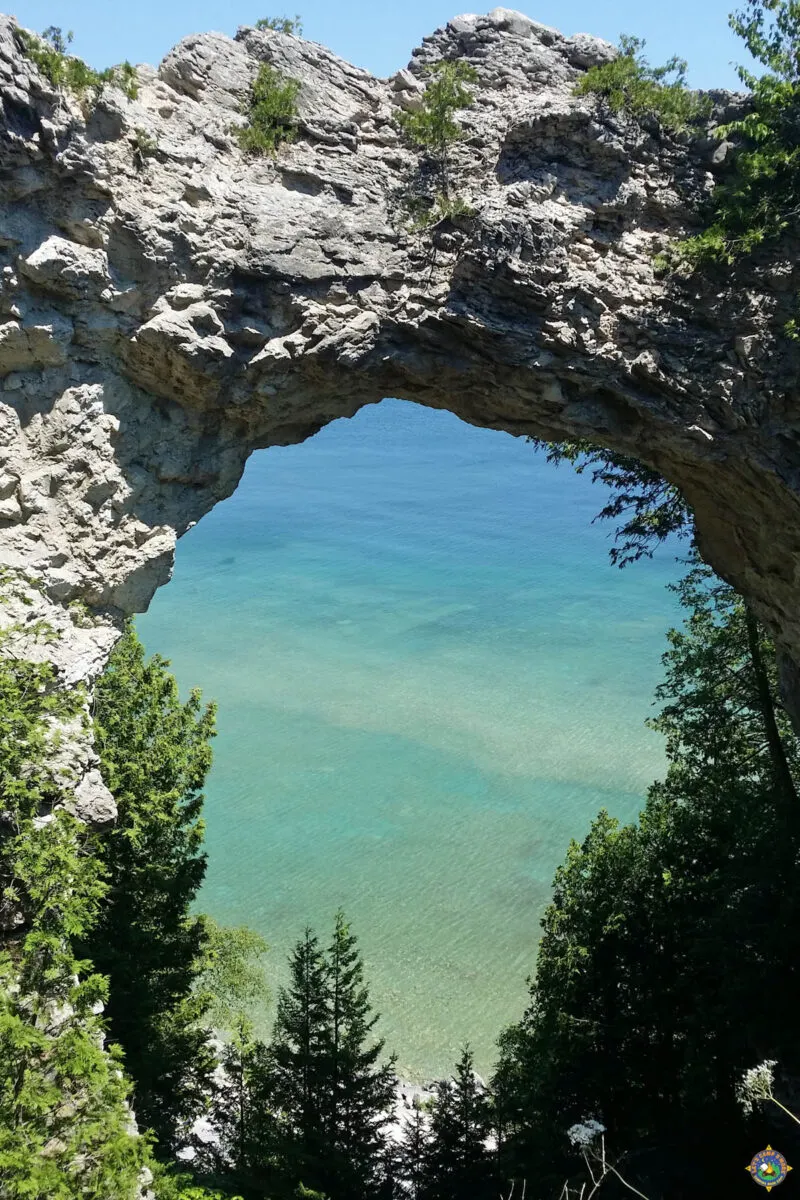 Hikers can explore the trails around the park, which lead to an observation platform that provides a view of the Mackinac Straits. Boaters can launch their crafts and fish in Lake Huron.
If you need a break from camping, you can enjoy the shops and restaurants in quaint St. Ignace. Cross the bridge to visit historic Fort Michilimackinac or shop in Mackinaw City.
Tahquamenon Falls State Park For Your Next Camping Trip
While you're traveling through the Upper Peninsula, you should plan to visit Tahquamenon Falls State Park. If you're familiar with Longfellow's Hiawatha, these are the beautiful falls and landscapes that inspired the poem.
The park features nearly 40,000 acres of forest surrounding the Upper Falls, one of the largest east of the Mississippi River, and the Lower Falls, a series of smaller falls.
The park has four campgrounds, with a total of 277 sites. The Portage Lower Falls Campground is within walking distance of the impressive falls. Tahquamenon is open year-round and offers winter camping.
The park has a restaurant, lodge, and gift shop with delicious ice cream.
Experienced hikers can enjoy 25 miles of biking trails, while nature lovers and bird watchers can participate in free guided tours through the park. Visitors can also rent canoes at the falls basin and boat or fish in the waters.
The Great Lakes Shipwreck Museum is located north of the park at Whitefish Point along the shores of Lake Superior. See the bell from the infamous Edmund Fitzgerald, which sank approximately 17 miles from Whitefish Point.
Pictured Rocks National Lakeshore
Pictured Rocks National Lakeshore has towering sandstone cliffs shaped by Lake Superior. Inland lakes and streams form numerous waterfalls.
Pictured Rocks have three rustic campgrounds with 67 campsites for tents or RVs. There are 13 backpacking camping areas with 3-6 campsites each.
One hundred miles of hiking trails of varying difficulty take you to spectacular views of Lake Superior, beaches, historical sites, and waterfalls. Sand Point Marsh Trail, Munising Falls, and Miners Castle Overlook are the easiest.
We recommend seeing the lakeshore from the water. Sign up for the boat tour in Munising. Kayaking should be reserved for experienced paddlers, as the waters of Lake Superior can change quickly.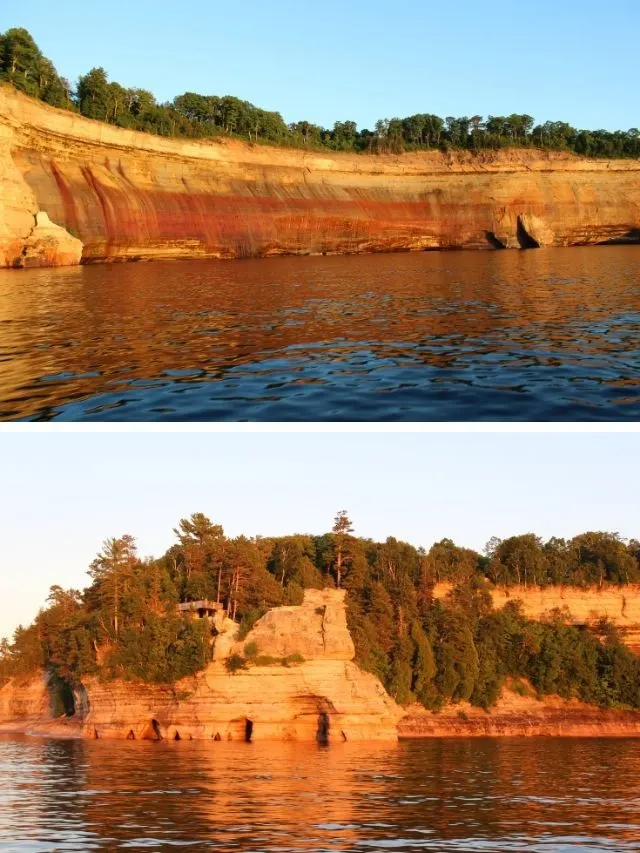 Van Riper State Park For The Best Camping Experience
If you are interested in history, you can visit Van Riper State Park, located 17 miles from Ishpeming in Michigan's Upper Peninsula. Iron ore, discovered in the 1800s, led to a prosperous mining industry.
The campground has modern and rustic campsites totaling 187 spots. The campground has two modern restrooms and three playgrounds.
Van Riper, situated on warm, calm Lake Michigamme, offers a friendly alternative to the Great Lakes. With a beach area and a boat landing in the park, Van Riper is perfect for swimming, fishing, or taking your boat, canoe, or kayak out on the lake.
Hikers can view remnants of that industry on the Miner's Loop Trail, while bird watchers and nature lovers can glimpse moose and other northern Michigan wildlife on the park's other trails.
Michigan Camping Sites Information
Michigan State Park campgrounds are open from mid-April until October, but some open earlier or close later in the season. You can learn more about the campsites mentioned above and the hundreds of others in the state by contacting the Michigan Department of Natural Resources or the National Park Service.
No matter the numerous camping sites in Michigan you visit, you will have a marvelous and unforgettable experience. Our goal is to see each state park in the Great Lakes State.