Do you need an easy campfire recipe for your next camping trip? Try out this Camping Skillet BBQ meal.
Being from the Midwest, we find that many people love to eat meat and potatoes. Our favorite kind of potatoes is sweet potatoes. We use them as a substitute for regular potatoes in all sorts of cast iron skillet grilling recipes, like this Wild Mushroom Hash or this Pulled Pork Skillet Poutine. We also use sweet potato in two of our favorite Dutch Oven recipes; Mountain Man Breakfast, and Dutch Oven Chicken & Veggies.
Sweet potatoes go really well with barbecue sauce. Moreover, sweet potatoes cook up quicker than regular potatoes. That makes us wanting more sweet potato recipes, especially for camping.
Camping Skillet BBQ Recipe
We have created this simple campfire skillet recipe using four ingredients that you likely have on hand; ground meat, sweet potato, BBQ sauce, and cheese. If so desired, spices can be added.
You can cook this recipe on a grill or even a stove at home, even though we show it cooked over the campfire, . We recommend that you use a thick skillet. We used our beloved 12-inch cast-iron skillet on top of a cooking grate over the campfire for this recipe.
Best Camping Skillet Tip
When cooking over a campfire, it is important to get the fire to the right heat. You do not want to have active flames lapping at the bottom of the cast iron, but you do not want to have coals that are dying out either. It will be a little trial and error to get something in between that will cook the food but not burn the bottom.
Barbeque Skillet Recipe Tips
The first step of this recipe is to brown the meat. Make sure to fully cook it, so that no pink is showing. Break up the meat into loose meat as you cook it.
Cook the sweet potato in the oil left in the skillet from cooking the meat. Dice, cube, or cut the sweet potato into strips before cooking. Regular potatoes can be used instead of sweet, but you will need to cook them a little longer.
It is time to assemble the meal in the skillet when the potatoes are done. Leave the sweet potatoes in the skillet, cover them with the meat mixture, and then cover all that with shredded cheese.
Recipe Adaptations
Three of us ate the recipe as shown, but you can adapt this camping skillet bbq meal to feed a larger crowd. If you need a larger amount then your skillet can hold, then cook the ingredients individually on a large griddle or Blackstone. Assemble the dish on plates when the food is being served.

How good does that look? We love the simplicity of it. Get creative and add onions or mushrooms to this dish.
Are you looking for an easy campfire dessert to have after this skillet meal? Then check out Campfire Cookies, Grilled Peach Crisp, S'mores Nachos, or Frosting S'mores.
Yield: 4 servings
Easy Camping Skillet BBQ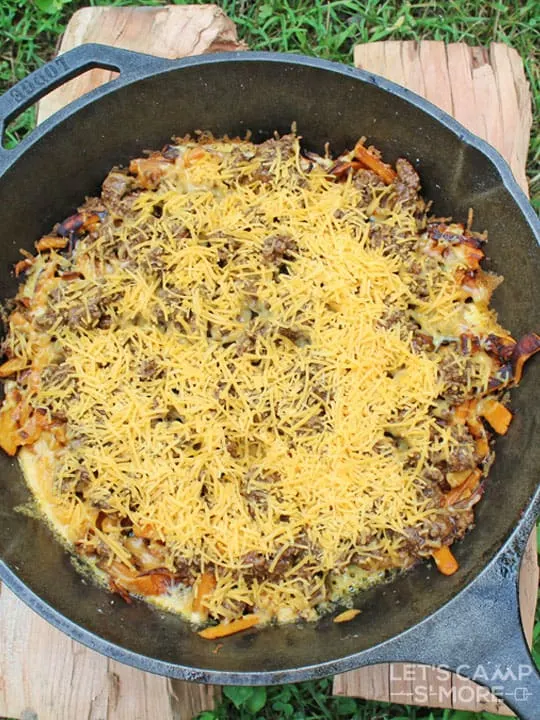 Create this tasty skillet meal using 4 common ingredients that you probably have on hand.
Additional Time
10 minutes
Ingredients
1.25 pounds ground meat
1 cup barbeque sauce
2 large sweet potatoes
1 cup shredded cheese
Instructions
Prepare your campfire for cooking.
Peel and chop the potatoes.
Place your large skillet on a grate over the campfire.
Brown up the ground meat, breaking it up as you go, until thoroughly cooked.
Remove the meat from the skillet using a slotted metal spoon, leaving the grease to cook the potatoes in.
Mix the barbecue sauce into the meat and set aside.
Put your cut sweet potatoes into the grease in the skillet and cook for 8 to 15 minutes.
When the potatoes are done, layer the meat mixture on top of them.
Sprinkle the desired amount of cheese on top of the meat, which will melt from the heat of the pan.
Serve and enjoy.
Notes
Use your favorite variety of potato for this skillet meal. Add in other ingredients such as onion and mushroom for a depth of taste.
Nutrition Information:
Yield:
4
Serving Size:
1
Amount Per Serving:
Calories:

702
Total Fat:

35g
Saturated Fat:

15g
Trans Fat:

1g
Unsaturated Fat:

15g
Cholesterol:

154mg
Sodium:

1071mg
Carbohydrates:

48g
Fiber:

4g
Sugar:

29g
Protein:

47g