Looking for a different meal for camping this weekend? Try this Camping Stir Fry that you prep it home before heading out.
Are you tired of the same old hamburgers and hot dogs each time you camp? Our weekend camping menu plan has many easy meal suggestions, but now we have something new for you.
Stir Fry Camping Style
This stir-fry is so versatile. Use your favorite protein whether it be chicken pork beef or tofu along with your favorite vegetables. Add cashews or peanuts and it really becomes a hardy meal.
Customize this recipe with the following:
Protein options: chicken, pork, beef, tofu
Vegetable options: carrots, broccoli, cauliflower, bell peppers, brussels sprouts, pea pods, green beans, edamame, zucchini, mushrooms, water chestnuts, baby corn, bean sprouts, green onions
Other additions: noodles, beans, sesame seeds
Chop Ingredients at Home
With the ingredients being prepared at home, this is the perfect first night of camping meal. Chop up your protein and veggies and place them in plastic bags or storage containers. Carry them out to the campsite in a cooler.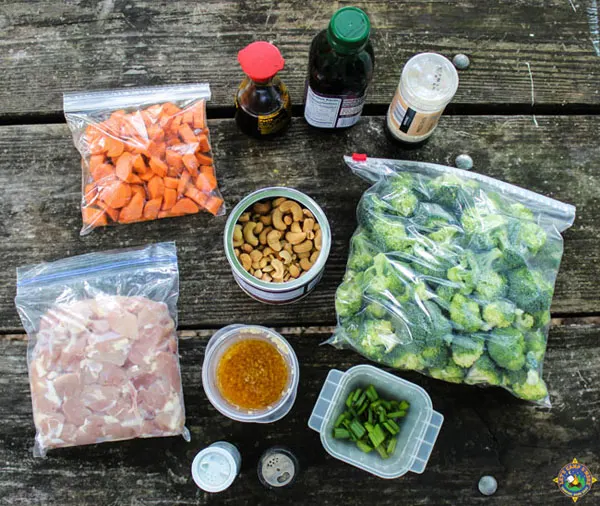 All of the pre prep saves time and allowed you to properly wash your hands after touching the meat. Cross contamination can become a real issue out at the campsite.
How to Cook the Stir-Fry
This recipe is made in a large skillet on a camp stove or over the campfire. We do not have a wok so we use a large cast-iron skillet over our heat source, which is an electric burner. Our other skillet meals include Mushroom Chickpea Hash, BBQ Skillet Stack, and Kielbasa & Cabbage.
We line our ingredients up in the order that we will be adding it to the pan. Start with the oil onion ginger and garlic. If you are using meat, that will be next.
Hardy vegetables, such is carrots go in after the meat. This will allow enough time for them to cook and soften up.
Add the nuts in any other vegetables that you want. We used are favorite stir-fry vegetables, which is broccoli.
Finally, you add soy sauce. Teriyaki or pre-made stir-fry sauce can be added instead. The last thing we add is green onions.
This mill takes approximately 15 minutes give or take to cook.

How easy does this camping stir-fry sound to make? Doesn't it look delicious? You will also like Pulled Pork Poutine and Cheese Curd Toss.
Yield: 4 servings
Camping Stir-Fry
Cooking a stir fry while camping can be quick and easy when you chop the ingredients at home.
Ingredients
protein (your choice meat or tofu)
fresh vegetables
oil (olive and/or sesame)
chopped or minced onion
minced garlic
finely chopped or minced ginger
sauce (soy, teriyaki, or stir fry)
salt & pepper
chopped green onions
optional: nuts (cashews or peanuts)
Instructions
Chop the protein and vegetables at home. Store them in zip bags or containers and transport them in a cooler to the campground.
Heat the oil in your skillet.
Add the minced garlic, ginger, and onion to the oil and pan-fry for a few minutes.
Add the meat and stir.
Stir in the heartier vegetables.
If you are using nuts, add them next.
Finish adding veggies.
Stir fry until the meat and vegetables are cooked.
Stir in the sauce.
Add salt & pepper.
Top with chopped green onion
Notes
Protein options: chicken, pork, beef, tofu
Vegetable options: carrots, broccoli, cauliflower, bell peppers, brussels sprouts, pea pods, green beans, edamame, zucchini, mushrooms, water chestnuts, baby corn, bean sprouts, green onions
Other additions: noodles, beans, sesame seeds