Camping with dogs can be a lot of fun, but it requires you to be prepared.
Follow these tips for dog camping that show you how to make DIY Dog Tags to keep your pet happy, safe, and healthy on your trip.
This post was sponsored content when originally published and has since been updated.
Our dog, Cooper, loves to go camping with us. He gets excited when we are packing the car and shakes with excitement until we put him in the vehicle.
He settles down once we get on the road and is happy when we arrive at the campground.
Here are our tips for camping with your dog.
Tips for Camping with Dogs
Keep your dog safe from wild animals – Do not leave your dog unattended outside your tent or RV.
You never know when a critter might come up and mess with them.

Tick Check
Check your dog for ticks – We have pulled several ticks off our dog while camping.
Check them again after you get home.

Make sure to have proper identification on the dog – Does your dog have tags with their name and a phone number to reach you? How would someone reach you if you do not get reception on your phone at the campground?
Create a temporary ID tag for your dog.
Directions can be found at the bottom of this post.
How to Keep your Dog Cool While Camping
Keep the dog cooled off – When camping with dogs during warm months, so it is important to keep your dog comfortable in the heat.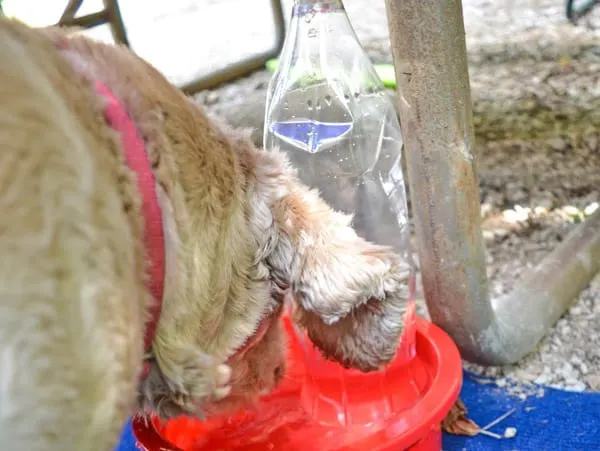 Make sure the dog has plenty of fresh water – Have fresh water available for your dog at all times. You can do this with a self-filling water bowl, which is fun and easy to make with a soda bottle.
How to Make a Self-Filling Water Bowl
Wash out the bottle and remove any labels.
Cut a hole in the bottle about an inch or two from the bottom, depending on how deep you want your water.
Cover the hole with your finger, fill it with water, replace the lid, then set the bottle into the water dish. The water will fill the bowl until the hole is covered and won't overflow. The vacuum pressure in the bottle keeps it from filling too much. As the water level goes down, the bottle will automatically fill until the hole is covered again.
Shade – Make sure your dog has shade to lay in.
The sun might feel good to you, but your dog can get too hot.

Use a fan – We bring a dog crate with us for Copper to rest or sleep in.
We set it up in the shade and then blow a fan on it. This was very effective in the heat of the day.
You can also use a cooling mat or give them a frozen dog treat.
Walk during cooler hours – Make sure to walk your dog during the cooler times of the day, which are morning or evening hours.
Cooper has a tendency to get a seizure when he is overheated.
I am happy to report that we have kept him cool and he has been seizure-free for years.
Do you take your dog out camping, hiking, or to other activities?
Pin One of These Images on Pinterest:
Yield: numerous tags
DIY Dog Tags
Keep your pet safe when you travel with a temporary ID
Estimated Cost
25 cents per tag
Materials
Key Tags with Split Rings
Pen
Instructions
Write your dog's name and a phone number to reach you on one side of the tag.
Write the campground name and your site number on the other side of the tag.
Attach the tag to your dog's collar.
Notes
Create the tags before you leave home. If you do not know which site number you are going to be in, add it to the tag once you get checked in
These temporary DIY Dog Tags will be helpful if your dog separates from you at the campground.