This shop has been compensated by Collective Bias, Inc. and its advertiser.
All opinions are mine alone.#CheckYourPetFood #CollectiveBias
Camping with dogs can be a lot of fun, but it requires you to be prepared. Follow these tips for dog camping that show you how to make DIY Dog Tags to keep your pet happy, safe, and healthy on your trip.

Our dog, Cooper, loves to go camping with us. He gets excited when we are packing the car and shakes with excitement until we put him in the vehicle.
He settles down once we get on the road and is happy when we arrive at the campground.
Here are our tips for camping with your dog.
Tips for Camping with Dogs
Keep your dog safe from wild animals – Do not leave your dog unattended outside your tent or RV.
You never know when a critter might come up and mess with them.

Keep the dog cooled off – When camping with dogs during warm months, so it is important to keep your dog comfortable in the heat.
Set them up in the shade and consider the use of a fan.
Take them on walks or hikes early or late, letting them rest during the hot part of the day.

Make sure the dog has plenty of fresh water – Have fresh water available for your dog at all times.
With being outside, you will have to change their water frequently due to dirt or bugs.

Tick Check
Check your dog for ticks – We have pulled several ticks off our dog while camping.
Check them again after you get home.

Make sure to have proper identification on the dog – Does your dog have tags with their name and a phone number to reach you? How would someone reach you if you do not get reception on your phone at the campground?
Create a temporary ID tag for your dog.

DIY Dog Tags Tutorial
Supplies
Key Tags with Split Rings
Pen

DIY Dog Tags Directions
Write your dog's name and a phone number to reach you on one side of the tag.


Write the campground name and your site number on the other side of the tag.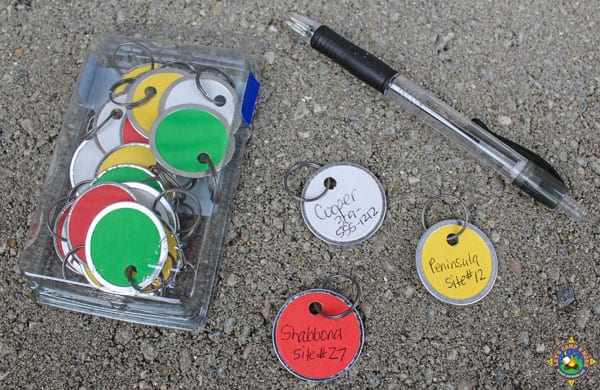 Attach the tag to your dog's collar.
Create the tags before you leave home. If you do not know which site number you are going to be in, add it to the tag once you get checked in.
These temporary DIY Dog Tags will be helpful if your dog separates from you at the campground.
Reality Check
Make sure you have the right dog food – Are you looking for a quality dog food at a good price? Both Purina® Dog Chow and Purina® Beneful® have real meat at the right price. Purina Dog Chow Natural Plus Vitamins & Minerals Dog Food is 100% complete and made with real beef and farm-raised chicken.
Purina Beneful Grain Free With Ream Farm-Raised Chicken Adult Dry Dog Food has quality ingredients like real, farm-raised chicken and accents of blueberries, pumpkin, and spinach.

The Purina Dog Chow Natural Plus Vitamins & Minerals Dog Food comes in a small 4-pound bag, which is perfect for a weekend camping trip.
Purina Beneful Grain Free With Ream Farm-Raised Chicken Adult Dry Dog Food comes in a 12.5-pound bag which is great for longer trips.
Our dog likes the taste and we like the zipper closure on the package.

Purina Dog Chow and Purina Beneful can be purchased at Meijer stores. Meijer offers shopping options to help you keep your dog happy and healthy; in-store, Curbside, and Shipt. You can go into your local Meijer store to shop for the dog food you want.
With Curbside, you order your items online and indicate when you want to pick them up at the store. Shipt you to order your groceries online and have them delivered to your home. Not all Meijer Stores offer these last two options, so please enter your zip code in at Curbside or Shipt to see if this option is available to you.
From February 4th through March 3rd save with mPerks at Meijer. Get $1 off Dog Chow 32 lb bag or smaller or get $1 off any size bag of Beneful dog food.

Do you have any tips for camping with dogs to add?
Pin One of These Images on Pinterest: