Heading out camping soon? Here is a huge list of canned food camping recipes and ideas for your next trip that will not have to be refrigerated. These easy camping food ideas and recipes include only non-perishable food ingredients.
These Canned Food Recipes & Camping Meals are organized in the following order:
Ingredients
Breakfasts
Lunches
Snacks
Main Dishes
Sides
Desserts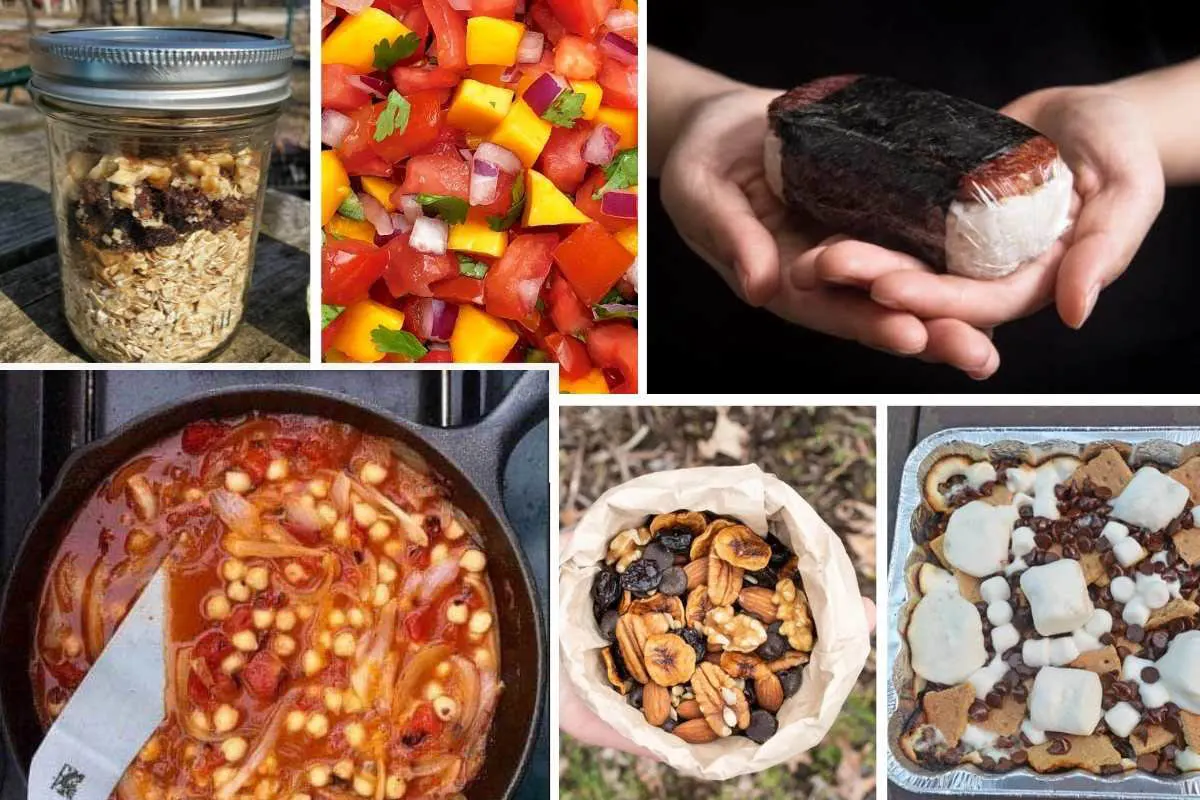 Canned Food Camping Recipes & Tips
One of the biggest issues with camping is keeping food cool. It is a great thing that a lot of campgrounds have electrical RV sites, but many tent sites have no power available. And if you are camping off the grid, even for a short trip, you have no good way to restock the ice in your cooler. Do not fear, campfire cooking can be a lot of fun!
Here are a few quick tips for food preparation and storage while camping.
Preplan your meals! We have a free camping meal planner printable set. A blank shopping list is included so that you can plan your grocery store purchases.
One of the best options is small or individual packages. Smaller sizes will cut down on food waste because you can consume it all and do not need refrigeration.
Bring a little extra food, especially snacks! (even if you are not going for a long time!)
Organize the food by meal. It is amazing how much space food takes up, so test your vehicle storage so do not have to leave any food behind.
Label storage containers with ingredients. Camping involves a lot of shifting things around, so labeling will help you from stressing out.
Keep food in vehicles overnight and away from hungry wildlife.
Bring clips or rubber bands to hold packages closed after opening.
Bring plastic bags for other food storage.
Make a simple ice chest cover to help ice last longer in your cooler, maybe even your entire trip.
Make sure to bring camp cooking cookware and utensils.
Pack a can opener. Ask us how we know this one!
Paper plates and bowls make meal time so much easier!
Don't forget the matches and lighter.
Double-check your lists because you might be a long way from home or a store.
Best Canned Food for Camping
Here is a camping food list of canned goods, staples, and fresh foods that do not need cooling that you can get to be used in food prep and recipes. Some of these have a long shelf life and can be used on multiple outings.
Powdered Milk (mix with water)
Soy or Almond Milk
Packaged, Canned, or Fresh Fruits
Canned and Fresh Vegetables
Potatoes (regular & sweet)
Canned Meats & Fish (in lieu of fresh meat)
Rice
Pasta
Canned Beans
Bread
Rolls
Tortillas (great substitute for bread)
Summer Sausage
Pepperoni
Shelf-Stable Cheese or Hard Cheeses
BBQ Sauce
Soy Sauce
Spaghetti Sauce
Grated Parmesan Cheese
Olive Oil
Cooking Spray Oil
White & Brown Sugar
Salt & Pepper
Spices (cinnamon, chili powder, etc.)
Peanut Butter & Nutella
Cold Water
Canned or Bottled Drinks
Drink Mixes
Adult Beverages
Recipes marked with an asterisk* are made at home ahead of time.
Canned Camping Food Breakfasts
Breakfast is truly the most important meal of the day. Here are a few choices to get your morning started on the right foot. We love to cook breakfast!
Peach Nut Pancakes
These Peachy Nutty Pancakes are a great way to start the day! Peaches and nuts are a tasty combination!
Gluten-Free Pancakes
Top these Buckwheat Pancakes with berries and maple syrup for a healthy start to your day. These are easy to make on a Blackstone or griddle.
DIY Instant Oatmeal
Make your own Instant Oatmeal ahead of time and cook by adding water when camping. Place the jar half full of rolled oats and layer any desired add-ons and cinnamon. Fill the jar with boiling hot water and let it sit with the lid on for about 30 minutes. Remove the lid, stir in fruit, and enjoy! This is such an easy breakfast idea.
More Camping Breakfast Ideas
Powdered Eggs
Oatmeal
Grits
Cream of Wheat
Precooked Bacon
Cereal with Powdered Milk
Pancake Mix (just add water variety)
Poptarts
Donuts
Toast
Bagels
Coffee with Single Coffee Creamers
No Refrigeration Camping Lunches
If you are like us, you eat lunch early while camping and then snack all afternoon. Here are some different lunch ideas for you to enjoy.
Peanut Butter and Syrup Sandwiches
PB & Syrup Sandwiches may sound strange, but don't knock it until you try it! PB&S is a great option for the classic.
Spam Musubi
Spam Musubi is a popular food in Hawaii that is a good choice for camping!
Tomato Basil Soup
Make the croutons ahead of time then whip this Tomato Soup up in 5 minutes out at the campsite.
Grandma Jo's Veggie Soup
Grandma's Vegetable Soup has a Polish flair and is packed full of tasty veggies like cauliflower, carrots, and green beans. Canned vegetables make this a snap!
More Quick Lunch Ideas
Ramen Instant Noodle Cups
PB&J Sandwiches
Crackers with Summer Sausage & Cheese (Charcuterie Board)
Canned Soup
Canned Pasta (SpaghettiOs)
Top Camping Snacks
Snacks are a common food that exists at room temperature or outside, needing no refrigeration. Here is a list of great camping snacks.
Grilled BBQ Pineapple Spears
How fun do these Grilled Pineapple Spears look to eat?
Sauteed Chickpeas
Sautee Chickpeas in a skillet over the campfire or on a camp stove. They make a delicious snack!
Trail Mix
This Hearty Trail Mix is great to take on the go to eat any time of day. Swap out any of the ingredients with your favorite nuts or seeds.
Watermelon Jerky*
Watermelon Jerky dried at home makes the best snack to take camping or hiking!
Apple Sandwiches
Slice apples crosswise (thinner than pictured is recommended) and add peanut butter, raisins, chocolate chips, granola, mini marshmallows, or crushed graham crackers.
Hot Chocolate Powder*
This Hot Chocolate Mix is perfect to have on hand so that you can whip up a mug or two.
More Packaged & Canned Food for Camping Snacks
Tortilla Chips & Salsa
Crackers
Pretzels
Jerkey
Dried Fruit
Fruit Cups
Fresh Veggies
Energy Bars
Nuts & Seeds
Popcorn
Shelf Stable Meals for Camping
These main dishes are also made with shelf-stable foods, which are perfect for dry camping. We have included easy camping meals.
Dutch Oven Chicken and Squash
Used canned chicken to make this Dutch Oven Chicken and Squash. A Dutch Oven is a great addition to your camp kitchen. Cooking in one takes extra time, but it is worth it.
Spicy Chicken and Corn Chili
This Spicy Chicken and Corn Chili makes a hearty meal!
Creamy Cannellini Bean & Tomato Pasta
This Creamy Cannellini Bean & Tomato Pasta is perfect for camping!
Sourdough Panzanella Bread Salad*
This Sourdough Panzanella Bread Salad is a good meal for camping. It can be made right before heading out to the campsite to eat right away.
Lentil Dahl
This Lentil Dahl is great over rice or with a side of naan or chapati bread.
Pasta with Clam Sauce
Pasta with Clam Sauce is a delicious meal that your family will love!
Strawberry Avocado Pasta Salad
This Strawberry Avocado Pasta Salad is hearty enough to be a main dish. It is yummy and colorful.
Sun-Dried Tomato Pesto Gnocchi
Mix the sauce at home before putting together this Sun-Dried Tomato Pesto Gnocchi.
Pasta with Tuna Tomato Sauce
Canned Tuna simplifies the prep of this Pasta with Tuna Tomato Sauce. Large pasta works best.
Lentil Sloppy Joes
These Red Lentil Sloppy Joes are a meat-less twist on a summer classic. It is one of our favorite meals.
Chickpea Chana Masala
This Chickpea Curry is a delicious camp stove quick meal that goes together in about 20 minutes.
More Easy Camping Dinner Ideas
Side Dishes for Camping
Create some tasty food to accompany main dishes out of food that does not need refrigeration. There are so many great food options on this list.
Cucumber Bean Salad
This refreshing Cucumber & Bean Salad with red onion goes together quickly.
Mango Pico De Gallo
This tasty Mango Salsa is easy to prep out at the campsite!
Orzo Pasta Salad
We love orzo, so can't wait to make this Orzo Pasta Salad with Black Beans & Corn.
Three Bean Salad
Three Bean Salad is the perfect side for any main dish!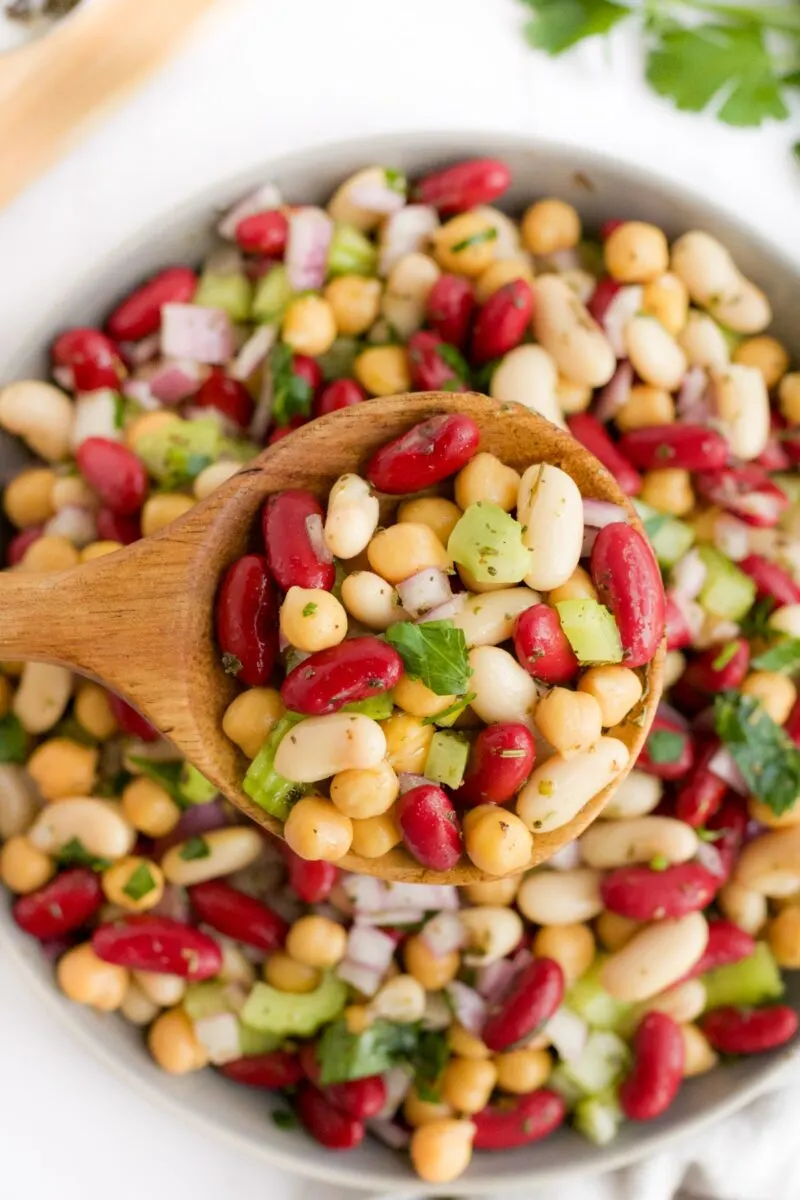 Fruit Salad
Create a Fruit Salad with your favorite fruits. Yummy, yummy!
Grilled Veggie Skewers
Grilled Vegetable Skewers are made with your favorite veggies with garlic and fresh herb sauce.
Other Camping Sides
Corn on the Cob
Vegetable Foil Packets
Barbeque Beans
Applesauce Cups
Top Camping Desserts – no cooler needed!
Just because this is at the bottom of the post does not mean we forgot dessert. Dessert time is the best part of the day! A lot of these recipes are made over an open flame.
S'more Nachos
Of all the different ways to make s'mores, this nacho form is sure to become a favorite recipe.
Dutch Oven Dump Cake
This classic Dump Cake uses a soda pop and a cake mix.
Dutch Oven Chocolate Cake
This amazing Chocolate Cake has won Dutch oven bake-offs!
Dutch Oven Cherry Chocolate Lava Cake
This Cherry Chocolate Lava Cake is another easy way to make a cake while camping.
No-Bake Blueberry Bars
Mix these No-Bake Blueberry Almond Oatmeal Bars up at the campground and eat right away.
S'more Snack Mix
S'more Mix is such an easy snack to make. This post also has free camping party decor.
S'more Banana Packets
Everyone fills their S'more Banana Packets with favorite fillings. These are cooked in aluminum foil in the hot coals of the campfire.
Grilled Peaches
Grilled Peaches caramelize as they grill. Brush with cinnamon honey for a sweet finish.
Other Dessert Ideas
Pie Iron Pies (bread & pie filling)
Cotton Candy with a mini machine
Store-bought cookies, snack cakes, bakery items
Pudding Cups
Candy
This huge list of canned food camping recipes and ideas is sure to help out on your next camping trip that does not have any electricity!
Pick out the best food for your family and make a list of great campfire meals to enjoy all summer long. Please let us know if you have any meal ideas to add. Have a super trip!
More Camping Recipe Collections