Create this fantastic Caramel Apple Cinnamon Roll Monkey Bread on your next camping trip.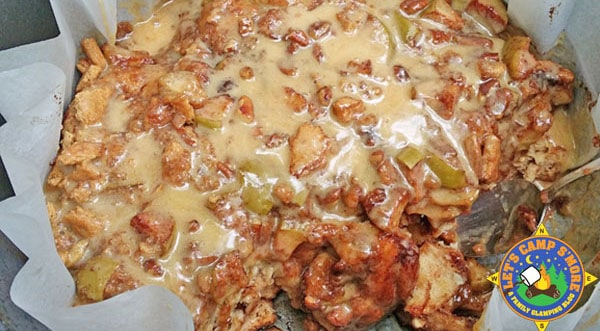 I am starting out with a great recipe we call Caramel Apple Cinnamon Roll Monkey Bread. We discovered it at a camping rally.
One of the attendees made this delicious dessert which was devoured quickly. It one of those that sticks in your mind so we made it when we camped this past weekend.
Our friends got this recipe from the Rhodes Bread website.
Caramel Apple Cinnamon Monkey Bread Recipe
Prepare your coals and dutch oven.
We like to use parchment paper liners. You can buy some here or just make your own using this tutorial.
Cut the cinnamon rolls in fourths and put into the dutch oven. You can see ours looked very globby. I think they were a little more thawed than the recipe called for but they turned out fine!
Mix the apples (we left our peels on…YUM!), brown sugar, cinnamon, graham crackers, and pecans and pour on top of the rolls.
Cover with lid and bake at 350°F 25-30 minute, which is approximately 18 briquets on top and 10 on the bottom.
This may vary depending on the size of your DO. This is what it looked like when it was done baking!
We just wanted to eat it at this point.
Mix up the icing, which is 2 icing packets (included with the rolls) and 1/3 cup caramel and pour it on top of the baked good-ness.
At this point, we put the lid back on and let it sit for about 10 mins so that the icing could really soak in.
This is a YUMMY recipe that can also be made at home.
We ended up using 3 icing packets and more than 1/3 of a cup of caramel. It was SUPER rich.
Next time we will decrease that icing amount and increase the apples and the pecans.
This makes a big amount so make sure you have a hungry bunch!!
Check out these other Dutch Oven Cake Recipes
Chocolate Cherry Lava Cake
Classic Dump Cake
The VERY Best Chocolate Cake
Blueberry Lemon Dump Cake
Pumpkin Pie Cake
Get the Caramel Apple Cinnamon Roll Monkey Bread recipe on the here.