This is a low-carb recipe depending on what vegetables you use.
Last weekend we went camping and ate the most incredible baked chicken and vegetables recipe. It was inspired by our camping friends, Robin and Brad.
There are several ingredients involved but it is so effortless that anyone can make it. We love how this recipe lets you roast chicken with vegetables in the same pan.
This camping recipe can be customized with your favorites. Just add a few spices for an uncomplicated prep.
Like any Dutch Oven Camping Recipes, you need to prepare charcoal. We use a charcoal chimney to prep the coals for our Dutch oven.
Dutch Oven Chicken and Potatoes Recipe
This Dutch oven-roasted chicken with vegetables recipe is made with chicken and your favorite vegetables. We used chicken thighs, sweet potatoes, carrots, and mushrooms.
Our spices included onion flake, although we have also made it with real onions.
Outside of chopping up some vegetables, this is a dump and sprinkle recipe.
How to Roast Chicken and Vegetables While Camping
We carefully layered each ingredient, but you can just drop them in any order. The video you see playing shows our prep steps.
We prefer to put the vegetables that take the longest to cook on the bottom.
This Dutch oven chicken thighs and vegetables recipe surpassed our Campfire Roasted Chicken as our favorite oven roasted chicken with vegetables recipe. You really cannot mess it up!
We will definitely be making this chicken vegetable recipe on every camping trip from now on. We will probably make it with the same exact veggies each time.
It is so simple but so good. We need to try this dutch oven dinner at home.
update: We made this baked chicken and vegetables in the oven at home at it was pretty good!
I would not make it in any other container because the cast-iron Dutch oven really adds to the taste.
Doesn't this look tasty? You will also love our Meatloaf-Stuffed Vegetables and our Cheesy Green Chile Chicken recipes.
What veggies would you add to your version of this chicken vegetable recipe?
Would you vary the spices at all? What are your favorite Dutch oven recipes?
Do you have a recipe that you'd like us to feature here at Let's Camp S'more? Join our Mod Squad!
Pin this recipe!

Yield: 8 servings
Dutch Oven Chicken and Vegetables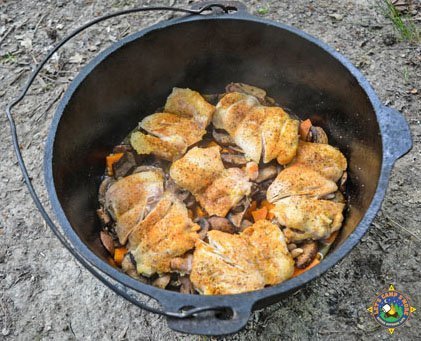 Try this easy camping recipe made in the dutch oven.
Additional Time
10 minutes
Total Time
1 hour
30 minutes
Ingredients
sweet potato
carrot
mushrooms
onion flakes
garlic powder
salt
pepper
seasoning salt
chicken thighs
water
Instructions
Prepare charcoal briquettes for the Dutch Oven.
Peel and chop the vegetable into chunks.
Layer your vegetables in the dutch oven. We placed the carrots and then the sweet potatoes.
Sprinkle the onion flake, garlic powder, salt and pepper on top of the veggies.
Layer the mushrooms on top.
Add 1/4 cup of water.
Layer the chicken thighs on top.
Sprinkle generously with garlic powder, pepper, and seasoning salt.
Place the lid on the dutch oven.
Place coals on the lid of the dutch oven. We used way more than we probably had to, but it helped cook it quickly.
We cooked ours about an hour. Check chicken for done-ness before serving.
Nutrition Information:
Serving Size:
1
Amount Per Serving:
Calories:

425