Learn about all the great features of a Coachmen Freelander RV. We purchased a new 2020 Freelander 21QB in November of that year.
Last year was a crazy year, for sure. We were in the midst of planning our camping rally when we were all sidelined by the pandemic. That changed our outlook on travel and camping.
Over the years, we have owned seven RVs as a couple. This is in addition to the ones our original families had growing up.
Here is our camping history:
Tent campers in the early 90s.
Purchased our first pop-up, an old Viking in 1996. Sold it in 1998.
Back to tent camping here and there in the late 90s/early 2000s.
Purchased an old Winnebago Vectra Class A for a 2010 trip to Alaska. Sold it after the trip.
Purchased our second pop-up in 2012 and started camping a lot more. Had it 3 years.
Purchased our third pop-up in 2015. It was a dud, so we got rid of it right away.
Purchased our fourth pop-up camper in 2016. Sold it in July 2020.
Rented Class C motorhomes on our trips to California and the Northeast.
Purchased an old shuttle bus in July 2020 to build our own camper. Realized quickly that it was NOT the project for us and sold it.
Purchased this brand new Freelander 21QB motorhome. We are very happy with it so far.
Why did we purchase a Class C?
There are several reasons for purchasing a class C motorhome. We have enjoyed the motorhome we had and the ones we rented. We want a place to cook, sleep, and a bathroom. Furthermore, we thought it was the best way to travel self-contained and away from Covid exposure. At this point, we do not regret this decision.
Coachmen Class C Motorhomes
Coachmen currently manufactures four different brands of Class C motorhomes: Freelander, Leprechaun, Cross Trail, Prism. They will be adding Concord to their lineup soon. Coachmen is a reputable brand that has been in business for over 50 years.
The Freelander is an entry-level motorhome, although it is made on the same chassis as the Leprechaun and some of the Cross Trail models. While the Freelander is more affordable to first-time motorhome owners, it has all the features that any RVers need.
The Leprechaun is made with what Coachmen call the 'better stuff'. There are the same features as the Freelander, but with optional upgrades. This model ranges from 21 to 31-foot layouts.
Coachmen Cross Trail is a more eco-friendly model. They come with either a Ford EcoBoost or Transit engine. The models range from 20 to 26-foot options.
The Coachmen Prism is a luxury model made on a Mercedes Sprinter chassis. There are four different layouts of this 24-foot model available.
Freelander Models
Over the years, there have been numerous Freelander models ranging from 20 to 32 feet on either a Chevy or Ford Chassis. Most of the models have similar features to our 21QB, which we describe in detail below.
Freelander models include 20CB, 21BH, 21QB, 21RS, 22XG, 26DS, 26RS, 2600SO, 27QB, 28BH, 28QB, 29KB, 29KS, 30QB, 31BH, 31MB, 31SS, 32BH, 32DS, and 32FS.
Several members of the Coachmen Freelander Owners Facebook Group have contributed to this post with the following images of the various models out there. Based on these contributions, the Freelander 27QB is the most popular. See more photos at the bottom of the post.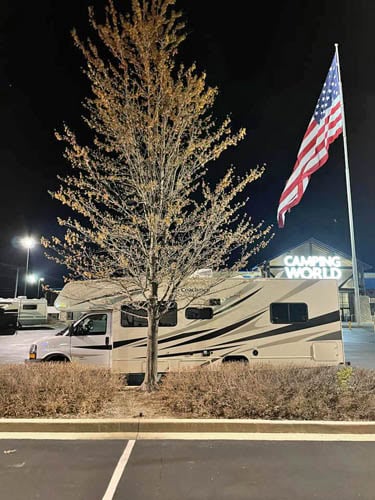 Why we chose a Coachmen Freelander
When we settled on getting a small motorhome, we started researching all the manufacturers. We read many Coachmen RVs reviews and discovered that the Freelander seemed to have great features and be the most affordable.
Upon searching for a Coachmen Freelander for sale, we came across several Coachmen RV Dealerships but inventory was low. We saw a late model 21QB about an hour away, but it had sold by the time we contacted the seller. We then focused on Freelanders.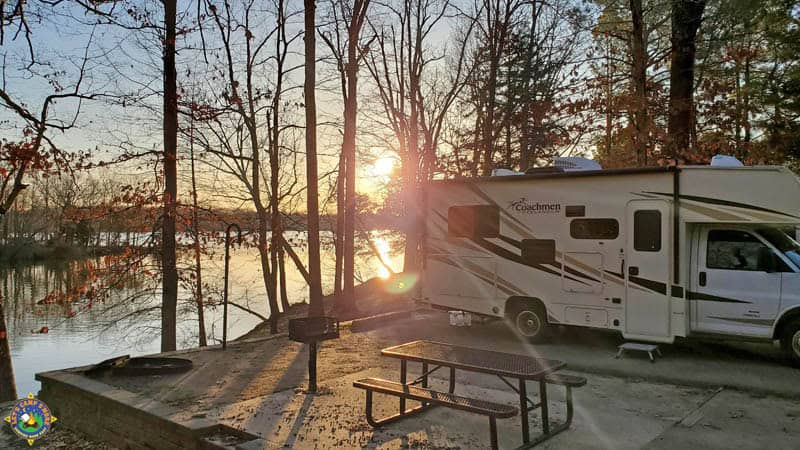 Coachmen Freelander 21QB
The 21QB in this model stands for 21 foot with a queen bed. We wanted to go as small as possible and have a regular queen-sized mattress. This meant not crawling up above a cab or making up a dinette or murphy bed each night. We also did not want a slide. This model seemed to best fit our wants at the time we were searching, especially because it has an external storage garage.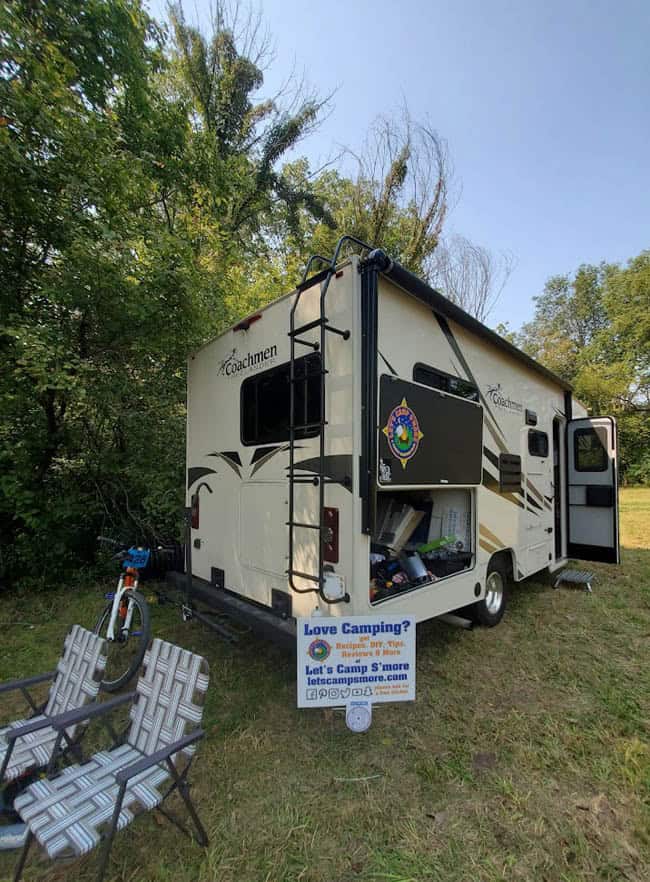 Mechanicals
This nimble Chevy motorhome is built on a V8 6.0L 4500 Express Cutaway chassis.
It is solar-ready. We are not sure if we will add solar to the roof at some point or use a suitcase panel that we set out when we need to.
2020 FREELANDER 21QB CHEVY RV SPECIFICATIONS
| | |
| --- | --- |
| Sleeps | 6 |
| Length | 24 ft 6 in |
| Ext Width | 8 ft 4 in |
| Ext Height | 10 ft 11 in |
| Int Height | 6 ft 11 in |
| Hitch Weight | 5000 lbs |
| Gross Weight | 14200 lbs |
| Dry Weight | 9478 lbs |
| Cargo Weight | 4722 lbs |
| Fresh Water Capacity | 50 gals |
| Grey Water Capacity | 28 gals |
| Black Water Capacity | 22 gals |
| Furnace BTU | 20000 btu |
| Generator | 4.0 KW Onan Gas |
| Fuel Type | Gasoline |
| Engine | 6.0L V8 |
| Chassis | Chevy 4500 |
| Horsepower | 324 hp |
| Fuel Capacity | 57 gals |
| Wheelbase | 159 in |
| Number Of Bunks | 1 |
| Available Beds | Queen |
| Torque | 373 ft-lb |
| Refrigerator Type | Double Door |
| Cooktop Burners | 3 |
| Gas Oven | 1 |
| Number of Slides | 0 |
| Number of Awnings | 1 |
| Axle Weight Front | 4600 lbs |
| Axle Weight Rear | 9600 lbs |
| LP Tank Capacity | 68 |
| Water Heater Capacity | 6 gal |
| Water Heater Type | Gas Electronic Ignition |
| AC BTU | 13500 btu |
| Basement Storage | 92 cu. ft. |
| TV Info | Coach 32″ TV with DVD |
| Awning Info | 15′ Electric with LED Lights |
| Gross Combined Weight | 20000 lbs |
| Shower Type | Standard |
| Electrical Service | 30 amp |
specs according to Coachmen
Exterior Storage
There are three exterior storage compartments in this rig. One right by the door is designed to hold a TV. We do not plan to add one, so we use it to store our adjustable aluminum step.
We use the small compartment behind the driver to store our water hoses.
Our favorite part of this rig is the HUGE storage garage located in the back underneath the queen size bed. This massive compartment has a flat area that we use to store bigger items and four small storage wells that hold heavier or smaller items.
This massive storage area has two doors; a large one along the side and a smaller one in the back. Since we often carry a hitch bike rack, we just use the side door as the back one is blocked.
Other External Features
This 2020 model included a roof rack, a Wi-Fi booster, and a large electric awning. In the future, we will likely tow a small vehicle with the class 3 hitch.
Roomy Interior
For a small RV, it is very roomy inside. This was well designed for optimization.
In addition to the aforementioned beds, there is a roomy u-shaped dinette that can be made into a bed. We have not done this yet. There is plenty of room to get around this dinette as your pass through the kitchen area to reach the bed and bathroom.
The kitchen is small but functional. There is a small sink, a gas stove and oven, a built-in microwave above the stove, and a 2-way refrigerator/freezer unit.
There is a swing-up counter extension over the entry steps. We also increase the prep space with wood blocks that go on the sink and stove if they are not in use.
Full Bathroom
The model has a small bathroom with a toilet, sink, and shower. They are compact but suit our needs.
The bathroom door opens up against the diagonal part of our bed, which makes it a narrow entry. This motorhome would not be a good choice if you need more room.
This model has a step up at the edge of the dinette, which makes this model a poor choice for anyone with mobility issues.
Interior Storage
There is quite a bit of storage in this unit. There is a double-door closet between the dinette and bathroom. We do not need to hang clothes, so we have outfitted this area with storage drawers and a hanging organizer. There are two storage drawers below the closet.
In the kitchen, there is a cabinet above and below the sink. Plus, a drawer under the stove.
Overhead cabinets line the main bed area and are above the dinette. The doors are top-hinged, which is not the most convenient. We may add pistons to help hold them open.
With all this inside storage and the outside garage, we have plenty of storage. On a recent 2-week trip, we stored canned goods and coats underneath the dinette.
Driving a Coachmen Freelander
This motorhome is easy to drive. It feels like a large minivan unless it is very windy on the interstate. Then you really have to hold the wheel.
With it being just over 8 feet wide and under 25 feet long, it can be parked in a regular parking space. When we travel we look for end spots or spaces that will allow or the large rear overhang.
It is quite agile and can easily be turned around. The turn radius seems better than our 4Runner.
Gas mileage around 10 mpg. Not great, but that is what you get with driving a motorhome or pulling a camper.
RV Weight
Many RVers overload their rigs. We are pretty sure we have done this in the past. We did not want to overload this new motorhome, so we got it weighed.
We went to a truck stop and got on a Cat Scale when we were fully loaded. We were just under 11,000 pounds and the max for this vehicle is 14,200. We do not think we will ever overload it.
Getting it weighed was an easy process. We read up on how to weigh an RV and got it done quickly.
Other Features of the Motorhome
The overhead bunk has a 32" flat screen TV on a swing-out arm. There is a built-in DVD player.
The Jensen stereo that came with the unit is junk. We thought there was something wrong with our unit, but many other Freelander owners have commented the same. We would like to replace ours but will need to take the dash apart to do so.
We added vent covers to the three built-in vents.
What we wish was different
We would love it if the passenger seat swiveled toward the living space. We are not sure this is possible with this Chevy chassis.
We plan on changing out the vent above the main bed with a MaxxAir Fan. There is built-in wiring for this.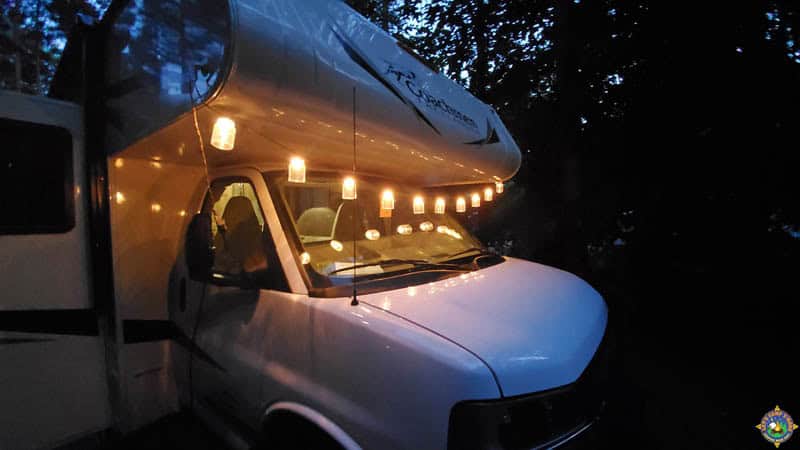 Overall thoughts on the Coachmen Freelander 21QB
We are pleased with our purchase. It is the perfect size for our family of 3. We actually have three children, but the two oldest have moved out and on with their lives. The youngest is a teen and her time with us is limited. We have enjoyed the two of us camping together in it.
The color scheme in this unit is pleasant, so we do not have any plans to paint or update it. Several custom camping quilt hangings brighten and personalize the inside.
We removed the blinds in the main bed area and added black room darkening curtains. We cut Reflectix to fit inside the cab windows and vent openings. This has helped to keep it cooler in the summer and provides darkness so we sleep better.
Please let us know if you have any questions about this Coachman Freelander model Coachman Freelander. The 2021 model does not come with a standard stove or ladder. We are glad we have them. You can see the tour of our Freelander 21QB on YouTube.
If you want to buy a used motorhome, make sure to check out our tips on purchasing a used RV.
More Coachmen Freelander Motorhomes