Is the camper mattress that came in your RV uncomfortable? Do you want a better night's sleep while camping? Get a new one with this Custom RV Mattress mod.
One of the biggest complaints that people have about RVs is the sucky mattresses. The foam used by the manufacturers is thin and does not offer much support.
You can order a custom mattress, but they are expensive! This is true when you realized that RV Mattress Sizes vary from model to model.
You can do your own custom foam mattress the size you need for your RV.
How to Save Money on a Custom RV Mattress
Our brand new class C motorhome came with a 4" piece of foam for the queen mattress. We slept on it one night and realized that we need to change it right away.
Since we dropped a bunch of money on the purchase of the RV, so we did not want to spend a lot on a new bed. We found a sale and got an 8" memory foam Serta mattress from Sam's for $200. The bed in a box included free delivery, which made this project much easier.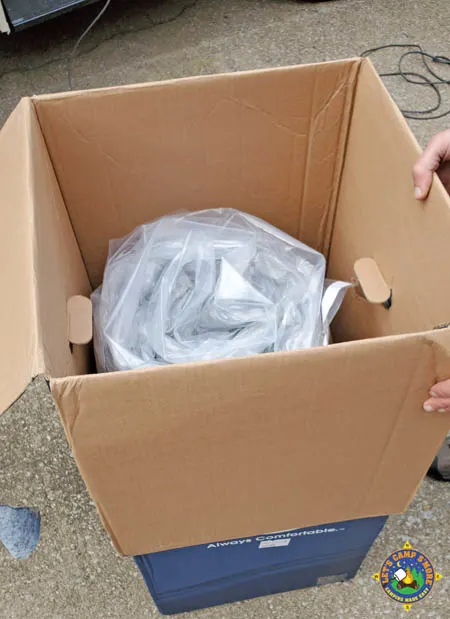 Can you cut a memory foam mattress?
Have you ever wondered if you can cut a memory foam mattress? The answer is yes! It can be a messy process, but so worth it to get the desired size of bed. Particularly in an RV.
PLEASE NOTE! Check the tag of your mattress before attempting to cut.
If it contains fiberglass DO NOT CUT IT!
The process is easy! We cut ours in place in our camper.
If your bed is in a tight spot that will make cutting difficult, you can open the mattress elsewhere and use the old mattress as your cutting guide.
We only had to make one cut for our bed. We started with a utility knife, switched to a long serrated knife, and finally discovered that a big straight knife worked best.
Electric knives work well for cutting memory foam mattresses.
We are so happy to have a regular mattress in our camper! Good sleep is a treasure, especially when you are away from home.

We use a regular queen-size sheet on this corner-cut mattress. We tuck the looseness underneath.
RV Bunk Mattress Replacement
The over-cab bunk mattress on our brand new motorhome is even more uncomfortable than the main bed mattress. Our 100-pound child created a dent in it after two nights.
We used the main bed foam to replace the over the cab mattress. This was a little trickier because of the size of this bed.
I ended up replacing the part that our daughter sleeps on. She is more comfortable now.
This is done the same way. I removed the cover on the foam, laid the replacement on top, marked the cutting lines on both, cut, replaced, and put the cover back on. This was a much messier process than the regular mattress.
Unless someone crawls around up there above the cab, you do not even notice the replacement. We plan to keep this RV for a long time (if you know our track record, you will laugh), so we are trying to keep it as intact as possible.
Where do you get sheets for an RV mattress?
I used the flat sheet from the queen sheet set that I purchased for our RV bed to create a custom sheet for this upper bunk. It is easy to turn a flat sheet into a fitted sheet. If you do not sew, then get RV sheets online.

Instead of an RV mattress replacement, many people just add a topper to their crappy RV mattress. That is not satisfactory for us! Camping is our ultimate relaxation time, so we need a regular thick mattress. A regular bed was a consideration when we picked out our new RV.
What do you do to get a comfortable night's sleep when you camp? Make your own RV foam mattress and sleep well tonight!
Check out our other RV hacks: Running Lights On While Parked or Trailer Tongue Storage Mod.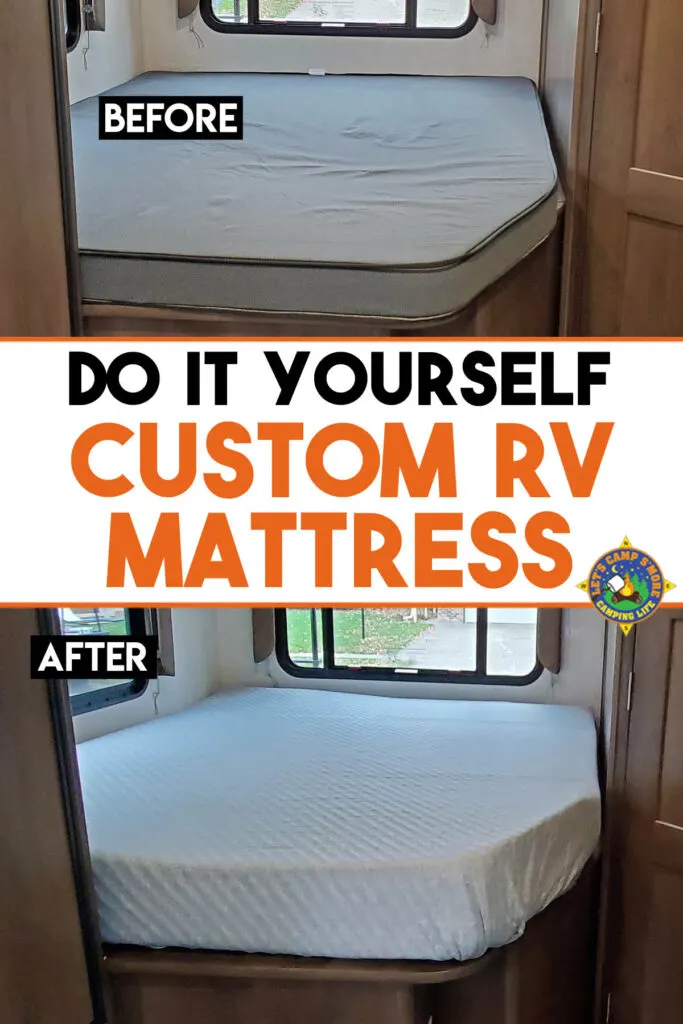 Yield: 1
Custom RV Mattress
You can create your own Custom Camper Mattress with this easy to follow tutorial. No more uncomfortable nights in your RV!
Total Time
2 hours
30 minutes
Materials
1 memory foam mattress in a box *see notes below
Tools
measuring tape
marker
long knife
Instructions
Measure the mattress you want to replace.
Get a mattress in a box that is larger than this mattress.
Remove the old mattress.
Open up the new mattress and roll it out where it will go in your RV.
Let the mattress expand.
If there is a mattress cover, remove it.
Mark the cut line(s) with a marker. Use the old mattress as a template.
Use a long knife to cut down the mattress along the lines.
Replace the mattress cover.
Enjoy your upgraded mattress!
Notes
PLEASE NOTE! Check the tag of your mattress before attempting to cut. If it contains fiberglass DO NOT CUT IT!
Recommended Products
As an Amazon Associate and member of other affiliate programs, I earn from qualifying purchases.