Are you wondering what are you going to cook on your next camping trip? How about one of these Easy Dutch Oven Camping Recipes?
We have gathered the ultimate collection of delicious recipes made in a Dutch Oven. Sure you can make these at home in an enamel Dutch Oven, but these recipes are perfect for cast-iron flat lid pots. You know, the ones with feet you put coals under and on top of the lid.
What is a Dutch Oven?
A Camping Dutch Oven is different from the enamel flat-bottom pots you use at home. The best Dutch Ovens for camping are made of cast iron and have feet to hold the bottom of the Dutch Oven up over the heat source. The flat lid has a rim for you to put hot coals on to provide heat for camp cooking.
These durable ovens can be passed down from generation to generation because they will last forever. It is our favorite way to make delicious meals out at the campground.
You cook with a Dutch Oven by:
Heating up coals or other heat source
Place food into the lined pot
Put coals under the pot and on top of the Dutch Oven lid
Rotate the pot and lid to ensure even heating
Add more coals for longer bakes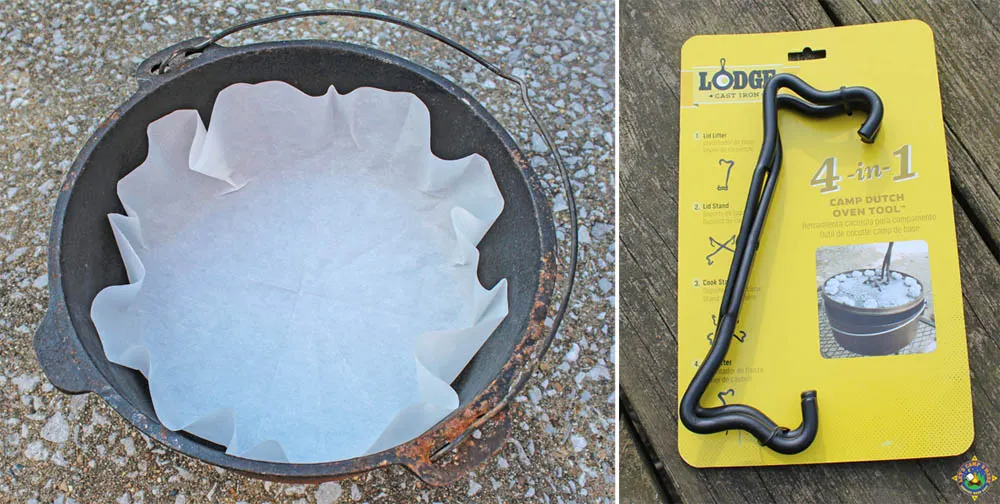 All the essentials that you need to cook are listed below.
65 Dutch Oven Camping Recipes
These delicious Dutch oven recipes are organized not only by meal but also by flavor. We have breakfasts, main dishes, and desserts. Main dishes are organized by main ingredients. Desserts are broken down by chocolate, cobblers, apple, and others.
You are sure to put together a great meal from this list.
Dutch Oven Breakfast Recipes
Start your day off right with one of these fun breakfasts.
French Toast Casserole
One of our favorite breakfasts is this French Toast Bake. You can do some of the prep at home, but don't forget to pack the maple syrup!
Dutch Oven Cinnamon Rolls
Everyone loves cinnamon rolls. Impress your camping family and friends with a Gigantic Cinnamon Roll.
Mountain Man Breakfast Casserole
If you want to start the day with a hearty breakfast, make Mountain Man Breakfast with eggs, hash browns, cheese, and choice of morning meat.
Biscuits and Gravy
Cook up the sausage gravy in the bottom of the oven, then top it with eggs and refrigerated biscuits to create these Camping Biscuits & Gravy
Dutch Oven Breads
Add bread to your meal with one of these recipes.
Classic Bread Loaf
A hearty Loaf of Bread pairs up with so many dishes. Stack two ovens baking with a main dish on the bottom and bread on the top.
Australian Damper
This Damper is an easy soda quick bread. It can be made in a Dutch oven, camp stove or oven, or wrapped around a stick and cooked over a campfire. It is an Aussie classic.
Zucchini Bread
If you have a lot of zucchini to use up, then we recommend making this Zucchini Bread. It is versatile as a breakfast, side, or dessert.
Favorite Dutch Oven Recipes
Whether lunch or dinner, these savory dishes are bound to fill some happy camper tummies. These easy Dutch Oven recipes have been divided into chicken recipes, beef, Mexican food, vegetarian, and more of our favorite recipes.
Chicken Dutch Oven Recipes
Chicken & Veggies
Our favorite campfire Dutch Oven dinner is this Chicken & Vegetables. It is a simple recipe that you just dump in the pot with amazing results.
Chicken & Rice
Another easy recipe that calls for layering simple ingredients is Chicken & Rice in a Dutch Oven.
Chicken & Pasta
This Chicken & Pasta Recipe can be cooked right over the campfire. This one-pot meal uses big-fat pasta and your favorite sauce.
Lemon Chicken
With lemon and herbs, this Dutch Oven Lemon Chicken is sure to become a family favorite.
Whole Chicken
Enjoy a tender and juicy bird when you make this Whole Chicken in a Dutch Oven.
Chicken & Squash
This Chicken with Squash is another great food that can be cooked over the campfire.
Chicken Cacciatore
This Italian-inspired Chicken Cacciatore recipe can be adapted with your favorite cut of chicken. This hearty recipe is great for feeding a large group.
Dutch Oven Beef Recipes
Whether it is a roast or ground, there are so many options for cooking with beef while camping. Try one of these tasty Dutch Oven recipes.
Salisbury Steak
Flavor abounds in this amazing Salisbury Steak Recipe. This hearty meal includes a mushroom gravy is good enough to use on turkey or other meats.
Shepherd's Pie
Layer potatoes over a simple meat mixture to create a Shepherd's Pie in the Dutch Oven.
Beef Stew
Beef Stew is a classic that is easy to make in an iron pot.
Pot Roast
This Dutch Oven Roast Recipe produces the most tender beef.
Mexican-Inspired Dutch Oven Recipes
You do not have to cross the border to enjoy these favorites.
Camping Tacos Casserole
This Taco Casserole Recipe is delicious and filling.
Enchiladas
These Dutch Oven Enchiladas are stuffed with beans and veggies and smothered with sauce and cheese. Yum!
Nachos
Pile chips, cheese, and your favorite toppings into your pot and create some Dutch Oven Nachos. You should also check out our Grilled Nachos. Don't forget the sour cream!
Carnitas
Mexican pulled pork, commonly known as Carnitas bakes all afternoon. The extra time will have you salivating for dinner.
Dutch Oven Vegetarian Dishes
Meat is not necessary for a delicious meal.
Dutch Oven Pizza
Homemade or refrigerated dough is elevated in this Dutch Oven Pizza recipe.
Jackfruit Stew
Jackfruit is a great meat substitute to put in this Vegetable Stew. This easy camping recipe is full of fresh ingredients.
Macaroni & Cheese
You do not have to make a roux for this simple Dutch Oven Mac & Cheese. Top it with potato chips for added flavor and crunch. This great recipe is good comfort food!
Chili
This Dutch Oven Chili is naturally vegan, but will be loved by all.
More Recipes
Here are a few more Dutch Oven camping recipes for you to try on your next trip.
Brats & Sauerkraut
These Bratwurts & Sauerkraut are cooked in beer. What a classic!
Lasagna
It is usually a labor-intenstive recipe, but not this Lazy Lasagna recipe.
Italian Stuffed Peppers
Enjoy the bold flavors of Stuffed Bell Peppers. The cast iron pot really elevates them!
Bacon-Topped Meatloaf
Bacon caps off this delicious Dutch Oven Meatloaf recipe made with both ground beef and pork.
Osso Buco
For something a little different, try Osso Buco. Best of all, it is made with beer!
Chicken Chili
Looking for something simple? This Chicken Black Bean Chili uses premade ingredients for a quick dump-and-cook meal.
Amazing Dutch Oven Camping Desserts
Now it is time for our favorite meal; Desserts!
We have divided up the dessert recipes into a few different segments. First is chocolate, which includes s'more recipes. That is followed by cobblers, apple recipes, and then the rest.
You will find enough variety to last throughout the camping season.
Dutch Oven Tip
Cook dinner and dessert at the same time by stacking Dutch ovens.
Put the pot with the shorter baking time on top. Shown is a 6 qt Dutch Oven on top of a 8 qt Deep Dutch Oven.
Chocolate Dutch Oven Recipes
Craving chocolate? Then enjoy one of these simple desserts.
Easy Chocolate Cake
This yummy Dutch Oven Chocolate Cake is such an easy dessert to make with a boxed cake mix. Give it a try!
Chocolate Cherry Lava Cake
Do you love the combination of cherries and chocolate? Even if you don't, you will love this Cherry Chocolate Lava Cake!
Dutch Oven Brownies
Yes, you can make Brownies in a Dutch Oven. With three ingredients, it has got to be the easiest recipe in this collection. There is also S'more Brownies.
Dutch Oven S'mores Cake
A camping friend of mine calls this Death by S'mores. This chocolate dump cake is s'mores on steroids.
Chocolate Peanut Butter Cup Cake
Look at all that chocolatey peanut buttery goodness in this Dutch Oven Peanut Butter Cup Cake. If you love Reece's, then you will love this amazing recipe.
Turtle Lava Cake
If you love the combination of chocolate, caramel, and pecans then you will love this Turtle Lava Cake.
S'more Pie
Haven't had enough s'mores? Try Dutch Oven S'more Pie.
Mini Lava Cakes
Love little things? Then try these Dutch Oven Mini Lava Cakes.
Mississippi Mud Cake
Especially thick and rich chocolate in this Dutch Oven Mississippi Mud Cake.
Dutch Oven S'more Dip
This S'more Dip recipe is a crowd pleaser that is easy to make. Grilled S'more Nachos is another way to enjoy this top camping dessert.
Dutch Oven Cobblers & Crisps Recipes
Cobblers and Crisps are amongst the most popular Dutch Oven desserts. We have curated the best for this list.
Blackberry Peach Crisp
Make a tasty Blackberry Peach Crisp with two amazing summer fruits.
Whiskey Peach Cobbler
Did you know that peaches and whiskey go together well? Never so better than in this Whiskey Peach Cobbler. This recipe is shown in a cast-iron skillet, but can be baked in an oven.
Cake & Berry Campfire Cobbler
Another easy recipe is this Cake & Berry Cobbler, which can be customized with your favorite berries.
Texas Dutch Oven Peach Cobbler
Look at this amazing Texas Peach Cobbler made in a Dutch Oven. What a beautiful lattice crust. Can you see the shape of Texas?
Blueberry Cobbler
What should you do with all those blueberries that you picked? Make this Blueberry Cobbler.
Blackberry Dutch Oven Cobbler
With just three ingredients, this Campfire Blackberry Cobbler can be cooked over the fire. It is easy to adapt and enjoy!
Dutch Oven Rhubarb Crisp
Do you grow rhubarb? If so, you must make this Rhubarb Crisp. It is one of my favorite fruits, so I freeze it to use in recipes like this.
Great Dutch Oven Apple Desserts
Since apples can be purchased all year, you do not have to wait for fall to make one of these tasty recipes.
Caramel Apple Cinnamon Roll Dessert
Frozen cinnamon roll dough is the base of this Caramel Apple Cinnamon Roll Pie. I think of it as Camping Monkey Bread.
Cinnamon Apple Cake
Get more apples and cinnamon with this Cinnamon Apple Cake. Add a can of apple pie filling to the bottom of the oven to elevate this dessert.
Cranberry Apple Dump Cake
You do not have to be a cranberry fan to enjoy this Cranberry Apple Cake. With or without pecans, it is the perfect dessert for fall camping.
Apple Crisp
Making a crisp isn't difficult when you use instant oatmeal packets. This Apple Crisp recipe is shown baked at home but includes directions for making it in a Dutch Oven while camping.
More Dutch Oven Desserts
From Dump Cakes to Cookies, here are some traditional and not-so-traditional desserts made in a cast iron oven.
Classic Dump Cake
One of our most requested is this Dutch Oven Dump Cake. It tastes amazing with or without pineapple.
Lemon Blueberry Dump Cake
Blueberries and lemon are a wonderful combination in this Dutch Oven Lemon Blueberry Dump Cake recipe.
Two Great Pumpkin Cake Recipes
This Dutch Oven Pumpkin Pie Cake is a cake on top of a pie. Such a great texture combination that you can make at home for the holidays.
It does not get any easier than this Pumpkin Angel Food Cake recipe that uses three simple ingredients.
Pineapple Upside-Down Cake
You must try this Pineapple Upside-Down Cake. It is so amazing!
Carrot Cake
One of my favorites is Carrot Cake, which tastes great baked in cast iron.
Dutch Oven Strawberry Cheesecake
Fresh berries create a delicious Strawberry Cheesecake dessert.
Berry Hazelnut Crumble Pie
Three different berries make up this easy Berry Hazelnut Pie recipe.
Raspberry Pudding Cake
Another winner is this Raspberry Pudding Cake, which can easily be swapped out with your choice of berry.
Dutch Oven Sugar Cookie
Bake Sugar Cookies in the Dutch oven with this easy recipe.
More Camping Food Collections