Make your next camping trip more flavorful with these Dutch Oven Dessert Recipes. Many of these sweet treats are made with a boxed cake mix.
One of the best things about camping is the great food. In particular, dessert! We have compiled this list of Easy Dutch Oven Recipes to help you find the perfect dessert to pair with your camping meal.
How to Make Dutch Oven Dessert Recipes
Dutch oven cooking is a great way to bake. In addition to delicious desserts, you can make great breakfasts and hearty meals.
What supplies do I need for Dutch Oven Baking?
Dutch Oven Cooking Essentials
A camping Dutch oven is made of cast iron and has feet to hold the bottom of the Dutch oven up over the heat source. These durable ovens will last forever. All the essentials that you need to cook are listed below.
Dutch Oven Camping Desserts
This collection of desserts is divided up into a few different segments. I have started with chocolate, as that seems to be the most popular. That is followed by popular cakes, s'more recipes, apple recipes, summer fruits, and finally traditional flavors. You are certain to find several options to satisfy your taste buds.
Chocolate Dutch Oven Recipes
Camping chocoholics will fall in love with these easy chocolate camping recipes.
Easy Chocolate Cake
This Dutch Oven Chocolate Cake is an easy dessert to make. It is so delicious that it has won some cooking competitions.
Chocolate Cherry Lava Cake
Do you love the combination of cherries and chocolate? Try this Chocolate Cherry Lava Dump Cake.
Dutch Oven Brownies
Only three ingredients are needed for these Dutch Oven Brownies. It has got to be the easiest recipe in this collection.
Turtle Lava Cake
Do you love the combination of chocolate, caramel, and pecans? Then you will love this Dutch Oven Turtle Lava Cake.
Chocolate Peanut Butter Cup Cake
Two of the most popular candies make up this Dutch Oven Peanut Butter Cup Cake. Look at all that chocolatey peanut buttery goodness!
Mini Lava Cakes
These Dutch Oven Mini Lava Cakes are fun to make and eat.
Mississippi Mud Cake
Not sure why the mud is thicker down south, but it is. Especially in this Dutch Oven Mississippi Mud Cake from the Dirty Dish Club.
Popular Dutch Oven Desserts
These delicious recipes rank among the most searched and shared. You will find several that will create happy camper tummies.
Lemon Blueberry Dump Cake
Blueberries and lemon are a terrific combination! Enjoy this Dutch Oven Lemon Blueberry Dump Cake recipe out at the campsite.
Pumpkin Pie Cake
Like to camp in the fall? This Dutch Oven Pumpkin Pie Cake is the perfect way to enjoy this fall flavor. Is it a cake or is it a pie? It is both!
We also have a new easy Pumpkin Angel Food Cake recipe for the Dutch Oven.
Classic Dutch Oven Dump Cake
The classic combination of cherry pie filling and pineapple go together in this Dutch Oven Dump Cake. Grab a fork and dig in because this will disappear quickly!
Dutch Oven Rhubarb Crunch
This scrumptious Rhubarb Crunch is a great way to use up the rhubarb from your garden. You can even use frozen rhubarb.
Dutch Oven Tip
Stack Dutch ovens and prepare dinner and dessert at the same time.
The recipe with the shorter cooking time should be on top.
We stack a 6 qt Dutch Oven on top of our 8 qt Deep Dutch Ovens.
Dutch Oven S'more Recipes
America's most popular camping dessert is S'mores! Check out these cast-iron chocolatey, marshmallow, and graham creations.
S'mores Dump Cake
Also dubbed as Death by S'mores Cake, this Dutch oven dessert recipe is smore overload. Your family will enjoy this rich treat.
S'more Brownies
What do you get when you combine brownies and s'mores? You get S'more Brownies. Do you want more?
Dutch Oven S'more Dip
Have you tried this Dutch Oven Smore Dip recipe yet?! This smores recipe is absolutely delicious, easy to make, and feeds a crowd.
S'more Pie in the Dutch Oven
If you love pie, then you must try this Dutch Oven S'more Pie from the Dutch Oven Dude.
Apple Dutch Oven Recipes
While fall signals apple season, you can purchase apples year around. That is a great thing for the following recipes!
Caramel Apple Cinnamon Roll Dessert
Cinnamon rolls are the base of this Caramel Apple Cinnamon Roll Pie. This amazing dessert is a cross between a casserole and monkey bread.
Dutch Oven Apple Cobbler
Our camping buddy, Peggy, shared this Apple Crumble Dutch Oven Recipe with us. It is perfect for fall camping.
Cinnamon Apple Cake
This Cinnamon Apple Cake has more of a coffee cake texture, but it is still fun to eat for dessert.
Cranberry Apple Dump Cake
If you love cranberries as much as I do, you will enjoy this Cranberry Apple Dump Cake. This dessert is equally good topped with or without pecans.
Apple Crisp
This is the first of a handful of recipes in this collection that were actually made in a skillet but that can be made in a Dutch oven instead. This tasty Apple Crisp is gluten-free and really easy to make.
Apple Fluff
Try something a little different with this tasty Dutch Oven Apple Fluff recipe.
Dutch Oven Recipes with Fruit
Summer fruits can be used to make some incredible camp desserts. Check out these recipes provided by my fellow campers.
Strawberry Cheesecake Cobbler
Fresh berries and a cake mix are the foundation of this Strawberry Cheesecake Cobbler recipe.
Texas Dutch Oven Peach Cobbler
Get a lone-star taste in this incredible Texas Peach Cobbler. This tasty dessert is topped with a lattice crust and the shape of Texas.
Blackberry Dutch Oven Cobbler
This simple recipe for Campfire Blackberry Cobbler only uses three ingredients and cooks right over the fire. You can swap the flavors of the pie filling and have a different dessert each time.
Whiskey Peach Cobbler
Have you tried the combination of peaches and whiskey? They go together well. While this Whiskey Peach Cobbler is shown in a skillet, you can use a Dutch oven instead.
Blueberry Cobbler
If you love cooking in cast-iron at the campground then you're going to love this Blueberry Cobbler, which is shown made in a skillet but can just as easily be made in a Dutch oven. It is a delicious dessert served with vanilla ice cream or whipped cream.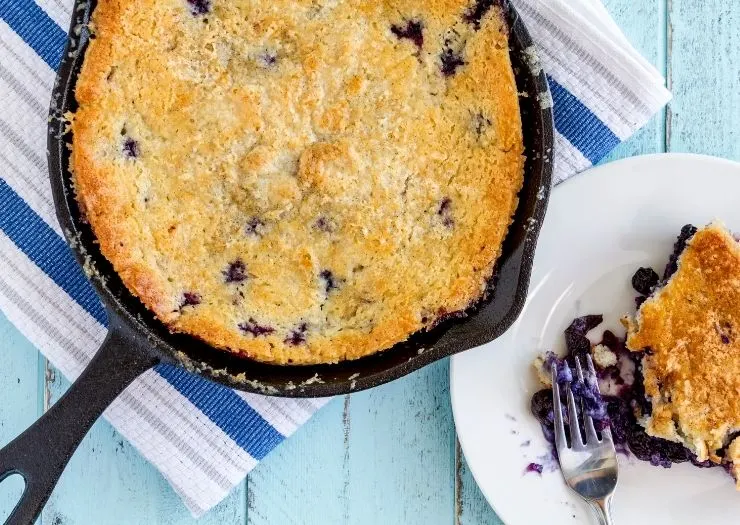 Berry Hazelnut Crumble Pie
Nothing says summer quite like this Triple Berry Hazelnut Crumble Pie.
Blackberry Peach Crisp
Make a delicious Blackberry Peach Crisp in your Dutch oven. It is a great combination of two summer fruits.
Traditional Desserts for Camping
We cannot forget about these more traditional goodies. Rolls, bread, cookies, and cheesecake are among these recipes.
Giant Cinnamon Roll
Is a cinnamon roll for breakfast or dessert? Either way, you will have fun making and eating this Dutch Oven Cinnamon Roll out at the campground.
Pineapple Upside-Down Cake
World's best, easiest Pineapple Upside-down Cake – made in a Dutch oven! Recipe tested and approved by 1000+ happy campers! Bake up this nearly fool-proof recipe on your next camping trip – or in your own backyard.
Carrot Cake
Create a decadent Carrot Cake in the Dutch Oven next weekend.
Zucchini Bread
A healthier option for dessert is this Dutch Oven Zucchini Bread. It is a great way to use up zucchini from the garden.
Dutch Oven Cheesecake
Make this Cheesecake in the Dutch Oven and top it with pie filling.
Dutch Oven Sugar Cookie
Yes, you can bake Sugar Cookies in the Dutch oven with this easy recipe.
Cake & Berry Campfire Cobbler
This Cake & Berry Cobbler recipe will bring the taste of home to the campsite.
Make a Dutch Oven Dessert Recipe this Weekend!
So many Dutch Oven Dessert Recipes for many camping trips! Which one will you make next time you camp?