This post has been sponsored by the DINTY MOORE® Brand. All thoughts and opinions are my own.
Make your next camping trip a snap with these Frugal and Easy Camping Meals.
We are members of several online camping groups with members who camp all over the world. As camping gains popularity, more and more people are joining these groups and forums to seek answers and connect with other campers.
We see the same questions asked over and over from people who are new to camping. One of those questions is 'What are some easy camping meals for our first trip?'
Here are our suggestions for simple but frugal weekend camping meals.
How to Cook Camping Meals
There are several ways to prepare food when you are out camping. You can use a campfire.
Campfire cooking is done by using a stick, using a pie iron, wrapping something in foil and placing in the fire pit, or grilling something on a grate placed over the fire.
Other methods of preparing food while camping include the use of a gas or charcoal grill or a Dutch oven with charcoal.
You can also use a pan or skillet over a burner on a camping stove or in an RV.
We use all of these methods to prepare our food when we are out at the campground.
Great Camping Dinners
Dinner is the meal that most people struggle with, whether at home or while camping.
It is our favorite meal because it is the largest meal of the day and it has the most variety to it.
Our go-to quick meal is stew and rolls.
This easy dinner only requires two products: DINTY MOORE® Beef Stew and refrigerated crescent rolls or biscuits.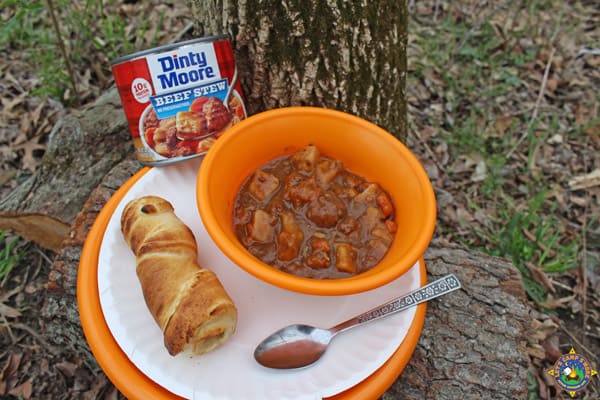 DINTY MOORE® Beef Stew comes in multiple sizes. The large can is perfect for feeding a family of four and the smaller can is good for a couple. We just open up the can and place the stew in a pot to heat up over the campfire. DINTY MOORE® Beef Stew is an easy camping dinner solution that is hearty. It contains real meat, potatoes, and vegetables. You can pick up DINTY MOORE® products at your favorite local grocery store.
Campfire Rolls
We cook rolls over the campfire. This is done by covering the end of a stick with foil.
Open up a can of refrigerated crescent rolls or biscuits and wrap two rolls around the end of the stick. We have found that it is best to work the dough with your hands, molding it around the stick for about 30 seconds. This is to ensure that it stays on the stick while roasting.
Cook the rolls over the fire just as you would toast a marshmallow. It is important to roll the stick around so that you do not burn the dough.
These turn out to be cone-shaped which you can fill with the stew or just pull apart and eat. These rolls are so much fun to eat.
More Camping Dinner Ideas
Tired of regular old hot dogs? We like to make Bacon Wrapped Cheese Hot Dogs over the campfire.
You can find that recipe here. You should also check out our Whole Chicken roasted in the campfire.
Camping Lunches
Grilled Mini Pizza Buns are easy to make over the campfire. Use a pie iron to make grilled sandwiches.
Put out bread and fixings and let each person create their own sandwiches.
We had fun making these Reuben Sandwiches.
Camping Breakfast Food
Everyone loves bacon and eggs for breakfast.
Have you ever tried to make bacon and eggs in a paper bag? You can cook an egg in a pie iron to add to a breakfast sandwich.
If you happen to have a Dutch oven, you should make Mountain Man breakfast.
What are your favorite easy camping meals to make when you camp?
More Easy Camping Meals and Desserts
Chicken & Vegetables
Bacon-Wrapped Mozzarella Sticks
Frozen Pizza over the Campfire
Chocolate Frosting S'mores
Grilled S'more Nachos
Campfire Cookies