This post has been sponsored by the DINTY MOORE® Brand. All thoughts and opinions are my own.
Make your next camping trip a snap with these budget-friendly Easy Camping Meals. Directions for making Campfire Rolls on a Stick are at the bottom of the post.
We are members of several online camping groups with members who camp all over the world. As camping gains popularity, more and more people are joining these groups and forums to seek answers and connect with other campers.
We see the same questions asked over and over from people who are new to camping. One of those questions is 'What are some easy camping dinners for our next trip?'
Here are our suggestions for simple but frugal but easy camping meals.
Get these and other meals organized together in our Weekend Camping Menus post. That includes a download with linked recipes.
Ways to Cook Camping Food
There are several ways to prepare food when you are out camping. You can use a campfire.
Campfire cooking is done by using a stick, using a pie iron, wrapping something in foil and placing in the fire pit, or grilling something on a grate placed over the fire. We also like using foil pans on a grate. We have used this method to make our Campfire Nachos, S'more Nachos, and a few other foil pan recipes.
Other methods of preparing food while camping include the use of a gas or charcoal grill or a Dutch oven with charcoal.
You can also use a pan or skillet over a burner on a camping stove or in an RV.
We use all of these methods to prepare our food when we are out at the campground.
Frugal Camping Dinners
Dinner is the meal that most people struggle with, whether at home or while camping.
It is our favorite meal because it is the largest meal of the day and it has the most variety to it.
A popular quick meal is stew and rolls.
This easy dinner only requires two products: canned beef stew and refrigerated crescent rolls or biscuits.
DINTY MOORE® Beef Stew comes in multiple sizes. The large can is perfect for feeding a family of four and the smaller can is good for a couple. We just open up the can and place the stew in a pot to heat up over the campfire.
This canned beef stew is an easy camping dinner solution that is hearty. It contains real meat, potatoes, and vegetables. You can pick up DINTY MOORE® products at your favorite local grocery store.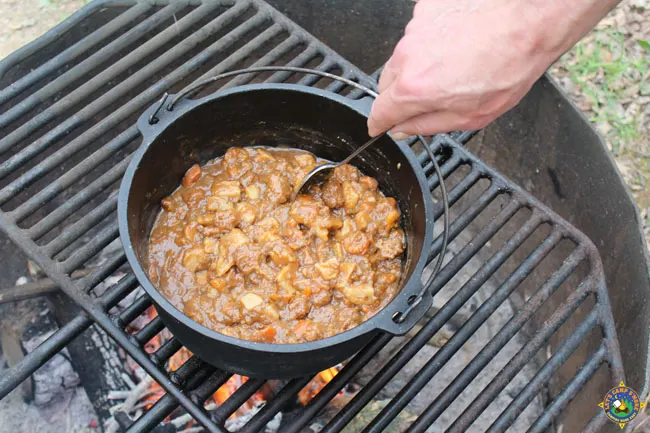 Campfire Rolls
We cook rolls over the campfire. This is done using refrigerated dough. Full instructions are at the bottom of this post.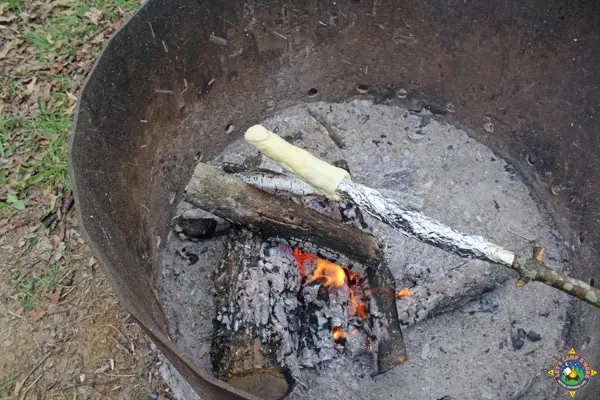 You will likely have to get several sticks prepared with dough on them because they are SO fun to make.
These turn out to be cone-shaped which you can fill with the stew or just pull apart and eat. These rolls are so much fun to eat.
More Camping Dinner Ideas
Tired of regular old hot dogs? We like to make Bacon Wrapped Cheese Hot Dogs over the campfire.
Another easy camp dinner is our Whole Chicken Roasted in the Campfire. Chicken fans will also like this easy Dutch Oven Chicken & Veggies.
Walking Taco Nachos is a fun spin on an old camping favorite. And everyone loves Grilled Cheese Sandwiches.
Don't forget to make pizza in a Dutch oven or Frozen Pizza over the Campfire.
We recently added Dutch Oven Mac & Cheese and Dutch Oven Shepherd's Pie.
For something different try Stir Fry or Chicken Fried Rice.
Easy Camping Lunches
Grilled Mini Pizza Buns are easy to make over the campfire. Use a pie iron to make grilled sandwiches.
Put out bread and fixings and let each person create their own sandwiches for these Reuben Sandwiches.
Pie-Iron Pizza Sandwiches will also become a fan favorite at your campsite.
Campers will also love Bacon-Wrapped Cheese Sticks.
Make an impressive spread of food that everyone will love with this Camping Charcuterie Board.

Camping Breakfast Food
Everyone loves bacon and eggs for breakfast.
Have you ever tried to make bacon and eggs in a paper bag? You can cook an egg in a pie iron to add to a breakfast sandwich.
If you happen to have a Dutch oven, you should make Mountain Man breakfast. Be sure to use a Dutch oven liner when you make this breakfast.
Simple Camping Desserts
Since we have gotten several requests, we have decided to update this post to include desserts.
Enjoy different ways to make everyone's favorite camping dessert with Frosting S'mores or Death by S'mores Dutch Oven Dessert.
If you want something fruity, try Grilled Peach Crisp or Dutch Oven Dump Cake.
The easiest dessert by far is Campfire Cookies. They are probably one of the most delicious too!
Chocolate Lovers will delight in these easy recipes; Chocolate Cake, Dutch Oven Brownies, and Chocolate Cherry Lava Cake.
What are your favorite easy camping meals to make when you camp?
Yield: 5 rolls
Campfire Rolls on a Stick
Baking biscuits over the campfire is fun and easy!
Additional Time
5 minutes
Ingredients
roll of refrigerated biscuit dough
Instructions
Find a stick approximately 1-2" thick that is long enough to reach over the campfire.
Cover the end of the stick with aluminum foil.
Open up a can of refrigerated biscuits and wrap two rolls around the end of the stick. We have found that it is best to work the dough with your hands, molding it around the stick for about 30 seconds. This is to ensure that the dough stays on the stick while roasting.
Cook the rolls over the fire just as you would toast a marshmallow. It is important to roll the stick around so that you do not burn the dough.
When toasted to your liking, carefully remove the cone-shaped roll from the stick.
Stuff the cone with stew and enjoy!
Notes
Crescent roll dough can be used instead of biscuits.
Nutrition Information:
Yield:
5
Serving Size:
1
Amount Per Serving:
Calories:

340
Total Fat:

14g
Saturated Fat:

4g
Trans Fat:

7g
Sodium:

1120mg
Carbohydrates:

46g
Sugar:

2g
Protein:

4g
Nutrition gathered from refrigerated dough label.