This Fire Ban Camping Gear list can help you have an enjoyable camping trip during fire restrictions. Cook and keep warm with propane, which can be quickly switched off. See our list of meals to make during a fire ban.
Cooking outdoors is a cherished activity for many, but during fire ban periods, we must adapt our methods to ensure safety and respect for the environment. The right fire-ban cooking essentials allow you to enjoy your favorite meals and enhance your outdoor experience without the need for open flames. From portable stoves to flameless cookware, these devices give you the means to prepare various dishes without violating fire restrictions.
When choosing fire-ban cooking essentials, consider portability, ease of use, and fuel sources. For instance, portable camping stoves come in different sizes, and some are designed to be more lightweight and compact for backpacking trips. Similarly, fuel can range from propane or butane to alternative eco-friendly options, like alcohol or fuel tablets. Selecting the right product is often the difference between a seamless cooking experience and one that leaves you frustrated and hungry.
In addition to cooking systems, think about the cookware and utensils accompanying you on your outdoor adventures. Materials like non-stick coatings and lightweight construction can make cooking and cleaning more efficient. Durability is also important, as you'll want your fire-ban cooking essentials to withstand frequent use and varying outdoor conditions.
We put our camping knowledge to work, rigorously testing and evaluating a range of fire-ban cooking essentials to help you make the most informed decision. We aim to ensure your outdoor culinary experience remains enjoyable and worry-free, even during fire ban periods. So let's explore the top fire ban camping essentials that will have you savoring delicious meals in no time.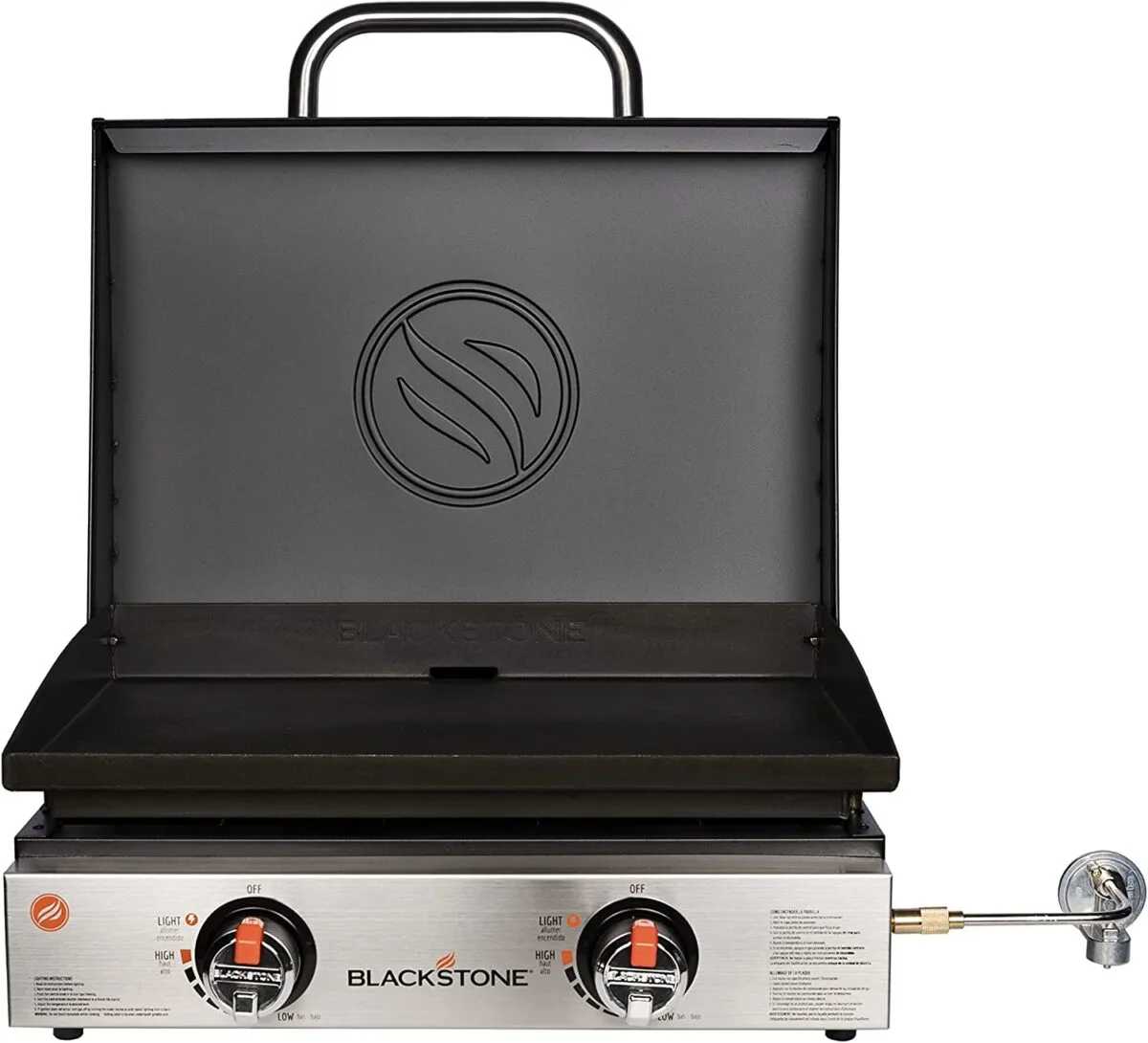 Cook like a pro, even during fire bans, with this portable, versatile, and convenient griddle made by Blackstone. It is on the top of our fire ban camping gear list.
As outdoor cooking enthusiasts, we were excited to get a Blackstone. This portable griddle is perfect for fire-ban camping trips, BBQs, tailgating parties, and more. We enjoy it so much that we regularly cook on it in our backyard.
We were instantly impressed by the Blackstone's cooking surface. This large area allowed us to cook various dishes simultaneously, making it perfect for large group gatherings. The two "H" style burners efficiently heated the surface and ensured our food was cooked evenly and quickly. Very useful, especially when you have a hungry crowd waiting.
One of the things we enjoyed the most was how easy this griddle is to clean. Just a simple wipe-down with a paper towel and emptying the built-in grease catcher is all it takes. This feature lets us spend less time cleaning and more time enjoying our meals and the outdoors.
On the downside, some users might find the griddle heavier than anticipated, affecting portability. Additionally, while fast cooking is a significant advantage, it might take some getting used to, especially if you're accustomed to traditional BBQ cooking times. Lastly, you must obtain a propane source, such as a one-pound propane bottle or a 20 lb. propane tank with a bulk tank hose adapter. We use the propane tank on our motorhome with the quick-release hose below.
The Blackstone 1813 Stainless Steel Propane Gas Hood Portable Flat Griddle is an excellent addition to any outdoor cooking arsenal. Its expansive cooking surface, quick and even heating, and easy-to-clean design make it the perfect tool for enjoying delicious griddle meals while camping, tailgating, or hosting events.
Pros
Expansive 22″ cooking surface
Quick and even heating
Easy-to-clean design
Cons
Requires propane source
It cooks faster than a traditional BBQ
It may be heavy for some users
This griddle cover and carry bag is an excellent investment for protecting and transporting your Blackstone 22 Inch Griddle with ease and style.
We recently tried the TOHONFOO Griddle Cover and Carry Bag for our Blackstone 22 Inch Griddle, and we were impressed with its durability and functionality. The cover is made of 600D heavy-duty weather-resistant polyester, effectively shielding the appliance from rain, sun, dust, and dirt.
What we particularly loved about this product is that it comes with a custom-designed carry bag with handle padding for comfortable transportation. The bag also features convenient pockets, perfect for storing grilling tools and other items, making it an ideal companion for outdoor activities, home storage, and transport.
While this product may seem expensive for a non-name-brand cover and carry bag, it is worth it. We purchased and returned a different cover but are pleased with this one. It is designed explicitly for the Blackstone 22 Inch Griddle with a hood, which may not fit other griddle sizes or models.
The TOHONFOO Griddle Cover and Carry Bag is a valuable addition for anyone owning a Blackstone 22 Inch Griddle. Despite its relatively higher price and exclusivity to a specific griddle model, its weather-resistant properties, durability, and convenient carry bag make it worth considering.
Pros
Weather-resistant and durable construction
It comes with a carry bag for easy transportation
Custom-designed fit for Blackstone 22 Inch Griddle with hood
Cons
A bit pricey
Not a name-brand product
Designed only for a specific griddle size and model
This all-inclusive griddle accessory set is a must-have for outdoor cooking enthusiasts who want high-quality tools at a great price.
The OUII Flat Top Griddle Accessories Set provides an extensive selection of tools for beginners and seasoned outdoor chefs. We love how this set includes everything needed for cooking on flat-top griddles. From four purpose-made spatulas to a 6-inch chopper for fast slicing and dicing, it covers all the bases for griddle cooking.
Two 16oz squeeze bottles make dispensing oil and pancake batter easy for fun and delicious pancake art. The bottles are made from commercial food-grade plastic for easy squeezing. These versatile tools make breakfast prep hassle-free and enjoyable.
OUII didn't forget about the post-cooking cleanup either. The set has a heavy-duty griddle cleaner scourer and a sharp, rust-resistant stainless steel scraper with heat-resistant handles. These cleaning tools ensure you'll always have a clean and ready-to-use griddle. Additionally, all the tools are dishwasher safe and can be neatly stored in the included carry bag with a double handle and wide opening.
With the OUII Flat Top Griddle Accessories Set, cooking and cleaning up after an outdoor griddle session has never been easier or more efficient. We recommend this comprehensive and high-quality set for any outdoor cooking enthusiast.
Pros
Comprehensive 9-piece set
Heat-resistant handles on tools
Includes cleaning kit and carry bag
Cons
Handles might feel short on some griddles
Altogether, the kit is a little heavy at over 3lbs
The Boldworks Griddle Stand is an essential accessory for fire ban cooking that offers convenience and organization in one portable package.
When it comes to fire ban cooking, having the right equipment can make all the difference, and that's where the Boldworks Griddle Stand comes in. The adjustable height and non-slip silicone bushes make it easy to set up on uneven ground, while compatibility with both 17 and 22-inch Blackstone griddles ensures it's a versatile addition to your outdoor cooking arsenal.
One of our favorite features of this griddle stand is its portability. With foldable legs and a carry handle, it's easy to pack up and take for camping trips, tailgating, or backyard barbecues. However, you'll need to disassemble the stand to achieve a compact fold, which some users might find inconvenient.
In addition to its functionality as a griddle stand, the Boldworks stand also serves as a cooking organizer with a detachable side shelf, spice rack, tissue paper holder, and hooks for utensil storage. While these features add extra convenience, they could be more durable to withstand regular outdoor use.
The Boldworks Griddle Stand is a practical and portable addition to your fire ban cooking essentials. While it could use some leg adjustments and accessory durability improvements, it's still a sound investment for those seeking a versatile stand that doubles as a cooking organizer.
Pros
Adjustable height and non-slip silicone bushes
Compatible with both 17 and 22-inch Blackstone griddles
Portable and easy to carry with foldable legs and carry handle
Cons
The leg adjustment mechanism could be sturdier
Disassembly required for compact folding
Some users find the included shelves and hooks less durable
We recommend this product for a convenient and hassle-free connection between your Blackstone Grill and your RV's propane system.
We found the installation process straightforward when we connected our Blackstone Grill to the RV propane system using the DOZYANT 12ft RV Propane Quick Connect Hose. The conversion fitting effortlessly replaced the existing regulator connection, and the quick disconnect feature enabled us to connect and disconnect easily.
We appreciated the 12-foot hose length, as it allowed us to position our grill at a comfortable distance from the RV without being confined under the awning. This flexibility in placement allowed for a more enjoyable cooking experience during our camping trips.
While using the DOZYANT Propane Quick Connect Hose, it is critical not to use the grill with high-pressure gas once the regulator is removed. Verifying compatibility with your specific RV propane system is essential, as it may not fit all models. However, for Blackstone 17-inch and 22-inch customers, this quick connect hose and conversion fitting is an excellent choice for maximizing convenience and ease of use during outdoor adventures.
Splitter hose below if you want to connect two appliances.
Pros
Easy to install and use
Long 12ft hose for flexible placement
Compatible with Blackstone 17-inch and 22-inch griddles
Cons
Not for use with high-pressure gas
It may not fit all RV propane systems
Solely for 17-inch and 22-inch Blackstones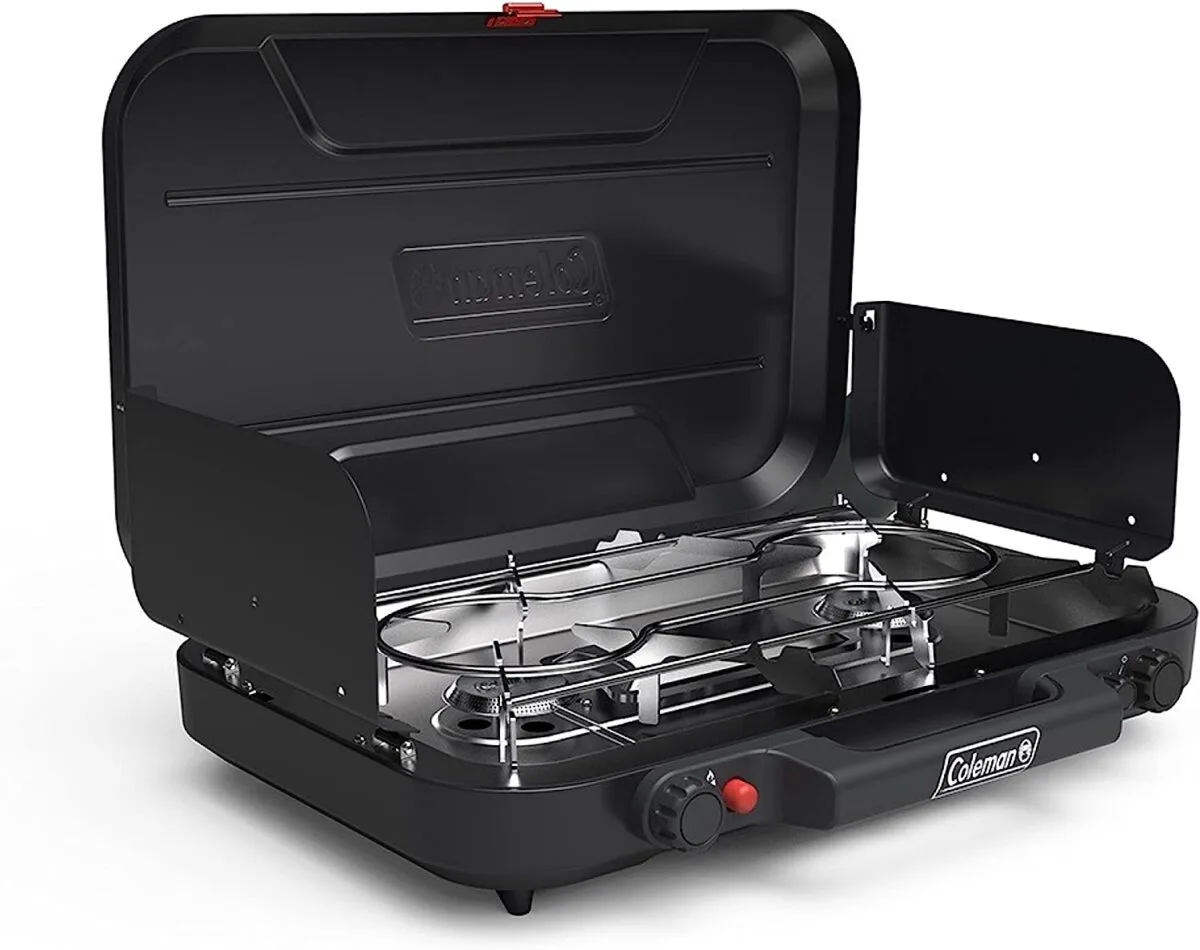 This Coleman Classic 3-Burner Camping Stove is a solid choice for campers seeking an efficient, evenly heated cooking experience.
When we tried out the Coleman Classic 3-Burner Propane Camping Stove on our latest camping trip, we were satisfied with its overall performance. The Even-Temp design effectively distributed heat evenly across the burners making our cooking experience a pleasure. The Instastart push-button ignition added convenience as we didn't have to worry about matches or lighters to start the stove.
The WindBlock panels proved a clever feature, as they shielded the burners from the wind and could be folded down to serve as side tables when needed. However, the stove relies on separately purchased propane cylinders, which might be inconvenient for some people.
One issue we encountered was that the stove's flame control needed to be improved, making it challenging to maintain a specific heat level. And we found that the lid latch design was rather flimsy, and we had to be careful to ensure it stayed closed during transport.
Despite some drawbacks, we found the Coleman Classic 3-Burner Propane Camping Stove a dependable and user-friendly option for camp cooking. Its unique features, such as the effective Even-Temp design and convenient Instastart ignition, outweigh the minor cons and make it a worthy addition to any camper's gear list.
Pros
Even-Temp design for consistent heating
Instastart push-button ignition for matchless lighting
WindBlock panels for added protection and versatility
Cons
Requires a propane cylinder (sold separately)
Limited flame control
Flimsy lid latch design
The Outland Living Firebowl 893 Deluxe meets your fire ban camping needs, offering a clean and safe campfire experience.
The Outland Living Firebowl 893 Deluxe is an excellent portable propane gas fire pit that we enjoyed using outdoors. This 19-inch diameter fire pit is well-constructed from high-quality steel, offering a durable and protective enamel finish. The smoke-free flame delivers a cozy warmth and beautiful evening ambiance, serving as the perfect centerpiece for camping trips, RV travels, and backyard gatherings.
What sets this fire pit apart is the easy setup process. We got it up and running in minutes without needing any tools. It also uses a standard 20 lb propane tank (not included) and comes with a pre-attached 10-foot hose to safely hide the tank. We appreciated the chrome valve knob with a rubber comfort grip that allowed us to adjust the flame height easily. The included 4.4-pound natural lava rock set enhances its flickering effect.
However, there are a few drawbacks to consider:
It requires a separate propane tank, which adds to the overall cost and storage space. Alternatively, use a hose adapter to go with your RV propane tank.
While the fire pit is CSA-approved, the necessary natural gas conversion kit is not included and must be purchased separately.
An optional carry bag to ease transportation is available but also requires a separate purchase.
The Outland Living Firebowl 893 Deluxe is an excellent addition to your outdoor cooking essentials, particularly during fire ban season. Its high-quality, smoke-free design and easy setup make it a valuable asset to any camping trip or outdoor gathering.
Pros
No mess, smoke-free fire
Compact and portable design
Approved for use during most campfire bans
Cons
Requires a separate propane tank
No natural gas conversion included
Optional carry bag sold separately
A versatile and robust addition to your outdoor fire setup that maximizes heat dispersion and shields from the elements.
We recently tried the Maplefield Fire Pit Heat Deflector and found it an excellent addition to our outdoor fire pit setup. The sturdy steel build withstands high temperatures, ensuring a long-lasting and reliable heat deflector for your fire.
One standout feature is its compatibility with both round and square fire pits. We positioned the cover over our fire pit, and the heat radiated outwards, providing a warm and comfortable atmosphere. We also appreciate its foldable design for easy storage and transportation, making it essential for camping or tailgating.
However, some users reported receiving the heat deflector with scratches and gouges, indicating potential quality control issues. The sheet metal edges can also be sharp, posing a slight safety risk. Lastly, we noticed the handle might not be comfortable, so you may need to invest in a separate handling accessory.
Overall, the Maplefield Fire Pit Heat Deflector enhances the outdoor fire experience and is worth considering for those seeking to maximize the heat and protect their fire pits in various weather conditions.
Pros
Durable steel construction for high temperatures
Compatible with round or square fire pits
Folds easily for compact storage and transportation
Cons
Arrived with scratches and gouges for some users
Sharp edges on sheet metal
It may require additional handle accessories
This versatile extension hose connects two propane gas grills or a grill and a secondary propane appliance, like a gas fire pit, to their RV simultaneously.
We had the opportunity to use the MENSI 16 Feet Y Splitter RV Propane Extension Hose during our recent camping trip. We loved how easy it was to connect our two propane gas barbecue grills to the RV with this extension hose system. This eliminated the hassle of disconnecting and reconnecting the hoses whenever we wanted to switch between grills, as we often like using each for different purposes.
The 12ft central hose and the 4ft splitter hoses provided ample length to position our grills near the RV just as we wanted. However, if you have a larger RV or require more distance between your grills and the RV, the main hose length could be an issue, so be sure to measure your desired setup before purchasing.
It is important to note that while the hose was compatible with our grills, it may require extra fittings for specific grill models. Before purchasing, check if the quick-connect plug is compatible with your specific grill.
Overall, we found the MENSI 16 Feet Y Splitter RV Propane Extension Hose an excellent investment for campers who enjoy using multiple propane grills during their outdoor adventures.
Pros
Simple installation with a quick-connect plug
Allows simultaneous use of two appliances by the RV
12ft central hose and 4ft splitter hoses offer flexibility in grill placement
Cons
It may require additional fittings for some appliances
The main hose length might be too short for some setups
This is a reliable and essential safety product for handling multiple fire types effectively. Every fire ban camping gear list should include at least one fire extinguisher.
We haven't set off the Kidde Fire Extinguisher yet, as we, thankfully, haven't had the need, but it's an essential safety product for camping, particularly during a fire ban. Its versatility allows it to extinguish fires involving trash, wood, paper (Class A), flammable liquids and gasses (Class B), and electrical equipment (Class C), making it suitable for various emergencies.
The lightweight aluminum cylinder and durable, all-metal construction make this extinguisher easy to handle, even in high-stress situations. Additionally, the pressure gauge lets you know when the extinguisher is charged and ready for use. Knowing that it's properly charged provides a sense of security in case of an unexpected fire emergency.
However, there are a few things that could be improved with this fire extinguisher:
It's a single-use extinguisher, meaning it cannot be recharged for future use once it has been used.
Proper mounting is required for safe storage, and the supplied UL-approved strap bracket may not be sufficient in some cases.
There might need to be more than the 2.5-pound capacity for larger fires, so having multiple extinguishers on hand is always recommended.
The Kidde Fire Extinguisher is valuable to any home or camping safety plan. While not rechargeable, it's reliable for handling small-to-medium-sized fires, ensuring you are prepared for various fire situations. We highly recommend this fire extinguisher for its effectiveness and ease of use. Remember to stay alert and cautious with potential fire hazards while camping.
Pros
Versatile – handles Class A, B, and C fires
Lightweight aluminum construction
Easy-to-read pressure gauge
Cons
Single-use only
It needs proper mounting for secure storage
2.5-pound capacity may fall short for larger fires