Fire restrictions are becoming more common, which can make camping challenging. What can you cook when there is a fire ban? We have put together a collection of recipes that you can make when restrictions are in place. Blackstone Camping Recipes are included in this collection.
Can you Cook during a Fire Ban?
Yes, you can still cook outdoors when a fire ban is in place. You just need to determine what the fire danger is and plan accordingly. Propane appliances, such as a grill, stove, or griddle are acceptable because the heat turns off with a switch.
Fire restrictions vary by stage and location. Some places allow campfires in a permanent fire pit, while others do not allow wood or charcoal fires under any circumstance. It is your responsibility to check out the fire restrictions or bans in the area before and during camping. We like to check InciWeb, which is the Incident Information System, to get up-to-date information on where fires are occurring. Then we cross-reference the local restrictions.
Fire Ban Camping Recipes
We have gathered 65 recipes that can be safely made during a fire ban. This includes propane grills, camping stoves, or a propane griddle, such as a Blackstone. We have even included a few no-cook and make-ahead recipes.
This extensive collection of recipes will help keep you fed all season.
Camping Breakfast Recipes
What can you make for breakfast while camping without a campfire? If you are tired of eggs & bacon, oatmeal, or donuts, try one of these great recipes.
Blackstone Breakfast Quesadillas
These Griddle Breakfast Quesadillas are easy to make and fun for something new. Everyone can customize their own, too.
Griddle Hash Browns
Top your Griddle Hash Browns with eggs.
Bacon & Egg Grilled Cheese
You will enjoy this breakfast version on a lunch favorite with these Bacon & Egg Grilled Cheese Sandwiches.
Skillet Breakfast
You can feed a crowd with this Easy Skillet Breakfast.
Camping Donuts
Create Camping Donuts on the camp stove.
Blackstone Texas French Toast
Enjoy some Texas French Toast made on the griddle.
Banana Pancakes
Love fluffy pancakes? Try these delicious Banana Pancakes.
Breakfast Croissant Sandwiches
Make your own Breakfast Croissant Sandwiches on the Blackstone griddle.
Griddle Camp Sandwiches
Use your flat-top griddle or a skillet to make one of these amazing sandwiches.
Pizza Sandwiches
While these Pizza Sandwiches have instructions for a pie iron, you can cook them on a griddle instead.
Monte Cristo Sandwiches
Enjoy a hearty Monte Cristo Sandwich with this tasty recipe.
Pesto Grilled Cheese
Tomato and basil add a wow factor to these Pesto Grilled Cheese Sandwiches.
Leftover Steak Sandwiches
Use leftovers to create these amazing Steak Sandwiches on the griddle.
Ham & Cheese Pull-Apart Sandwiches
This easy Camping Ham & Cheese Bread recipe makes enough sandwiches to feed the whole family, and can be customized with your favorite deli meat and cheese!
Skillet Recipes
Make these skillet recipes on a camp stove or propane grill.
Kielbasa & Cabbage
This Kielbasa and Cabbage Recipe cooks quickly in a cast-iron skillet on a camp stove or grill.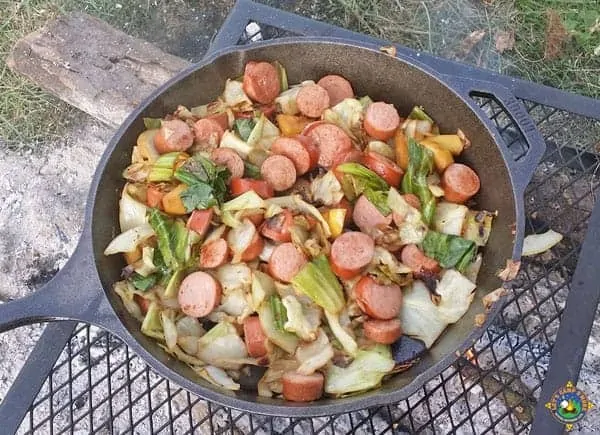 Easy Skillet Fajitas
See how easy it is to make Campfire Fajitas in a Skillet.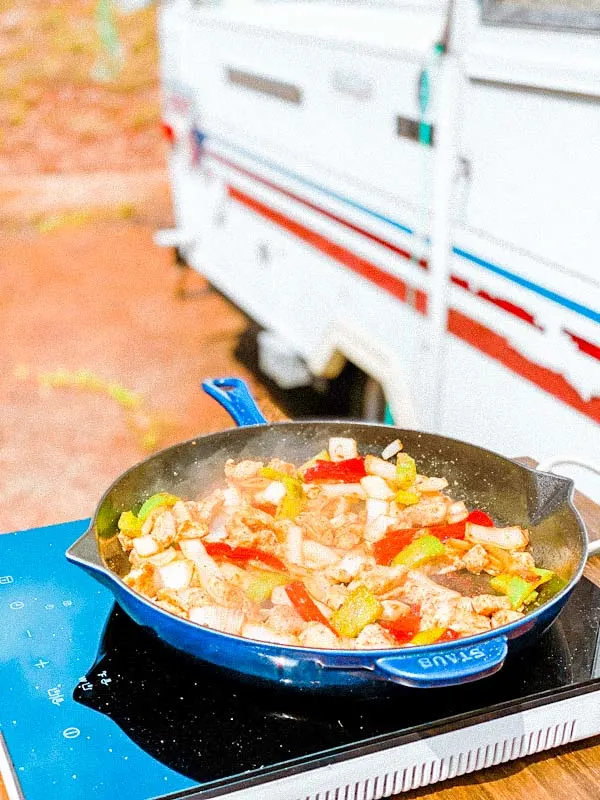 Prep Ahead Stir Fry
Do the chopping at home, which will make this Camping Stir Fry go together quickly out at the campground.
BBQ Potato Skillet
This Easy BBQ Potato Skillet can be made with sweet, regular, or even frozen potatoes.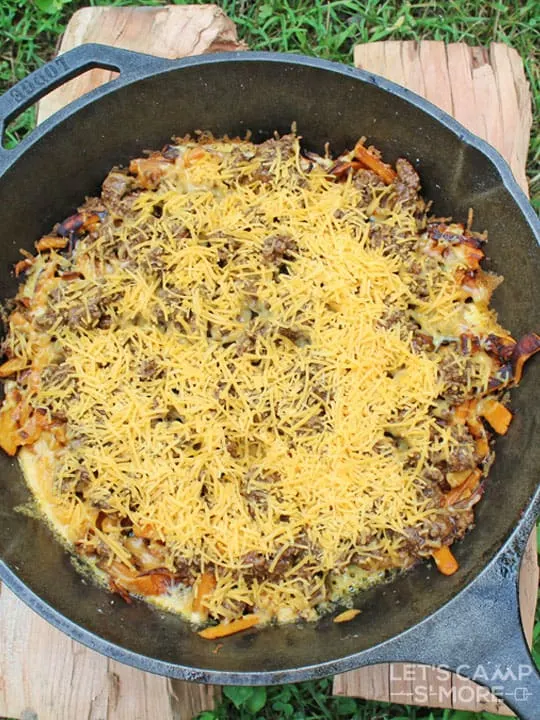 Pulled Pork Poutine
Here is a camping version of the Canadian favorite. This Pulled Pork Poutine can be made with your meat of choice.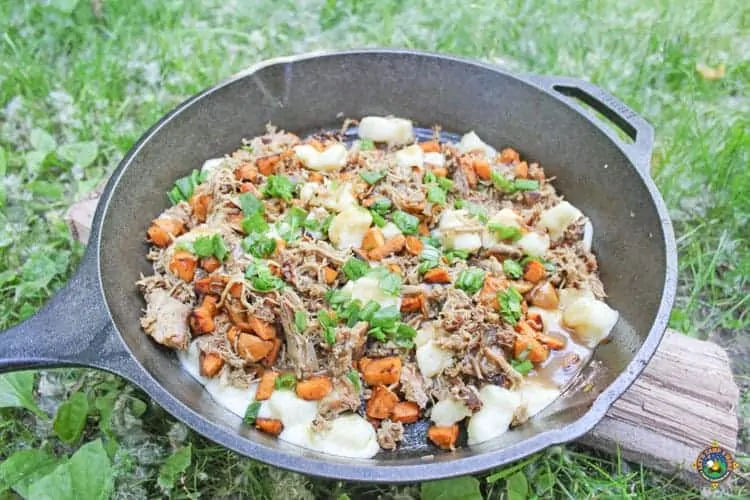 Mushroom Chickpea Hash
We used wild chanterelles to make this Mushroom Chickpea Hash, but you can use your favorite variety of edible mushrooms.
Cheese Curd Toss
Toast and tomato make this Cheese Curd Skillet recipe tasty and fun.
Taco Salad
Cook the meat in a skillet and then put together a Taco Salad with your favorite toppings.
Autumn Veggies & Pasta Skillet
Autumn vegetables add flavor to this Veggie & Pasta Skillet.
Spicy Moroccan Shakshuka
Spicy Moroccan Shakshouka (Shakshuka) is a one-skillet recipe that includes cooking eggs in a thick, delicious tomato-based stew with onion, garlic, and chili. Garnish it further with avocado, cilantro, and feta cheese.
Blackstone Camping Recipes
Make these recipes on a flat-top griddle, such as a Blackstone. If you do not have a Blackstone Griddle, you do not know what you are missing!
Steak Stir Fry
This Steak Stir Fry is easy to make and sure to feed your whole camping family.
Honey Mustard Glazed Salmon
This flavorful Honey Mustard Glazed Salmon will be a frequent request of fish lovers.
Chicken Dijon with Garlic & Jalapeno
This Grilled Dijon Chicken With Garlic And Jalapeno has a little heat and zing from the super simple homemade marinade.
Blackstone Grilled Kielbasa, Tortellini, & Spinach Casserole
Blackstone Kielbasa, Tortellini, & Spinach Casserole is easy to make on a flat top griddle. This unique dinner recipe will make your taste buds dance!
Chicken Quesadillas
This Cheesy Chicken Quesadilla is easy to prepare with precooked chicken breasts. You can even make them at home and heat them up on the griddle.
Mahi Mahi with Mango Salsa
You don't need to be camping on a beach to enjoy this Easy Grilled Mahi Mahi With Mango Salsa! Camping for Foodies has several recipes that can be made during fire restrictions.
Apple Ham & Cheddar Quesadillas
Enjoy a great taste combo with these Apple Ham & Cheddar Quesadillas.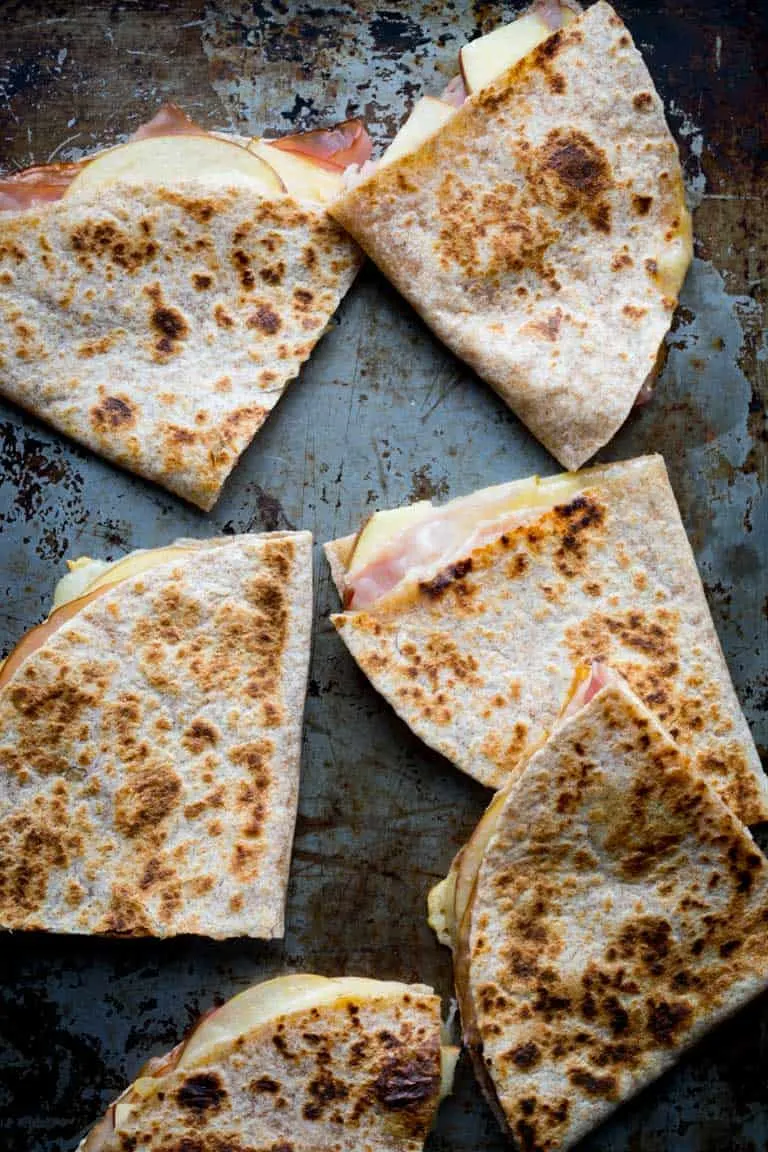 Ham Fried Rice
See how fun and easy it is to make Ham Fried Rice on a Blackstone.
Chicken Fried Rice
Don't forget chicken! Your family will love this easy Chicken Fried Rice.
Cabbage Steaks
Try something new with these Cabbage Steaks with Bacon.
Marinated Hibachi Steak
Make Hibachi Steak on your griddle.
Grilled Fire Ban Camping Recipes
Tired of plain-old hamburgers and hot dogs? Try one of these tasty foods made on the grill.
Bacon-Wrapped Cheese Sticks
Bacon-Wrapped Mozzarella Sticks are sure to disappear quickly, so double the recipe.
Grilled Salmon
Perfectly Grilled Salmon is easy to make and needs minimal prep.
Grilled Pizza Buns
What should you do with leftover hamburger and hot dog buns? Make Grilled Pizza Buns.
Beer Can Chicken
This Beer Can Chicken is a whole chicken that is coated in a homemade BBQ spice rub, then placed on top of a beer can and grilled to smoky and tender perfection.
Grilled Shrimp
This is a simple Grilled Shrimp Summer Appetizer with so much flavor and only three simple ingredients – shrimp, sage leaves, and pancetta.
Indian Street Corn
This Indian Street Style Corn-On-The-Cob will make the perfect side with your next camping meal.
Mexican Chorizo Pizza
Enjoy a unique pizza made with pita or flatbread with this Grilled Mexican Chorizo Pizza.
Grilled Pineapple
Have you ever had Grilled Pineapple? It is so good!
Grilled Chicken Cesar Salad Skewers
Enjoy Chicken Cesar Salad on a Stick.
Chipotle Lime Shrimp Skewers
These Chipotle Lime Shrimp Skewers are delicious and so easy to make plus, you only need a few simple ingredients!
Bacon-Wrapped Asparagus
Wrap Asparagus with Bacon and grill it for a great side dish. Alli has several Fire Ban Camping Recipes on her blog.
Grilled French Bread Pizza
Grilled French Bread Pizza is an easy meal that everyone will devour! It's absolutely fantastic on the grill and the perfect camping meal.
Southwestern Bacon Cheeseburgers
There is so much flavor in these hearty Southwestern Bacon Cheeseburgers.
Cajun Corn Salad with Fire Roasted Corn
This Cajun Corn Salad makes a tasty side dish with more zest and spice than your traditional veggies. It's the best way to add flavor to your BBQ.
Cheesy Sausage Pineapple Skewers
Your family will love these Cheesy Sausage Pineapple Skewers.
Camping Desserts Made Without a Campfire
Can't have a campfire or use your Dutch Oven? No problem! Here are some tasty sweets you can make during a fire ban.
S'more Nachos
S'more loves will want to make these S'more Nachos in a cast-iron skillet on the grill.
Grilled Pound Cake with Berries
Enjoy this red, white and blue grilled dessert on all of your camp trips, especially during the patriotic holidays.
No Roast S'mores
Yes, you can make S'mores when you cannot have a fire using chocolate frosting and marshmallow creme.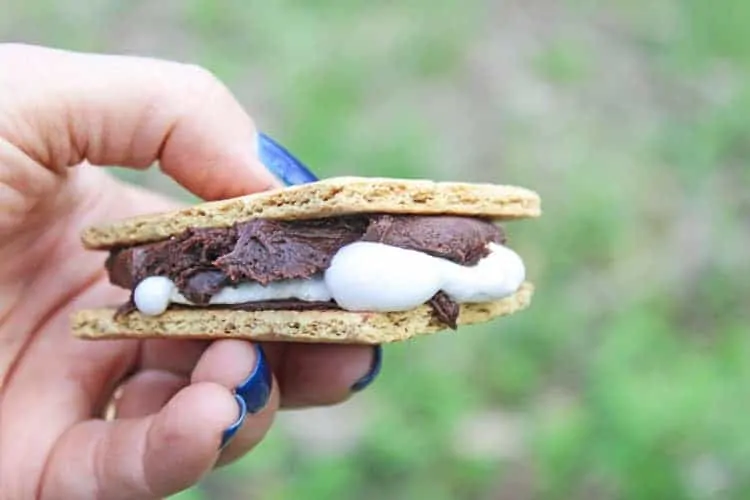 Blueberry Grunt
Create a delicious skittle cobbler with this Blueberry Grunt.
S'more Snack Mix
This simple S'mores Mix can be mixed up at home or at the campground. Grab the easy recipe and download some free camping-themed party decorations.
Grilled Peaches
These Grilled Peaches are seared on the grill until tender and caramelized, then brushed with cinnamon honey for a sweet finish.
S'more Quesadillas
Make these gooey S'more Quesadillas on your flat-top griddle.
No-Bake Cheesecake Balls
Make these fun Cheesecake Balls at home to take with you. Mix in chocolate chips, dried fruit, and nuts.
Campfire Cupcakes
Make Campfire Cupcakes at home and take them out to the campsite with you. These adorable themed cupcakes are both charming and delicious!
Camper Stove Recipes
Jackfruit Veggie Stew
Looking for something a little healthier? Try this Jackfruit Veggie Stew.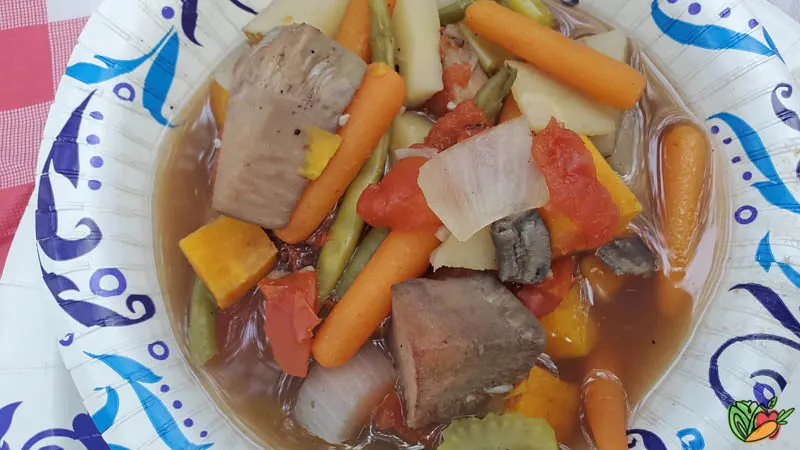 Pasta with Clam Sauce
This Pasta with Clam Sauce is a great non-perishable meal to make while camping – it uses only dry or canned ingredients!
Sloppy Joe Dinner
This Sloppy Joe Dinner is great for tent camping or backpacking.
Chicken Campfire Stew
This Chicken Campfire Stew is always a hit when camping! Packed with vegetables and lots of flavor.
Classic Chili
While this Classic Chili is made with beef, it is easily adaptable to your favorite proteins.
Rotini Pasta
Make this Rotini Pasta at home or out at the campground.
No-Cook Camping Recipes
No need to do any cooking with these easy recipes.
Charcuterie Board
Create a Charcuterie Board using prepared ingredients. You will want to spread this out in the shade and eat quickly if it is hot out.
Crab Salad
Make Crab Salad at home and take it out for the first night of camping. Kids will love pasta substituted for the coleslaw mix.
TikTok Inspired Nori Wraps
These TikTok-inspired Nori Sushi Wraps with canned tuna, avocado, and cucumbers are easy, delicious, and fun! Endless topping variety and so delicious!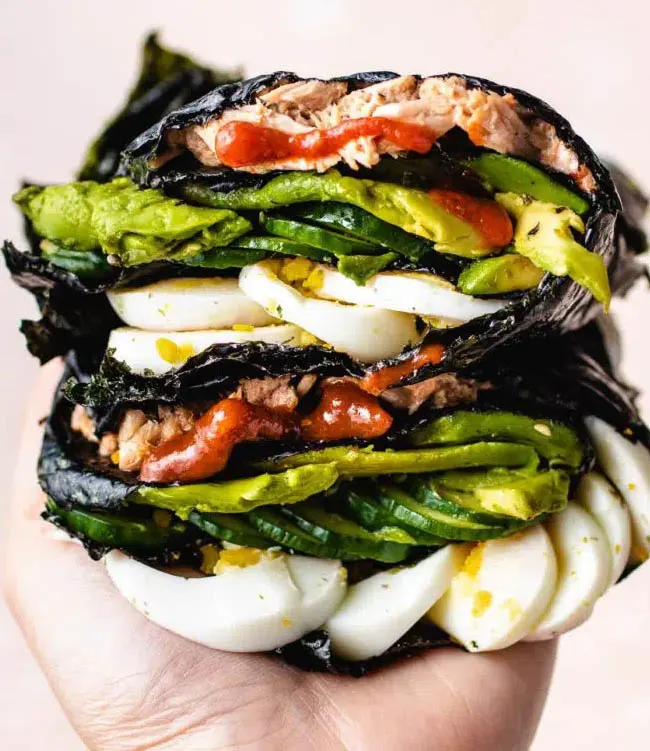 Restrictions are not going away anytime soon. Hopefully, these Fire Ban Camping Recipes make your next camping trip a little easier!
More Camping Recipe Collections