Enjoy more time around the campfire and keep your back and bum warm while camping with a portable fire reflector.
Camping is awesome most of the time. One of the most annoying things about camping is when your back gets cold while sitting around a campfire. You have to change the position of your chair or get up and stand with your backside to the fire to keep from getting too cold.

This has kept us from camping in cooler weather. To solve this issue, we a campfire heat reflector. Now we can sit around a fire when it is cold out. This insulated shield will keep the warmth of a campfire focused in your direction.
Get your campfire going with a fire starter log or pinecone starter.

This DIY camping project utilizes Reflectix, which is an insulation item we use quite a bit. We used it for this DIY Ice Chest Cover.
Homemade Camp Fire Reflector
There are only a few supplies needed for this simple project: reflective insulation roll, foil-backed or duct tape, spring clamps, scissors, and a measuring tape.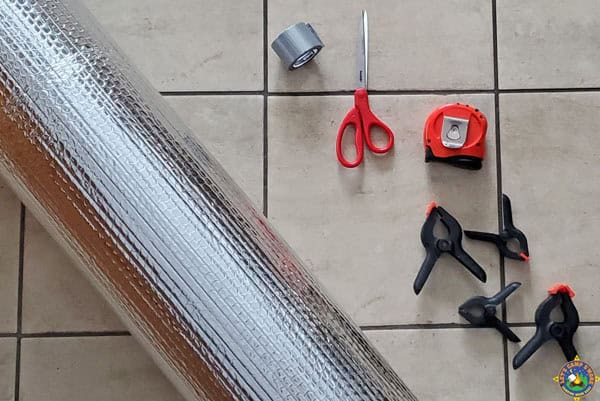 The amount of insulated bubble wrap that you use will depend on the size of your camping chair. We created ours for two different styles of seats, including the one used in our Camping Chair Repair Project. We ended up using 10 feet of 48″ wide Reflectix.
If you would like your campfire reflector to wrap around your chair more or to accommodate two chairs together, then you might need to piece together the wrap to create a larger wind block.
We used the extra tape leftover from our Pop-Up Camper Solar Window Shades project. Regular duct tape or even packing tape would also work. Pop-Up owners will also like these Solar Bunkend Covers.
While this project is shown being used in the snow, it would work whenever it is cool out. You might even use it on a cool summer evening.

We are very pleased with how this project turned out. It is amazing how something so simple makes such a big difference.

If you make this project, let us know how it turns out. Did you make any adaptations? You can share a photo on Pinterest or on our Facebook page.
Yield: 1 heat reflector
Camping Fire Reflector
Keep your backside warm next to the campfire with this homemade fire reflector that attaches to a camping chair.
Materials
Duct Insulation
Foil or Duct Tape
Spring Clamps
Instructions
Open up your camping chair and measure how tall the seat is.
Add approximately 2½-3 feet to that height. We made ours 5' tall. Eric is 6'2".
Cut out of a piece of insulation that measures that height by 4 feet. If your insulation is narrower than 48", tape 2 pieces together. Wider is OK!
Bring the top two corners of the insulation together and clamp in place, creating a fold down the middle of the insulation.
Tape that top edge together to form a hood.
Use spring clamps to attach the campfire reflector to your camping chair.
Keep toasty by the campfire!
Recommended Products
As an Amazon Associate and member of other affiliate programs, I earn from qualifying purchases.