Have trouble getting a campfire to stay lit? Try a homemade fire starter log for a one-match fire each time.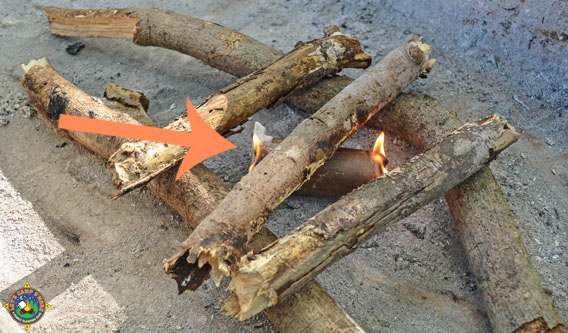 Have you ever wondered how to make fire starters? I've been creating DIY fire starters using lint and cardboard egg cartons for years.
I've tried them with and without wax and even created these scented ones.
Those work, but I have found more success with these fire starter logs.
These are particularly helpful with getting a fire to stay lit when it's damp out.
How to Make Fire Starter Logs
You likely have all the supplies for this homemade fire starters project on hand at home. I usually get my candles at Dollar Tree.
These little logs are so helpful with getting a fire started.
Just light the edge of the cardboard and let the log do the rest of the work.
We've been foolish and tried to start a few fires without these since we made them.
We've learned our lesson and always use one.
These DIY fire starter logs are fun and cost hardly anything to make. Everyone should have empty toilet paper rolls and dryer lint on hand.
You can make them without the potpourri. I picked up the scented candles and potpourri at Dollar Tree.
No need to spend money on commercial fire starters. Yes, that is Diana's hair stuck in the lint.
Do you ever have trouble lighting a fire?
Check out these other great camping DIY projects
Cooler Cover to Make Ice Last Longer
Dutch Oven Liners for Easy Clean Up
Yield: 12 logs
DIY Fire Starter Logs
Light a fire with one match with these fire starter logs.
Additional Time
5 minutes
Materials
Cardboard tubes
Dryer Lint
optional: Potpourri
Cookie Tin
Candles
Empty can
Pan with water
Instructions
Create a double boiler by placing the empty can in the pan with water. Make sure the can is clean and dry.
Place the candle into the can.
Heat the water to melt the candle wax.
Stand the cardboard tubes up in the cookie tin.
Stuff some lint into each tube. I like to leave a little gap at the bottom of the tube. That gap provides a little lip of cardboard to catch the flame from the match.
Stuff potpourri into each tube.
Stuff lint on top of the potpourri, leaving a gap at the top of the tube.
Carefully pour the melted candle wax into each tube.
Let the wax harden.
Remove the tubes from the tin.
Use one fire starter log to start a campfire.