Have trouble getting a campfire to stay lit? Try a homemade Fire Starter Log for a one-match fire each time.
Have you ever wondered how to make fire starters? We have been creating our own for years using lint and cardboard egg cartons for years.
We have tried them with and without wax and even created these scented fire starters. Those work, but I have found more success with these fire starter logs.
These logs are particularly helpful with getting a fire to stay lit when it is damp out, which is most of the time here in the Midwest. Our kids enjoy making pinecone fire starters.
After getting the fire started, keep warm sitting around it with homemade fire reflectors.
How to Make Fire Starter Logs
You likely have all the supplies for this homemade fire starters project on hand at home. If you are like us and do not keep candles on hand, just pick some up at the Dollar Tree. Scroll down to see how we made these.
It is amazing how these fire starters help get a campfire going so quickly.
We just light the edge of the cardboard and let the log do the rest of the work. For an instant light, we use a homemade cotton ball fire starter.
We have been foolish and tried to start a few fires without these starters and were unable to get the flame going. Our lesson has been learned, so we do not build a fire without one anymore.
These DIY fire starter logs are fun and cost hardly anything to make. Everyone should have empty toilet paper rolls and dryer lint on hand.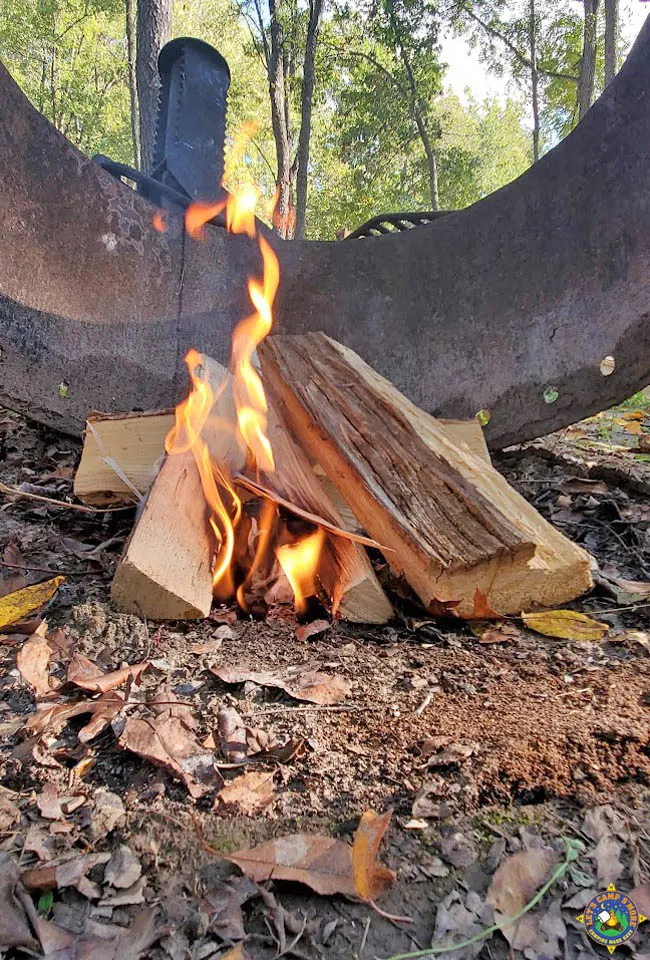 We like to add potpourri to our campfire starters. This gives off a good scent and sometimes an interesting flame color. We pick up the scented candles and potpourri at Dollar Tree.
No need to spend money on commercial fire starters when you can follow this easy tutorial. Yes, that is Diana's hair in the lint.
What is your favorite way to start a fire? Check out the mod we did to our favorite campfire log grabber tool.
Yield: 12 logs
DIY Fire Starter Logs
Light a fire with one match each time with these homemade fire starters.
Additional Time
5 minutes
Materials
12 Cardboard tubes
Dryer Lint
optional: Potpourri
Cookie Tin
Candles
Empty can
Pan with water
Instructions
Create a double boiler by placing the empty can in the pan with water. Make sure the can is clean and dry.
Place the candle into the can.
Heat the water to melt the candle wax.
Stand the cardboard tubes up on end in the cookie tin. If you want to keep wax from sticking to the tin, line it with wax paper.
Stuff some lint into each tube. I like to leave a little gap at the bottom of the tube. That gap provides a little lip of cardboard to catch the flame from the match.
Stuff potpourri into each tube.
Stuff more lint on top of the potpourri, leaving a gap at the top of the tube.
Carefully pour the melted candle wax into each tube.
Let the wax harden.
Remove the tubes from the tin.
Use one fire starter log to start a campfire.
Notes
Create larger logs by using paper towel roll tubes or cut down the cardboard from a roll of wrapping paper.