Enjoy great hiking and quiet camping at Fox Ridge State Park in Central Illinois.
Last Thursday we decided to take a last-minute camping trip because the weekend forecast was great.
We wanted to go hiking while we camped, so we checked online for a challenging hiking trail somewhere in Central Illinois. We came across Fox Ridge State Park, which is located 8 miles south of Charleston Illinois off Hwy 130.
If you have traveled through Illinois, you know that Central Illinois away is fairly flat and futureless. We hike at Turkey Run a lot, but this time we wanted to stay closer to home.
The state and counties have done a good job of finding forested areas amid the cornfields. These tend to be around rivers or lakes. Fox Ridge State Park is one of those such places. Shabbona Lake State Park Campground is also a forested area along a lake.

Camping at Fox Ridge State Park
This 2,064-acre park is located along the Embarrass River. It is full of ridges and ravines that provide moderate hiking trails. The park is popular with hikers and mushroom hunters.
The northern part of the park is open for public hunting. There are great picnic shelters and areas through the park for use by groups of various sizes.

The park has a modern campground with 43 campsites. Each type has electricity, a picnic table, a fire pit, and a lantern pole. Each site is fairly level with fresh gravel. About 70% of the sites can be reserved online while the rest are first come first serve. We stayed on site 28, which is in the non-reservable loop. It was the best campsite in the entire campground.
We recommend the sites on the outer side of the non-reservable loop because they back up to the forest. The campground has a modern bathroom with two toilet stalls and shower stalls on each side. Fresh city water is available throughout the campground.
Central Illinois Hiking
We hiked 8+ miles over 2 days on Trails 1, 5, 6, 7, and 8. We also climbed the stairs to the Eagles Nest Overlook. The trails are well maintained, which really impressed us.
While the trails had been described as difficult at AllTrails, we didn't find them to be.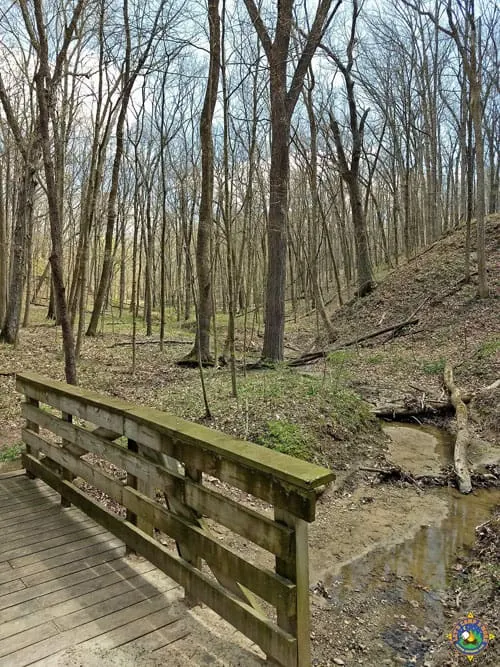 The most challenging part was the bridge being out along Trail 5 out to Nature's Corner, but you can scurry down on your bottom.
This was our first visit to Fox Ridge State Park, but it will not be our last. We also like to hike at Starved Rock, which is near Illini State Park Campground.
We loved the hiking trails in the tall pines throughout the campground. Another great Central Illinois place with nearby hiking is Kickapoo State Park Campground.