Grilled Nachos are fun to make over the campfire or on a grill. The recipe is adaptable for each camper to enjoy.
It is no secret, we love to eat! We especially love to eat while we camp. There is just something tastier about food cooked over the fire or in cast iron on the grill or campfire. Do you agree?
We came up with these campfire grill nachos that are so easy to make and quite tasty! We have since posted Grilled Walking Taco Nachos and Tater Tot Nachos that you should check out! They are even easier to make than these loaded nachos.
Other campfire grill recipes include our Campfire Pizza Bread and Chili Cheese Fries.
Campfire Nachos
They are certainly a favorite meal of ours, so we created camping nachos. One of the best things about this camping recipe is that it is easy to customize to accommodate various tastes or dietary restrictions.
Other favorite camping meals include Campfire Pizza Sandwiches, Easy Stir Fry, and Dutch Oven Salisbury Steak.
If you want to cut down on carbohydrates, substitute sweet potato for the chips. Check out Low Carb Camping Recipes.
Pick your favorite between flour or corn tortilla chips.
Leave out the taco meat if you are vegetarian. If a picky eater does not want peppers or tomatoes, a pan of their favorite toppings can be made separately. The options go on and on.
Do you want a foil pan dessert to go on the campfire after these grilled nachos are done? Try our S'mores Nachos or Grilled Peach Crisp. They are just as simple to make and the whole family will love them!
Grilled Nachos Recipe
The ingredients for this nacho recipe can be varied depending on what people like. Diana and I like sweet potato nachos, while the kids like to use corn tortilla chips.
Everyone can make what they want with this Camping Charcuterie Board recipe.
We also used onion, tomato, avocado, green chiles, black beans, taco meat made with ground turkey, and cheese.
We have also made Grilled Chicken Nachos by using a prepared rotisserie chicken instead of taco meat.
Other toppings could include jalapenos, pinto or refried beans, or different meats.
We cook ours over a campfire in a foil pan. We also make it at home in a cast-iron skillet.
Your cook time for this recipe will depend on how thick your nachos are and how hot the fire is. Please do not place these nachos over an open flame or your meal will burn.
If you are doing regular or sweet potato nachos, the cooking time will be a lot longer than the tortilla chips.
Please be careful not to burn yourself, as these are hot when they come off the grill. They cool off fairly quickly in a foil pan.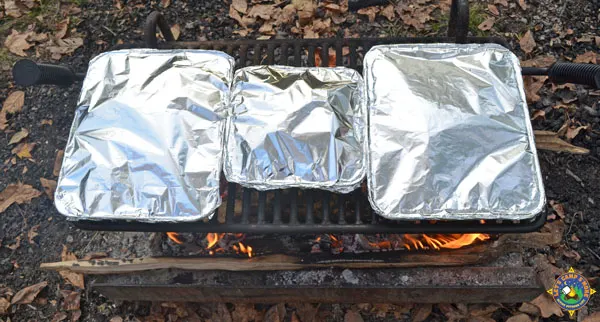 No need to dirty up any dishes. We even ate with our fingers, so there were not any utensils to wash. How awesome is that? A super tasty meal in a single pan that you eat by hand.
Need dessert after your nachos? Check out Dutch Oven Brownies, Dutch Oven Lemon Blueberry Dump Cake, or Campfire Cookies.
How delicious do these grill nachos look? We make these nachos on the grill and on most camping trips.
We will caution you that they are slow to cool off when cooked in cast iron. Take steps so you do not burn the nachos or yourself!
Grilled nachos are a favorite camping recipe of ours! Are there any ingredients that you would use that we did not mention?

Yield: 4 servings
Campfire Grilled Nachos
Everyone gets to customize their own nachos with this simple recipe made over the campfire or grill. Add your favorite ingredients!
Additional Time
15 minutes
Ingredients
tortilla chips
ground meat
taco seasoning
beans of choice
cheese
tomatoes
onion
avocado
chilis or peppers
Instructions
Prepare the taco meat or protein according to your favorite method.
Chop up all of the toppings.
Assemble the nachos by placing a layer of tortilla chips or sliced (sweet) potato in the bottom of your foil pan or cast-iron skillet.
Add a layer of your desired toppings, including cheese.
Repeat the layering of chips and toppings until the pan is filled.
Add a thick layer of cheese on the top.
Cover the pan with a piece of heavy-duty aluminum foil and crimp it around the edges.
Place on a grate over a campfire or on a grill. Do not place it directly over an open flame or the bottom might burn.
Cook each foil pan of nachos until the cheese is melted and toppings are cooked and tender. This will take anywhere from 15 to 30 minutes give or take depending on the temperature of the fire/grill.
Peel back the corner of the foil to check to see if the nachos are grilled to your liking.
Pull the pan off the campfire and eat.
Notes
We love these nachos made with thinly sliced sweet potato instead of tortilla chips. How do you like your nachos? Please share a photo of yours on Pinterest or on our Facebook page.
Recommended Products
As an Amazon Associate and member of other affiliate programs, I earn from qualifying purchases.
Nutrition Information:
Serving Size:
1
Amount Per Serving:
Calories:

528