Add a hanging shelf to your RV with this simple tutorial.

We own a pop-up trailer. It has four loops attached to the ceiling for a hanging pantry. The pantry did not come with the used RV and I was not willing to pay for an rv hanging pantry replacement, so I decided to create my own. See how easy it is to make a hanging pantry shelf for your trailer.
DIY Hanging Shelf for RV
Supplies
Wire shelf
Grosgrain ribbon (I used 1″ wide)
Book rings (Dollar Tree)
Sewing machine with matching thread
Directions
Determine how far down you want your shelf to hang.
Cut four ribbon pieces double the length of the hanging length. I wanted mine to hang down about a foot and a half, so I cut four 2.5 foot pieces.
Fold up about 1" of the end of each ribbon and sew in place along the top edge. This will form a loop to put the book ring through.
Repeat this for all eight ends.
Loop the ribbon through the loop in the ceiling.
Open a book ring and place it through both end loops of the ribbon and close over the outside edge of the wire shelf, making sure to evenly hang it.


How simple is that? Our shelf hangs over the inside kitchen in our pop-up trailer. We store snacks up on the shelf. It's easy and convenient. The shelf can be taken down and the ribbons left up between set-up.
If you need more room for more outside gear, check out this trailer tongue storage hack. See how easy it is to make a new dinette tabletop.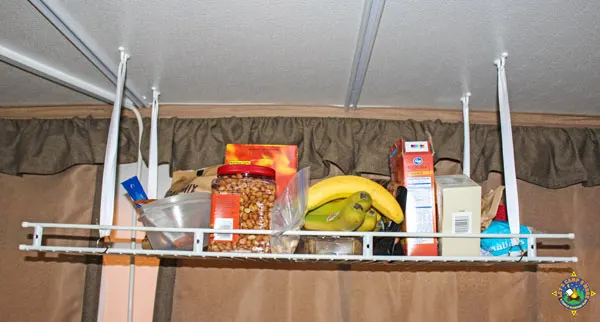 We will be taking a 3-week trip next month that will have us camping in 8 different campgrounds. That is a long time to be gone in a pop-up. This shelf will help us keep everything organized inside our trailer. We keep our food cool longer with this homemade cooler cover. We also do our own laundry with the hand-powered washing machine that we made using buckets.


How do you keep all your possessions organized in your pop-up camper? Keep messes in your camper at a minimum with these fun roasting fork covers.