Enjoy Hocking Hills Camping. This amazing state park is located southeast of Columbus, Ohio. This was the last stop on a trip that also included Ohiopyle State Park and Tomlinson Run State Park.
This is Ohio's most popular state park, making camping near Hocking Hills a favorite activity.
This beautiful outdoor recreation area is filled with gorges and ravines, cut by rivers and streams, which attracts visitors from all over the world.
Hocking Hills Camping
The entry to the Hocking Hills State Park Campground is located right next to the entrance to the Old Man Cave parking lot.
The check-in to the Old Man's Cave Campground is handled at the camping store. We found the staff to be friendly and helpful.
The campground store is well-stocked with camping essentials, souvenirs, and snacks.
The campground is located up a steep ridge.
All of the campsites have a paved or gravel pad, a picnic table, and a fire ring.
The majority available are electric sites.
There is one loop of full hook-up sites available at Hocking Hills. RV camping is available for rigs up to 50'.
There are decent shower houses located throughout the campground.
During the summer months, there is a campground pool available to all campers at no additional charge. It is a great way to cool off after the day of hiking!
Best Camping Spots in Hocking Hills
Many of the campsites along the main road are right on top of each other. These sites also seem to be lacking shade.
We recommend you avoid these. Instead, get a site down near the end of a cul-de-sac.
We were in site 159, which was decent. Site 163 looks to be the very best site in the entire campground.
Our Hocking Hills Camping adventure lasted 4 nights, which was a good amount of time to hike all the trails.
Old Man's Cave Camping
There is no camping at Old Man's Cave itself, but the rental cabins have access to the cave trail.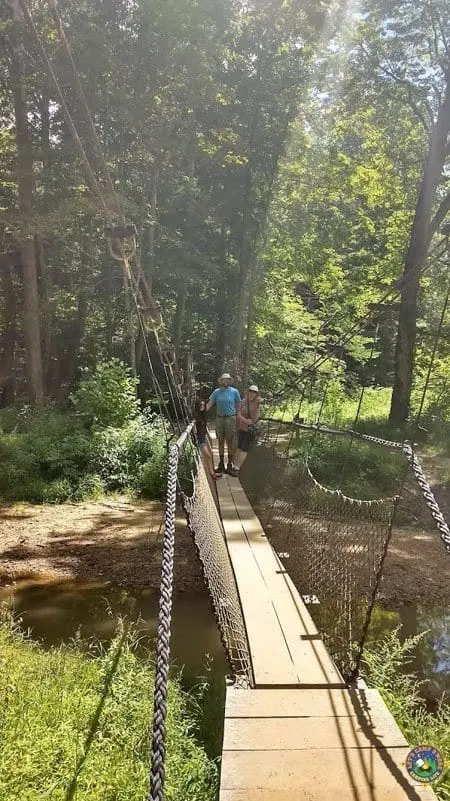 These cottages are very popular, so you need to book early!
There is also Hocking Hills tent camping available at the family walk-in camp area. A youth group camp is available to be reserved.

Visit Hocking Hills State Park
The Hocking Hills area is well known for its incredible hiking.
The state park has seven distinct areas, four of which are located very close to each other. Each of these areas offers fantastic hiking.
Of all the Hocking Hills hiking trails, Old Man's Cave is the most visited.
This area is the heart of the park and it houses the visitor center, which was being rebuilt when we visited in 2018.
Since the Old Man's Cave parking lot fills quickly, we recommend that you get there early. The trails are really crowded by midday.
Kids and adults alike will enjoy the trails around Old Man's Cave and down to Lower Falls. They feature tunnels carved out of rock and stream crossings.
Make sure to pick up at Hocking Hills Hiking Map when you arrive.
Seven Areas of Hocking Hills Ohio
We visited all seven areas and hiked most of the trails throughout the park. Some of these areas are shared with the state forest.
One of our favorites is the Rock House.
Since it is located 5 miles away from Old Man's Cave parking lot, you will need to drive and park there before you hike.
Ash Cave and Conkles Hollow have paved paths, making them accessible to all.
Get at Hocking Hills State Park Map here.
Enjoy more Midwest hiking and camping at Turkey Run State Park in Indiana, Fox Ridge State Park in Illinois, Tahquamenon Falls State Park in Upper Michigan, or Wylusing State Park in Wisconsin.
What is your favorite part of Hocking Hills?