Want to camp near a great Lake Michigan beach? Hoffmaster State Park Camping is the way to go. I highly recommend this beautiful recreation area in the Lake Michigan dunes south of Muskegon.
If you have read any of my reviews, you know that I am a big fan of Michigan. It is my favorite state to visit and camp in.
We have visited nearly all of the start parks along Lakes Michigan, Huron, and Superior. I would love to live at any of them. Check out the Top Campgrounds in Michigan.
Hoffmaster State Park Camping
Hoffmaster is a 1200-acre park along a 3-mile stretch of Lake Michigan. The park has a large campground, beautiful beaches, great hiking, and a large visitor center.
The park is located among beautiful sand dunes along America's third coast. The campground is set in the back dune forest and has towering trees.
I love this state park so much that I served as a volunteer campground host in 2023.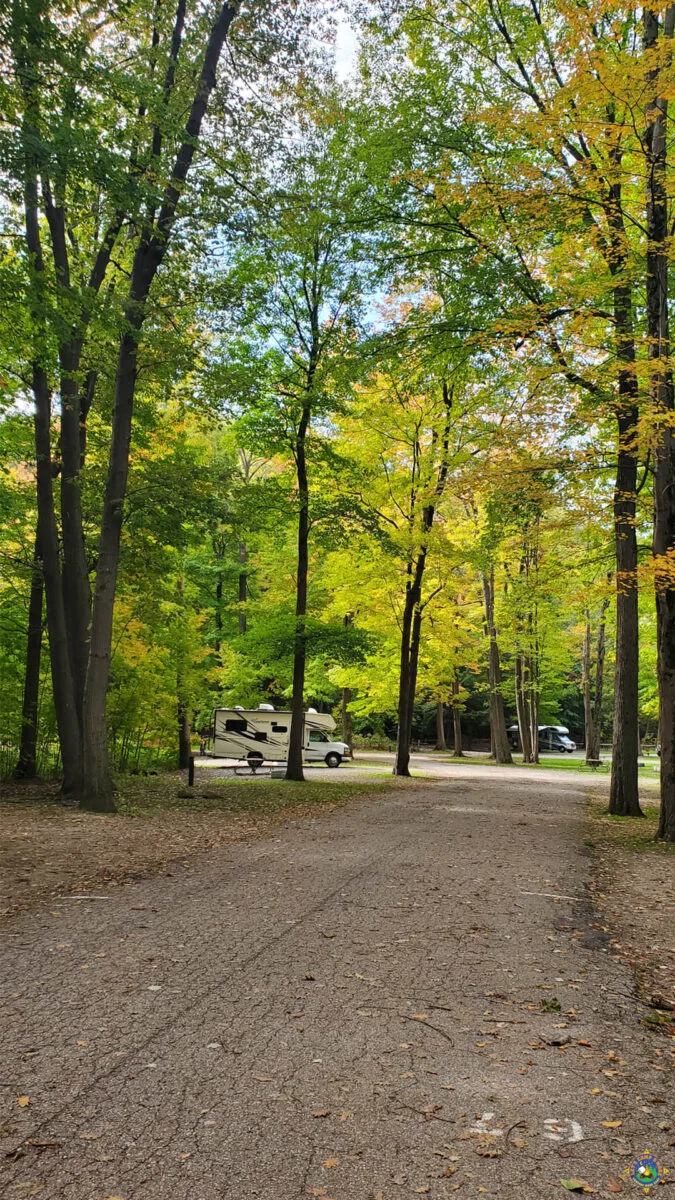 PJ Hoffmaster Campground Review
The campground has 297 campsites, most of which are electric. The four loops share three modern bathhouses.
Each shower building has the standard bathroom and sinks for women and men, along with individual accessible bathrooms with showers, and individual shower rooms. All have hot water and are clean and well-maintained.
Campsites include a 20/30 or 50 amp electrical pole, picnic table, and fire ring. Site sizes range from quite small to large pull-throughs.
When I arrived, I realized my cord was not long enough to reach site 44, so I moved to site 74. This site was fairly level, but many are unlevel, so bring leveling blocks.
There is not much separation between sites, which makes it great for multiple families to camp together.
Most sites are shaded amongst tall trees. There is a massive dune between the campground and the lake, but the walk out to the beach is not too rigorous.
This park has two dump stations that provide a connector hose. I have never seen this before, but it is a nice touch.
Kids will enjoy playing at the large playground or splashing in Black Creek.
The campground has ice and firewood for sale. The park staff and camp hosts are friendly and helpful.
The campground is open early in April through mid-October. It hosts a fall festival in early October.
PJ Hoffmaster State Park Campground is scheduled to be closed from July 7 through October 2023 for road replacement and construction.
Lake Michigan Beach at Hoffmaster State Park
A big draw of this park is the beautiful Lake Michigan shoreline. There is a beach access parking lot on the park's south side, but the campground has its own access.
Since it is located on the eastern shore of the lake, the sunsets are amazing. The beach closes at 10 pm, so spring or fall is the best time to catch the sunset.
There are 10 miles of hiking trails through the dunes. The trails on the park's south side are open to winter cross-country skiing.
Gillette Sand Dune Visitor Center
The Gillette Visitor Center is a large building with an exhibit hall, pond, and trail with a stairway.
The center has displays that show how truly unique Michigan's sand dunes are. There are live animal displays too.
I visited the PJ Hoffmaster State Park Campground in mid-October, just before it was closing for the season.
More Michigan Camping