Explore the Homeplace 1850s Working Farm in the Land Between the Lakes National Recreation Area.
On a recent Spring Break trip to Tennessee, we explored the attractions within the Land Between the Lakes. Our favorite was the Homeplace 1850s Working Farm. We enjoyed our visit so much that we decided to write this separate post about it.
The Homeplace 1850s Working Farm Travel Review
The Homeplace 1850s Working Farm and Living History Museum is an interactive replica of a mid-19th-century two-generation farm. It is a working farm, which means the employees and volunteers work the farm much the way it was worked back in time.
The farm includes restored buildings, livestock, fields, and crops representative of the 1850s. This was a prosperous area back then due to its proximity to the Tennessee and Cumberland Rivers. The rivers allowed the farmers to move their crops and livestock to market. Their main cash crops were corn and tobacco, which are still produced on the farm today.
The buildings include houses, barns, pens, sheds, cribs, and a blacksmith shop. These buildings are open for visitors to walk through and see how life occurred for these upper South families. Workers can be found around the farm. They are happy to tell you about rural life and answer questions.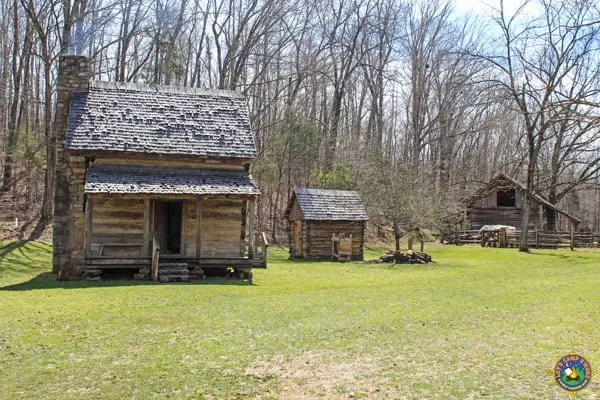 Our favorite building on the farm was the double pen house. This clever house contains rooms that are separated by breezeways. These open patios provided relief from the heat of summer. I would love to stay in a house like this!
Experience Life Back in the Mid-19th-Century
The double pen house had a wool spinning demonstration taking place. The lady spinning wool was dressed in period clothing and was quite knowledgeable about historic area life. She was able to answer all the questions asked about wool and the farm in general.
After her wool demonstration, she went outside and fed one of the sheep. This was really neat to witness and we were able to pet the gentle sheep.
There is a covered picnic area on the far side of the parking lot with trash cans and access to a nearby creek. Modern bathrooms are available in the main building, which also contains a gift shop with all kinds of historical-themed items.
Admission is $7 for adults and $5 for children. Well worth it! Get more information about the farm here.
Camp nearby at Piney Campground.