Check out Illini State Park which is located along the Illinois River just south of Interstate 80 and southwest of the Chicago area.

Illini State Park is a cute little recreation area located across the Illinois River from Marseilles Illinois.
Illini State Park Camping
There are campgrounds at Illini with 104 campsites total.

Whitetail Campground is a wooded area that is back from the river. This campground has both electric and tent sites.
Great Falls Campground has to distinct areas. There is a non-electric tent area in a wooded area.
The Great Falls electric sites are along the river.

We stayed on site 14 along the river.

We enjoyed watching the river and seeing barges go by.
All of the campsites come with a fairly level drive fire pit and picnic table. There are four 50 amp sites in the river view area.
There is one cabin for rent along the river.

The main shower house has two showers and two toilets on each side. It is located right where the wooded and river view campsites come together.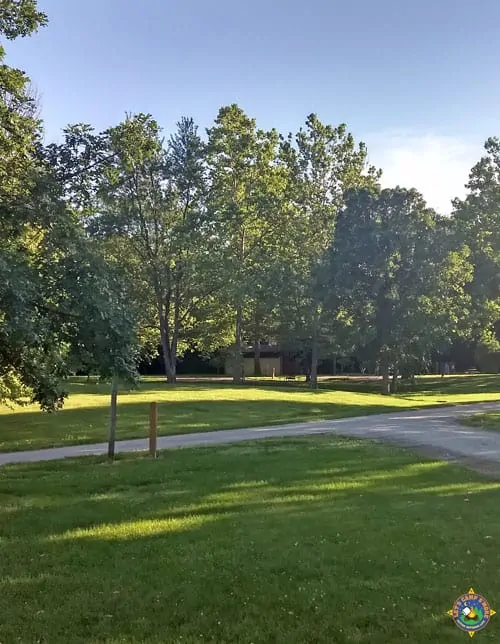 The dump station is located near the main shower house.
Water spigots are located throughout the campground.
Camp near Starved Rock and Illinois River
There is a concession stand right by the ball field near Great Falls Campground. This stand is a popular place for locals to get ice cream treats. They sell kiln-dried campfire wood that burns really well!

Even though this campground is across the river from a town and right near a damn, it's fairly quiet.
There is a large grass area between the river view sites and the Illinois River. Older benches are placed throughout this area so that you can sit and watch the river.
Illini State Park is popular with travelers going across I-80. It also serves as an overflow when start Rock State Park Campground is full.
State here for three nights and enjoyed hiking at Starved Rock State Park and explore the cute town of Ottawa.

You can make reservations for Illini State Park here.
Check out these other Illinois State Parks