Do you want to go camping at Kickapoo State Park in Illinois? We visit frequently, as it is our favorite local campground.
Kickapoo State Park is located near Oakwood in Vermilion County in Illinois. It is home to the only National Scenic River in Illinois and has a lot to offer visitors.
This Illinois recreation area is popular due to its proximity to Interstate 74 and the numerous activity opportunities. It is located near the Illinois-Indiana border in east central Illinois.
Recreational Activities at Kickapoo State Park
camping
picnicking
fishing
boating
paddling
tubing
mountain biking
biking
hiking
running
scuba dive
bird watching
wildlife viewing
mushroom hunting
hunting
disc golf
basketball
volleyball
Kickapoo State Park Camping
Within Kickapoo State Recreation Area, you will find three campgrounds. The main one is the Brian Plawer Campground. The Radeer Campground is tent-only. A group camp is located on the east side of the park.
Brian Plower Campground
The campground has 184 camp sites, half of which are electric RV sites. There are three loops in each of the electric and non-electric areas. There are no water hookups, but potable water is available at the dump station.
Electrical hookups comprise Miami, Illini, and Fox loops. Non-electric tent sites are in Sauk, Erie, and Redear, which are a good option for primitive campers.
See our Kickapoo campground tour on YouTube.
Twenty-two of the campsites have 50 amp of electricity, the rest have 30 amp.
Miami and Illini loops are grouped together, while Fox, Saux, Erie, and Redear are located along Long Lake.
The electric trailer camping sites have a flat gravel driveway, an electrical post, a fire ring, picnic table, and lantern hook. Sites are close along inner loops of Miami and Illini, but more spread out along the outside of those loops.
Fox loop has nice views of the lake, but little shade. There is a steep road up to the shower buildings, but vault toilets are available in the loop.
The tent camping sites in the Erie loop are in a large grassy area with little shade. The Sauk loop is a row of wooded walk-on sites with outhouses. Redear has basic sites with outhouses, but it has more shade and a few lakeside spots.
There are two shower houses in the campground. Each side has two toilets and two shower stalls. We have always gotten a warm shower.
Other campground amenities include a large playground, basketball hoops, an amphitheater, a central fire pit, water spigots, and a dump station.
As with most Illinois State Parks, the facilities are dated but maintained.
The park gets pretty dark at night. There is some freeway noise, which is louder along the lake. Phone reception has improved over the years and is now strong.
We recommend this campground, especially to travelers who are passing through the area. This nice campground has sites available year round. Reservations are only from May 1 to October 31.
Halloween at Kickapoo
The campground hosts a Halloween celebration with food, activities, and trick or treating in October. Campers go all out with decorating their campsites.
Reservation Information
As of August 2021, all sites at Kickapoo are reservable. Reservations can be made at least 3 days in advance through the ExploreMoreIL site.
Non-reserved sites are available upon arrival; however, there is a 2-night maximum stay on these walk-ups.
The electric sites are full most summer weekends, but sometimes you can find an opening when someone cancels.
Kickapoo State Park Camping Rates
$20 per night for electrical sites, $30 on holiday weekends
$10 per night non-electric sites
+ a $5 non-refundable reservation fee
The maximum length of stay is 14 nights.
Biking at Kickapoo
The Kickapoo Mountain Bike Trails and the nearby Kickapoo Rail Trail are what draw us to camp at the park so often.
Kickapoo Mountain Bike Club
KMBC maintains the mountain bike trails in conjunction with the state park. The 16 trails cover 18+ miles and range from green circle (easy) to black diamond (difficult). Eric is able to get in a challenging ride, while I stick to the easier trails in the wooded hills.
We are members of Kickapoo Mountain Bike Club and like to participate in the yearly endurance race.
Check out this complete guide to the Kickapoo Mountain Bike Trails.
Kickapoo Rail Trail
Just to the south of the state park lies the Kickapoo Rail Trail. We like to ride our bicycles over and ride across the trestle bridge. This is a great alternative when the mountain bike trails are closed due to mud or hunting.
Cyclists also like to ride on the roads within Kickapoo park.
Other Kickapoo Activities
There are miles of wooded hiking trails, many with spots overlooking the numerous lakes and ponds. These deep lakes are old mining pits, which make them great for fishing. Fishing piers and boat ramps are located throughout the park.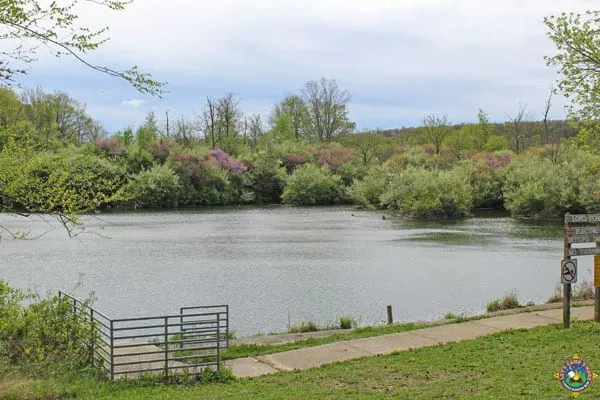 Nature lovers will enjoy each wildlife area and the nature trails, even in the winter months. We love seeing the wild turkeys and great blue herons.
The central part of the park has a concessions area with a snack bar and restaurant. Kickapoo Adventures has rentals of kayaks, canoes, paddleboats, and paddleboards. In the summer, enjoy tubing down the nearby scenic Middle Fork of the Vermilion River.
Six reservable picnic shelters are located throughout the park including the large pavilion pictured below. The pavilion has electricity, bathrooms, a large fireplace, a playground, and a parking lot and is perfect for a large group.
The shelters are $50/day.
Crystal Clear Ponds
The park has numerous deep-water ponds, which are leftover from strip mining. Clear Pond is a great place to fish.
Sportsman Lake and Inland Sea lend to people getting proper certification in scuba diving.
There are picnic areas, playgrounds, and activity fields throughout the park too.
Kickapoo State Park is a nice place with several recreational areas. There is a little something for everyone. We appreciate the recent updates to the park. We will continue to camp and recreate at Kickapoo for many years to come.
More Illinois Campgrounds