Keep the youngsters occupied this weekend with this fun kids camping activity bundle. This free printable camping games pack includes ten pages that your children are sure to love.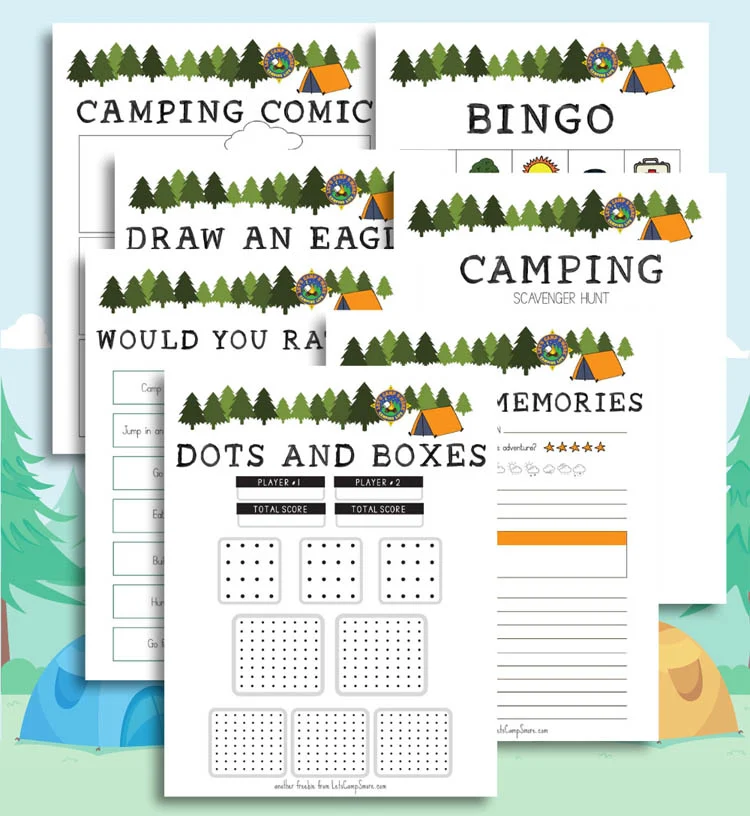 With the increased popularity of camping, people are looking for fun kid activities. There are so many games and activities for all ages when you camp.
Our kids love to run around, climb trees, fish, bike, hike, swim, and even play in the mud.
Fun Camping Activities
Over the years, we have done many fun crafts at the campground. We created little campfire rock families using tea light candles. Wind spirals can be made out of water bottles. We even created a fun little tic tac toe game using wood, rocks, and sticks.
When they were younger, they would always make friends with other kids and the campground. Especially our middle child. It has seemed like all the kids in every campground we visited knew his name. Adult knew his name too. I hope that that is because he was loud but polite. 😉
Kids always seem to create fun games with other kids around campsites, in the woods, or at the playground. Hide and seek, ghosts in the graveyard, flashlight tag, and capture the flag are all fun games to play in groups.
What about those days when it is rainy? Or those times when they start whining? We have solved that issue by offering a kids' camping printables free download bundle.
Free Kids Camping Activity Printable
This fun set includes 10 pages of fun. The set includes camping memories, draw an eagle, dots and boxes games, campground scavenger hunt, a blank comic strip, would you rather game, and bingo. There are also four different bingo cards in the set.
Camping Memories: Your child can rate and answer questions about their camping adventure, which will help them remember the fun they have. It might even help with that 'What did you do this summer?' assignment at school.
Draw a Camping Comic: Create a funny or silly comic story with this blank strip.
Scavenger Hunt: Find 10 common items around your campsite.
Dots and Boxes: Take turns drawing lines to create boxes. The player with the most boxes wins!
Draw an Eagle: Step by step directions for drawing this bird.
Would You Rather: All ages will enjoy answering these questions.
Bingo: 4 bingo cards allow multiple kids to play.
The download link for the kids camping activity set is below. You can laminate the pages, so they can be reused over and over with a dry erase marker.
We also have:
More Free Camping Printables
If you like this, you should check out our other free printables. Diana created fun camping-themed party decorations that can be used at home or at the campground for a birthday or regular party.
Our trailer trash bags labels turn a wipes container into a holder of bags for trash. We also offer site occupied signs, which are good when you need to stake a claim to a campsite. Camping-themed gift tags are great for gift wrapping for camping fans.
We hope your kids enjoy these activities. Keep an eye out for more freebies that will help keep the kids entertained at the campground.
Please leave a comment letting us know of any other fun camping activities you would like us to offer.

Happy camping!
Camping Helper Printables