Create this simple Polish-inspired kielbasa and cabbage recipe in a cast iron skillet.
We just returned from our first camping trip of the season and have a new recipe to share with you. It's a spin-off of a crock pot Kielbasa recipe that Diana makes in the crock pot. This kielbasa and cabbage one-pot meal is cooked in a cast iron skillet. It can be made on a stove top or grill, but it's tastiest over the campfire.
Kielbasa and Cabbage Skillet
This recipe is quite versatile. You can use Kielbasa or any variety of sausage. We often use turkey sausage. It can be made with or without apple, but we suggest with because it provides a nice sweetness. We do recommend increasing the amount of Dijon mustard if you use apple. We were down to the end of our container when we were just camping, so didn't get enough.
I have to admit that I like the flavor that onion adds, but I am not a fan of the texture. Diana often cooks with huge chunks of onion, so that we can easily pick them out. When I am cooking, I will use dried onion flake instead. I add it to all of my cooking. And when it comes to camping, I do ALL of the cooking. I usually don't measure how much I use. Shake in an amount that looks right is usually how it goes.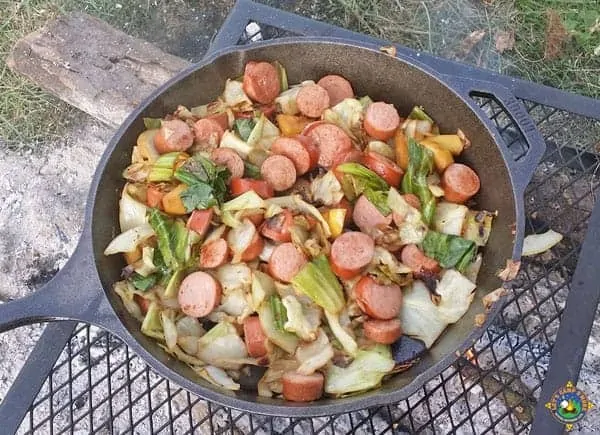 I like to do the cooking on the grill that attaches to the side of our pop-up trailer. I was in the middle of cooking this and Diana was taking pictures when a huge thunderstorm blew in. We had to jump into action and move the cooking inside and quickly take down our awning. I finished the skillet dish on the stove inside the camper. Since it was really dark and stormy outside, Diana had to use a flash for the photography. That is why some of the photos have a different look.
What do you think? Will you be trying this on your next camping trip?
More skillet camping recipes
Cheese Curd Toss
Skillet Poutine
Yield: 4 servings
Kielbasa and Cabbage Skillet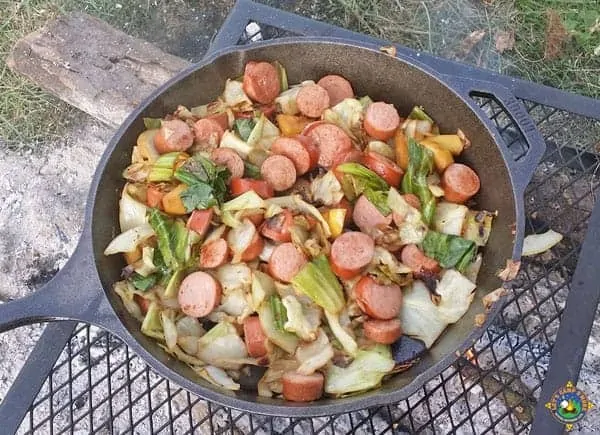 Create this simple German-inspired kielbasa and cabbage recipe in a cast-iron skillet.
Additional Time
5 minutes
Ingredients
2 apples
Head of cabbage
2 packages of kielbasa or similar sausage
Olive Oil, about 2 Tablespoons
Garlic, 2-3 cloves
1 small onion or dried onion flakes
Salt and pepper
Dijon mustard, 2 Tablespoons
Instructions
Chop the cabbage into 1-2 inch pieces.
Cut the apple into small thin slices.
Cut the sausage into small slices.
If using an actual onion, slice it into small pieces.
Mince the garlic.
In a large cast-iron skillet, heat the olive oil over medium-high heat on a stove or over the campfire.
Add in the garlic and onion or onion flakes.
Stir until the garlic starts to brown.
Add the apple slices to the skillet and stir for 3-5 minutes.
Add the chopped cabbage and stir for 3-5 minutes.
Add the desired amount of salt and pepper.
When both the apple and cabbage have softened, add in the sausage.
Stir for a few minutes until the sausage is heated.
Add the Dijon mustard and stir for 1-2 minutes.
Serve.
Nutrition Information:
Serving Size:
1
Amount Per Serving:
Calories:

610
Total Fat:

54g
Saturated Fat:

8g
Sodium:

1106mg
Carbohydrates:

22g
Sugar:

16g
Protein:

2g