Enjoy a vacation around America's third coast with this Circle Lake Michigan Camping Trip itinerary. Short, medium and long itineraries are included to match your availability.

There is a reason why the Great Lakes are termed as great. These huge lakes offer beautiful views and boundless recreation opportunities.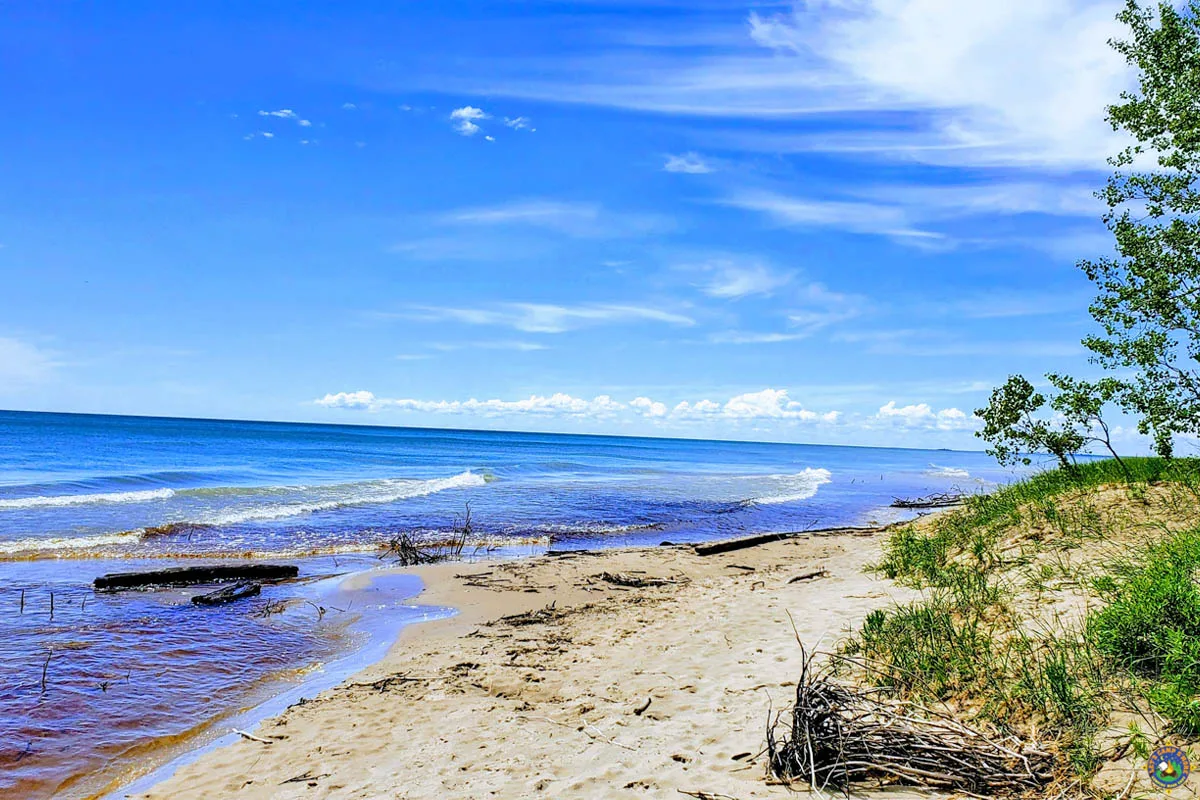 Lake Michigan Circle Tour Map
Lake Michigan offers an expansive coastline that touches Michigan, Wisconsin, Illinois, and Indiana. There are camping opportunities in each one of these states.
Circle Lake Michigan Camping Tour
We circled Lake Michigan counterclockwise a few years ago, starting and ending in Illinois. We used that experience plus additional trips along this inland sea to put together this camping itinerary for you.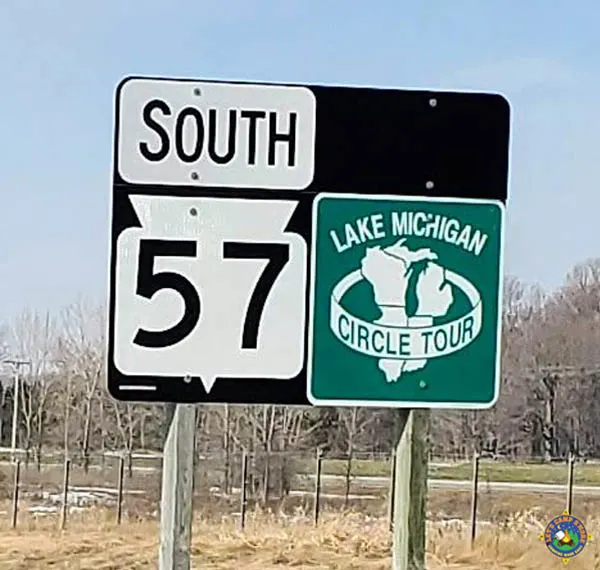 This camping trip plan starts in Indiana and ends in Illinois. Reverse it or just do parts of it as you see fit. We have included suggestions for shortening the trip.
Add some UP destinations to your trip with our Upper Peninsula Michigan Camping Guide or our Lake Superior Camping Guide.
Campgrounds Near Lake Michigan
We are starting out the long itinerary, which takes about 3 weeks. We have included some attractions and opportunities for you to do along the way.

If you only have one or two weeks off work, see our recommended Lake Michigan road trip plans at the bottom of the post.

Please note: Entry fees or passes are required for most of the national and state properties that we recommend. Save with a Michigan Recreation Passport, or as we call it, our Fun Pass.
Lake Michigan Road Trip Itinerary
| Campground | State | Things to Do & See |
| --- | --- | --- |
| Indiana Dunes | IN | Hike, Beach, See Chicago Skyline |
| Warren Dunes SP | MI | Dunes, Beach |
| Holland SP | MI | Sunset, Area Attractions |
| Ludington SP | MI | Big Sable Lighthouse, River Float |
| Sleeping Bear NLS | MI | Climb the Dunes |
| Petoskey SP | MI | Look for Petoskey Stones |
| Straights SP | MI | Mackinac Island |
| Hog Island Point State Forest | MI | Hike, Beach |
| Fayette SP | MI | Kitch-iti-kipi Spring |
| Wells SP | MI | Beach, Historic Buildings |
| Peninsula SP | WI | Bike, Beach, Cliff Jumping |
| Kohler-Andrae or Harrington Beach | WI | Beach, Sunrise |
| Illinois Beach SP | IL | Beach, Sunrise |
Circle Lake Michigan Itinerary
Best Lake Michigan Camping Indiana
Indiana Dunes National Park or State Park
Indiana Dunes is located at the southern edge of Lake Michigan. This large area comprises both the Indiana Dunes National Park and Indiana Dunes State Park, which means two choices for camping.
The national park has 66 reservable campsites spread over two loops. All sites are non-electric and only 53 allow RVs. Reservations can be made six months in advance.
Indiana Dunes National Park spreads across 15 miles of the Lake Michigan shoreline. It has a great beach, hiking trails, and a very biodiverse habitat. Birders delight in seeing Sandhill Cranes and many other birds.
The state park at Indiana Dunes has 147 reservable campsites, 134 of which are electric. The state park also has a six-month reservation window.
Indiana Dunes State Park has 16 miles of hiking trails, a nature center, and a beach with a lot of parking.
The beaches at each of these parks are quite popular in the summer, so the parking lots fill quickly. Enjoy views of the Chicago Skyline from the beach.
Michigan Campgrounds Along the Lake in the Lower Peninsula
The eastern side of Lake Michigan is a popular vacation destination due to its beauty and population proximity. Make sure to jump on the six-month reservation window to secure a camping spot, particularly on weekends.
Warren Dunes State Park
Warren Dunes is a very popular state park because of the sandy beach and its close to Chicago.

There are 219 campsites spread over two camping areas: Mount Randall and Hildebrandt. Mount Randall has electrical hook-ups, modern bathhouses, and a gift shop that sell souvenirs and camping essentials. Hildebrandt is non-electric tent sites only.

The beach area is really big with four large parking lots. During the summer the buildings are open which include bathrooms, a gift shop, and numerous food opportunities.
Take a long walk along the beach or enjoy a game of volleyball. Opposite the beach is a large dune to climb.
We were not fans of Warren Dunes when we first visited because I had bruised ribs and it was raining. Two weeks later, we stopped by on our way back to Illinois after circling the mitten of Michigan and it was sunny and felt magical. We fell in love and have returned since.
Stops Along Lake Michigan
Thirty minutes North of Warren Dunes is the Saint Joseph lighthouse. Walk along the breakwater and take a lighthouse tour. There is (paid) parking in the Tiscornia Park lot. We were able to park there in our small motorhome on a mid-week visit.
Stop at Saugatuck State Park and enjoy a hike up and over the dunes to the beautiful beach overlook.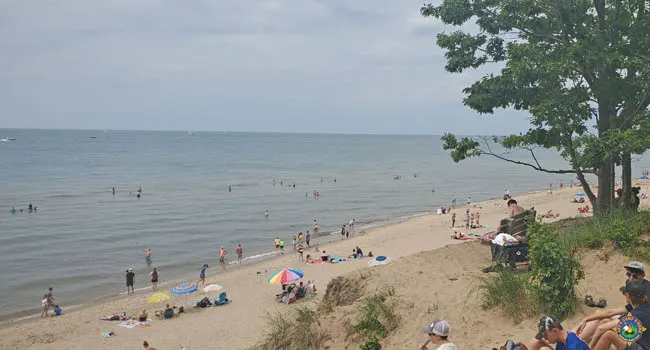 Holland State Park
Holland was one of our favorite stops on our trip. We liked it so much that we are returning this summer and staying in the exact same camping spot.

Holland State Park offers two campgrounds: Beach and Lake Macatawa. The beachside campground is a parking lot with spots very close together. Perfect for beach bums! The Lake Macatawa campground is wooded with more space between sites.

We stayed in spot 108 of the lakeside campground and have that spot reserved again in June.
Kayaks, canoes, and paddleboards can be rented across the street from the Lake Macatawa campground. A nearby general store is popular for ice cream.

Explore the area on foot or by bicycle. We rode our bikes out to the beachside part of the state park and watched the sunset each night.

There is so much to do in and around Holland, which is about 6 miles away.

Alternate Campgrounds: Hoffmaster State Park (where we served as Campground Hosts in 2023) or Muskegon State Park
Ludington State Park
Ludington, located in Central Michigan, is known as one of the best campgrounds on Lake Michigan. There are 373 campsites over four campgrounds. Pines, Cedar, and Beechwood are modern, with many of the sites close together. Jackpine is a primitive hike-in tent-only campground.

There is so much to do in this park; visit Big Sable Lighthouse, go to the beach, float down the river, fish or boat, hike, or enjoy a beautiful Lake Michigan sunset.
The nearby town of Ludington is a fun place to visit. The car ferry, SS Badger, crosses Lake Michigan from Ludington to Manitowoc, Wisconsin.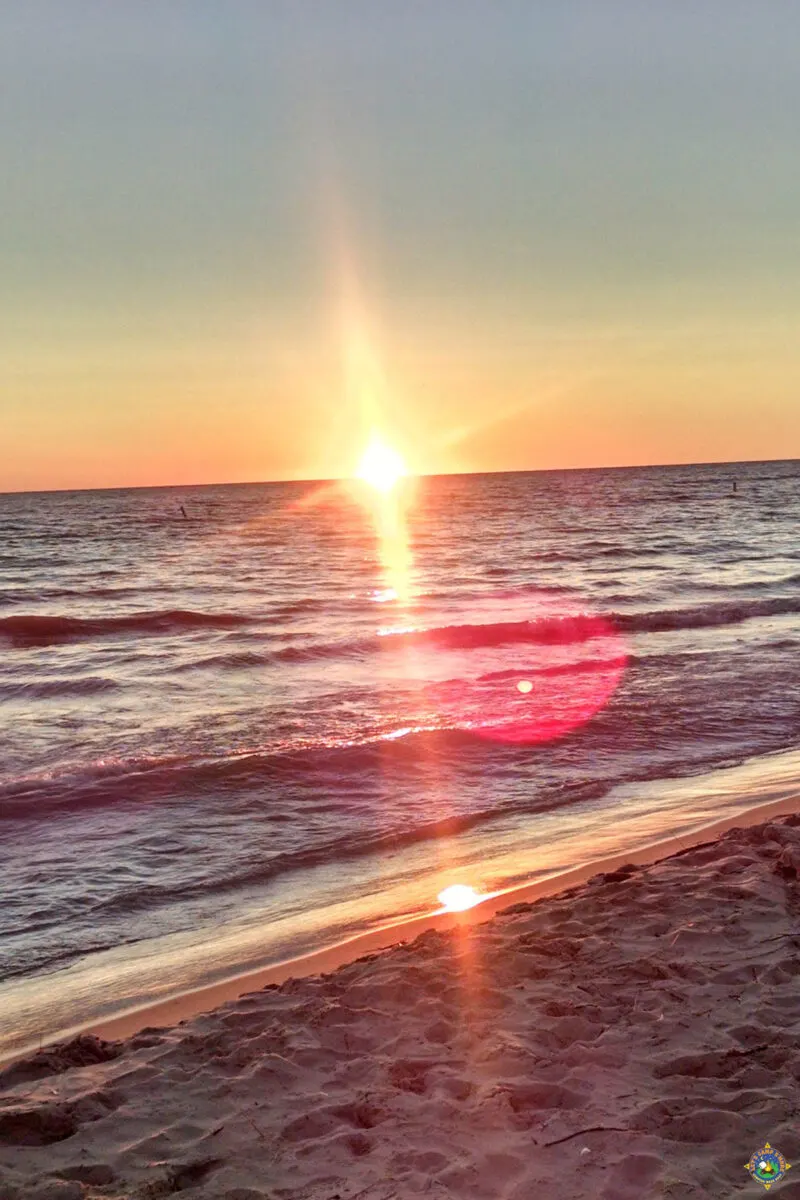 Sleeping Bear Dunes National Lakeshore
Sleeping Bear Dunes is a large park that is known for its towering sand dunes. The Dune Climb is up and over, down to Lake Michigan. It is quite an arduous hike all the way down to the lake and back, so we recommend just going to the top to see the expansive views for those who do not want to do the full hike.
There are two main campgrounds in the park: Platte River and DH Day. Platte River Campground has 179 campsites, of which 96 have electricity. DH Day Campground has rustic, non-electric sites with dirt roads and pads.
Reservations are required from May 1 through October 15 and can be made 6 months in advance for both campgrounds. Platte River Campground is open year-round.
Numerous hiking trails and overlooks are spread throughout the park. Other activities include kayaking, canoeing, river tubing, going to the beach, viewing dark sky views, taking scenic drives, and exploring Glen Harbor and Glen Arbor.
Drive the popular M-22 north out of the park and around the peninsula to Traverse City, which is a fun place to stop and explore.
Petoskey State Park
We love the charming town of Petoskey. There are great restaurants and shopping. The waterfront area is beautiful!
Petoskey State Park is located on the eastern edge of Little Traverse Bay. There are 178 modern campsites spread over two loops, which are adjacent to the beach.
If you are unable to get a spot at the state park, consider the municipal campground at Magnus Park. We have been to both.
The most popular activity is looking for Petoskey stones at the water's edge. Take a ferry or drive around to see the quaint town of Harbor Springs, which is located across the bay.
Lake Michigan UP Camping
Cross the Mackinac Bridge to enter the Upper Peninsula of Michigan. Here is where we suggest a slight deviation from Lake Michigan so that you can visit Mackinac Island. If you do not want to cross our bridge, then check out this Lower Michigan Camping Itinerary.
Straights State Park
Straights State Park is technically located in Lake Huron at the northern base of the Mackinac Bridge and offers amazing views of the Mackinac Bridge.
The modern campground has 270 campsites spread out over three areas. sites closer to the water have great views.
Visit Mackinac Island
The ferry terminal for Mackinaw Island is about a mile from Straights State Park. You may be familiar with this island from the movie Somewhere in Time with Christopher Reeves. Its real claim to fame is that it does not allow cars. Horses do a lot of the work that vehicles cannot.
Biking around the island is so much fun. You can bring your own bikes on the ferry or rent them when you arrive. We took our own bikes and rode clockwise, making many stops along the way to check out many great views. Make sure to check out Arch Rock.
The island also offers shopping, great restaurants and fudge, and beautiful views of the surrounding lake.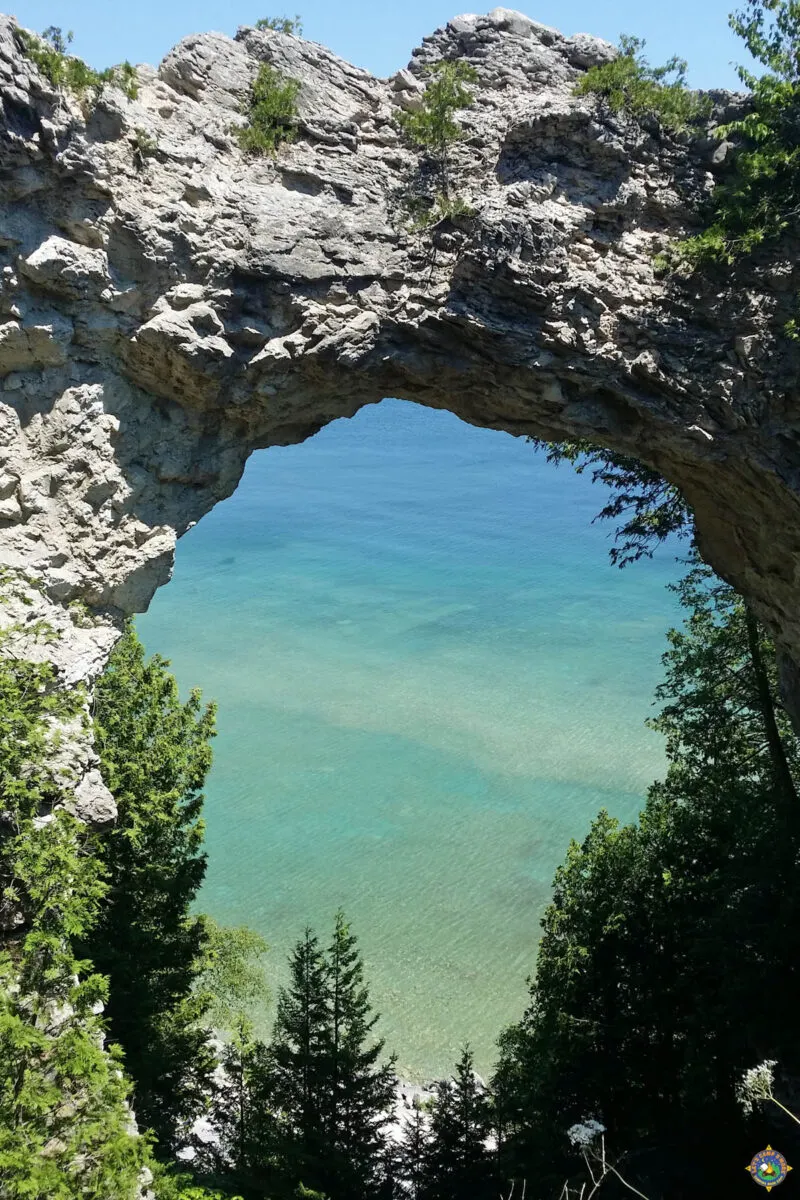 As you head out of St. Ignace, stop at Lehto's for a pasty.
Hog Island Point State Forest Campground
Head west along Highway 2 which parallels the lake and spend the night at Hog Island Point State Forest Campground. It is located on the northern side of Lake Michigan, where you can enjoy paddling or hiking.
This primitive campground is right on the shoreline. The 42 sites are first-come, first-serve. Potable water and vault toilets are available.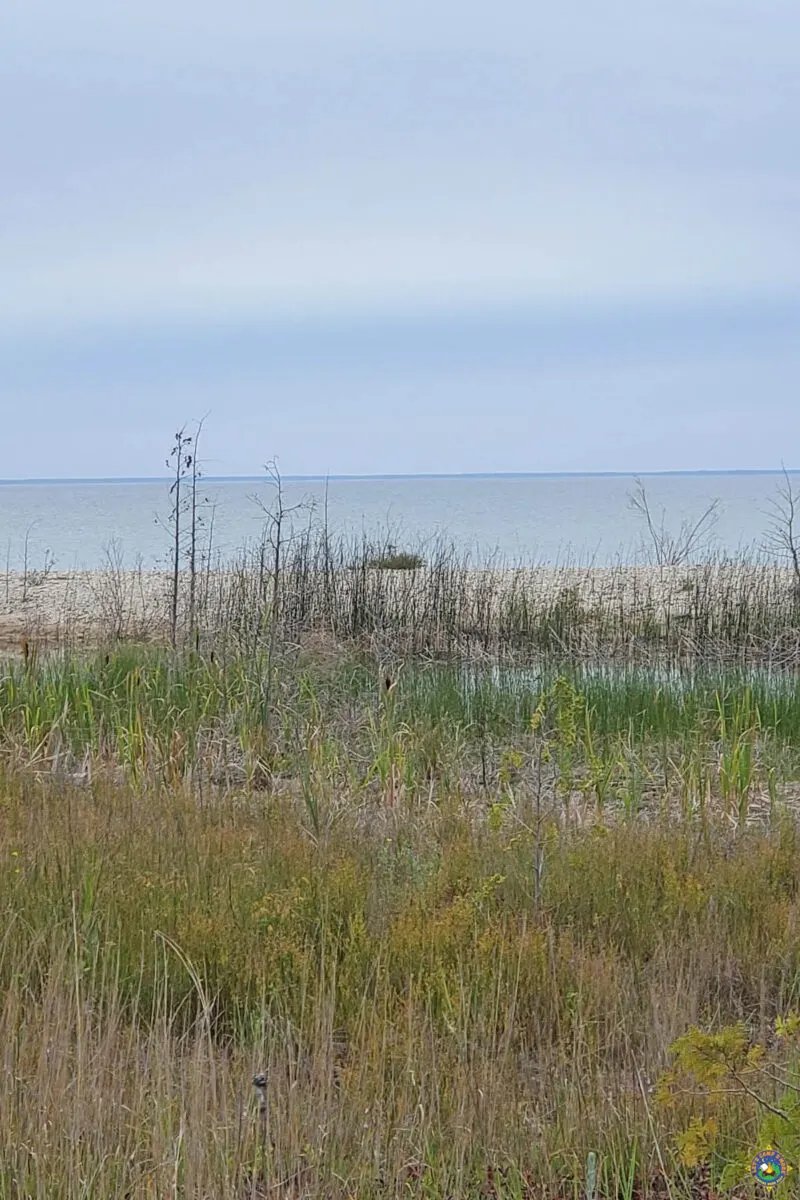 Kitch-iti-ipi Spring
While located 9 miles inland from the lake, the Big Spring of Kitch-iti-ipi is a MUST see!
The beautiful emerald-green spring is Michigan's largest freshwater spring. Float out over the spring on the floating platform that operates by pull cable. View the bottom of this crystal clear spring through the open windows of the platform.
Fayette Historic State Park
Fayette is located on a peninsula on Lake Michigan. Check out the historic town with a guided or self-guided tour.
The modern campground has 61 electric sites. Hiking to the edge of the limestone cliffs affords amazing views of Lake Michigan.
Wells State Park
Located on the western side of Lake Michigan in Green Bay is JW Wells State Park. The modern campground has 153 campsites.
Three miles of sandy beach and the old buildings built by the Civilian Conservation Corps make for an interesting stay.
Camping on Lake Michigan in Wisconsin
Wisconsin has fewer campgrounds along the lake, but that does not make them any less desirable to visit.
Peninsula State Park
A visit to Door County is a must and the best place to camp is Peninsula State Park. You could easily stay a week on the peninsula but for this Lake Michigan Circle Tour, we recommend 2-3 nights.
There are 468 campsites spread out over five campgrounds at this massive state park. South Nicolet is popular due to its proximity to the beach, gift shop, and boat rentals. We prefer the centrally located Tennison Bay which lends to easy access to both sides of the peninsula.
Park activities include biking, hiking, fishing, boating, and watching the sunset over the lake. There is a lot to do in the many towns dotted along the peninsula.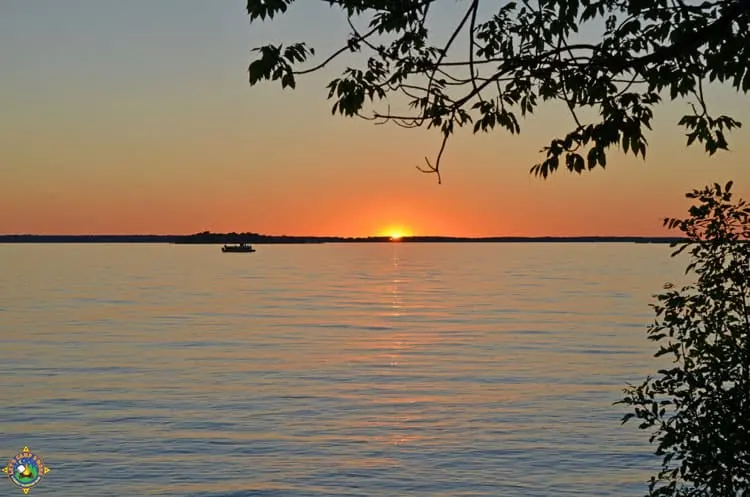 Make sure to head over to the east side of the peninsula to Cave Point County Park and see the cliff jumping. Even if you do not jump yourself, it is fun to watch others jump. We enjoyed jumping in, although the water was a bit chilly in early August.
Kohler-Andrae or Harrington Beach or State Park
Just south of Sheboygan are two state parks that offer great camping. To the north is Kohler-Andrae State Park, which offers 137 campsites, 52 having electrical hookups. Harrington has 69 campsites, of which 31 have electricity.
Kohler-Andrae has sand dunes and a nature preserve. Harrington has swamps, wetlands, and an observatory. Both have dwindling beaches due to the rising Lake Michigan waters.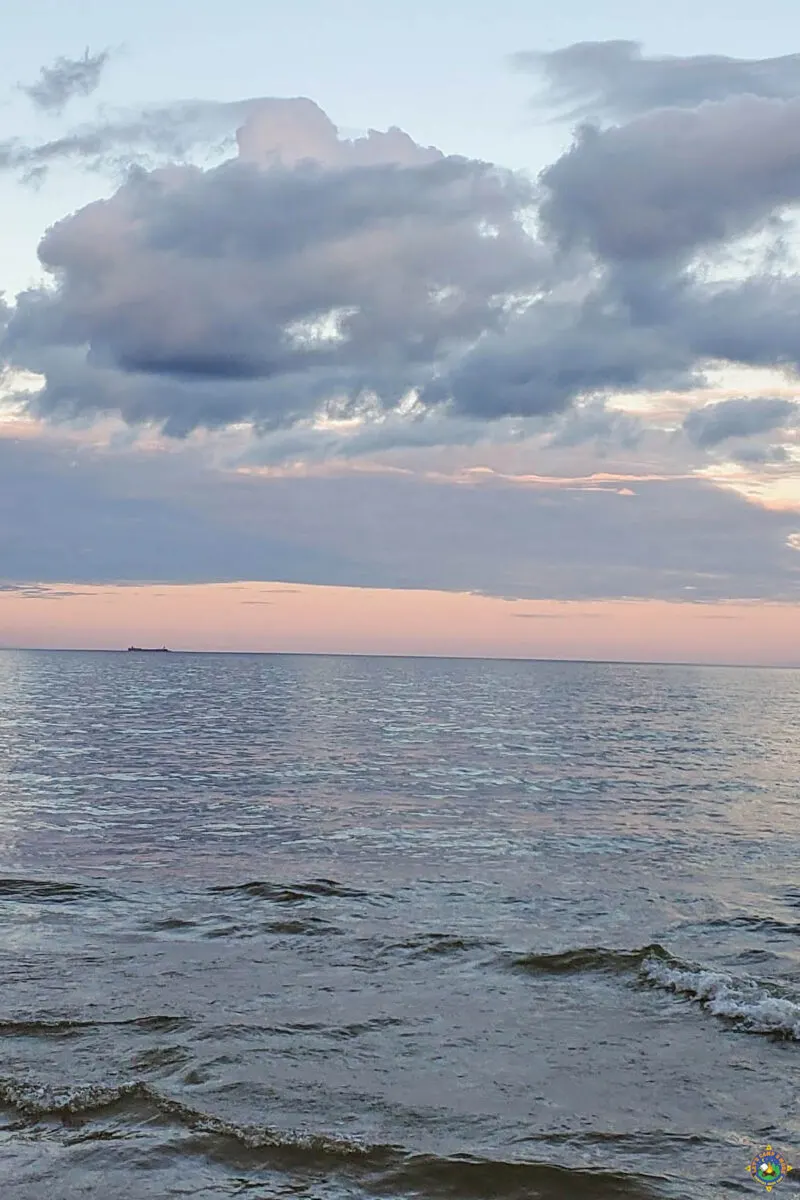 Camping Along the Lake in Illinois
Our final stop is in Illinois, which has just one state park on Lake Michigan.
Illinois Beach State Park
Most of the Michigan lakeshore in Illinois is industrial or municipal but there is a little tucked-away haven called Illinois Beach State Park. This park is divided into north and south sections.
The modern campground, which has 241 campsites, is located in the south part of the state park. The Illinois camping reservation window is six months, but the waterside spots are non-reservable.
Illinois Beach State Park is a great place to enjoy nature, swim, bike, hike, and fish.
Shortened Lake Michigan Itinerary
Is your time to camp along Lake Michigan limited? Only have a week off work, giving you 7-9 days to travel? We have a few alternatives for you.
Quick Circle Tour Lake Michigan
Trying to figure out what to cut out of this trip plan is hard. Kind of like picking your favorite child. No seriously, there are so many great things to see and do around the lake.
We are going to divide this into a few different focuses: civilization and getting away from it all.
If you like attractions, gift shops, and ice cream mixed in with your camping adventure, then we recommend you hit the following from our itinerary: Holland, Petoskey, Straights with Mackinac Island, Kitch-iti-kipi, and Peninsula State Park.
If you like nature, views, and outdoor activities, then make sure you get to Ludington, Sleeping Bear Dunes, and Kitch-iti-kipi. While the area around the ferry terminal is busy, you can still get away from the crowds on Mackinac Island by biking or hiking.
Ferry Across Lake Michigan
There is also the option of not going all the way around the lake and camping in the UP. Then take the ferry across Lake Michigan. Hit the first few stops, then after camping at Ludington, head into town and hop on the SS Badger, which takes you across to Wisconsin. Then resume the itinerary at Harrington Beach or Kohler-Andrae.
It is hard to get everything in on one trip. We excluded a few things from this itinerary and have gone back and visited both sides of the lake. You can also just camp along the Great Lakes in Michigan.
Have a wonderful trip!
More Nearby Camping