Want to visit Mackinac Island or the Upper Peninsula of Michigan? Then you will want to check out Mackinaw City Campgrounds.
Mackinaw City is located at the top of lower Michigan. This resort city is at the Mighty Mac Bridge's base, the gateway to the UP. The bridge is the dividing line between Lake Michigan to the west and Lake Huron to the east.
There is so much to do in and around this tourist destination. The city is full of history, shopping, food, and more. It makes a great base camp for exploring the entire region.
Camping Near Mackinac Island
While a majority of the campgrounds in Mackinaw City are private, we have decided to divide the camping into four areas and have added things to do near and around the city:
Wherever you decide to camp, make sure to make reservations, as this popular Michigan destination fills up quickly.
Mackinaw City RV Parks
Four private campgrounds are located within the city limits of Mackinaw. Two are along Lake Huron. Each has something a little different to offer.
Mill Creek Campground
The most popular campground in the area is Mackinaw Mill Creek Camping. This 200-acre campground has over 600 sites, from wooded to waterfront.
This private family-owned campground is located 5 minutes south of the city, giving it more of a state park rather than an RV park feel. The location offers great views of the Mackinac Bridge and Mackinac Island.
Numerous free amenities are available, including wifi, a heated pool and beach, miniature golf, basketball courts, hiking trails, waterside benches, antique firetruck/hayrides, and a free shuttle service to the Mackinac Island ferry.
Mill Creek 9730 US Hwy 23, (231) 436-5584
Tee Pee Campground
Located closer to downtown Mackinaw City is Tee Pee Campground. This family-owned campground has 97 sites, all with water and electrical hookups.
The campground boasts a nice beach with beautiful views of the bridge, island, passing freighters, sunrise, sunset, and the Friday night fireworks over the bridge. The beach is great for swimming, skipping stones, launching a kayak or canoe, and nightly bonfires.
Amenities include wifi, horseshoe pits, a basketball court, a volleyball/badminton court, a playground, a camp store, and a free shuttle to the ferry.
Tee Pee 11262 US Hwy 23, (231) 436-5391
Mackinaw City KOA
Located near the city center, KOA offers 101 campsites and camper cabins. Options include water & electricity as well as full hookup sites.
Amenities include wifi, corn hole, gaga ball, a playground, a pool, e-bike rentals, a camp store, and a nature trail that leads to the Northwestern State trail.
Mackinaw City KOA Journey 566 Trailsend Rd, (231) 436-5643
Mackinaw City Campground
Further south of town is Mackinaw City Campground. This basic campground does not have showers or other amenities. Sites have 30 amp electricity, a picnic table, a fire pit, and wifi available.
It is a budget-friendly $20/night, paid at self-registration. A self-serve commissary offers farm fresh eggs.
Mackinaw City Campground 13496 Mackinaw Hwy, (231) 420-1477
St. Ignace Campgrounds
More camping options are available north of the bridge in the city of St. Ignace. No stay in St. Ignace is complete without a pasty from one of the local eateries.
Straits State Park
Our favorite place to stay in the Mackinac Island area is Straits State Park. Splitting I-75, the campground sits along Lake Huron to the east of the bridge.
This beautiful park has 270 campsites spread out over three distinct areas, with the Lower West and Lower East offering views of the Straits of Mackinac and the bridge. It is an amazing spot to catch the Friday night fireworks.
Straits 720 Church St, (906) 643-8620
St. Ignace KOA
The KOA in St. Ignace offers 145 RV sites, 23 tent sites, and camping cabins. Options include water & electricity as well as full hookups.
Campground amenities include wifi, gaga ball, a jumping pillow, a playground, mini golf, a game room, a camp store, and free shuttles to the casino and ferry stop.
St. Ignace KOA Holiday W1118 US-2 Hwy, (906) 643-9303
Lakeshore RV Campground
Lakeshore is a small friendly campground offering views of Lake Michigan and the Mackinac Bridge. The campground has a total of 67 sites, including full hookup RV camping and tent sites. Free WiFi is available.
Lakeshore W1234 Pointe Labarbe Rd, (906) 643-9522
Tiki RV Park
Tiki Campground, which is the closest to downtown St. Ignace, offers 80 RV sites ranging from electric-only to full hookups. You can walk downtown or to the ferry terminal.
Glamping yurts are tents are available. WiFi is available in parts of the campground.
Tiki 200 South Airport Rd, (906) 643-7808
Castle Rock Lakeside Campark
Castle Rock Lakefront Mackinac Trail Campark is another family-owned area campground. One hundred campsites range from tent to full hookup, some along Lake Huron and others in the woods.
Sites have picnic tables and fire rings. Free firewood is available, as well as basic WiFi.
Castle Rock 2811 Mackinac Trail, (906) 643-9222
Carp River Campground
Carp River is a forest service campground in the Hiawatha National Forest. Twenty rustic campsites in a quiet setting are near fishing, hiking, canoeing, and kayaking. There is no dump station.
Carp River USFS 3445, (906) 203-9872
Nearby Campgrounds in Lower MI
Want to be away from the tourist area? There are two beautiful state parks nearby.
Wilderness State Park
Fifteen minutes west of Mackinaw City is Wilderness State Park. This huge park offers 250 campsites in two campgrounds, as well as rustic cabins and bunkhouses.
With over 10,000 acres of wilderness, the park has 26 miles of Lake Michigan beach and a mixture of dense forest and wetlands. The park is a designated dark sky preserve.
Fantastic sunsets and distance views of the Mighty Mac bridge are available at the beach.
Wilderness SP 903 Wilderness Park Dr, Carp Lake, (231) 436-5381
Cheboygan State Park
Twenty-five minutes southeast of the city is Cheboygan State Park. This 1,250-acre park is located on a peninsula along the shores of Lake Huron.
The quiet campground has 75 campsites, a tipi, and rustic cabins available. Enjoy hiking, wading in the shallows of Lake Huron, and distant views of Mackinaw Bridge and its Friday night fireworks.
Cheboygan SP 4490 Beach Rd, Cheboygan, (231) 627-2811
Upper Peninsula Camping Near Mackinaw
If you wish to camp in a different part of the UP under 2 hours from Mackinac, check out one of these great public campgrounds in Northern Michigan.
Hog Island State Forest
Hog Island is located 35 northwest of St. Ignace along Hwy 2. This state forest campground has 42 rustic sites for tents or small campers. The sandy Lake Michigan beach is great for swimming, paddle sports, and hiking.
Hog Island N7590 Hiawatha Trail, Naubinway, (906) 643-8620
Camping in Sault Ste Marie
Aune Osborn Campground is a great place to camp in Sault Ste Marie. Located along the St. Mary's River, this campground offers up-close views of Great Lakes freighters going to and from the nearby Soo Locks.
Aune Osborn 1225 Riverside Dr, Sault Ste. Marie, (906) 632-3268
Brimley State Park
Brimley is located along the sandy shores of Lake Superior. This small park offers 237 campsites.
Brimley SP 9200 W 6 Mile Rd, Brimley, (906) 248-3422
Tahquamenon Falls State Park
Tahquamenon Falls State Park is home to the second largest waterfalls east of the Mississippi. There are 277 campsites over four campgrounds. This huge park also offers hiking and wildlife viewing.
Tahquamenon SP 41382 West M-123, Paradise, (906) 492-3415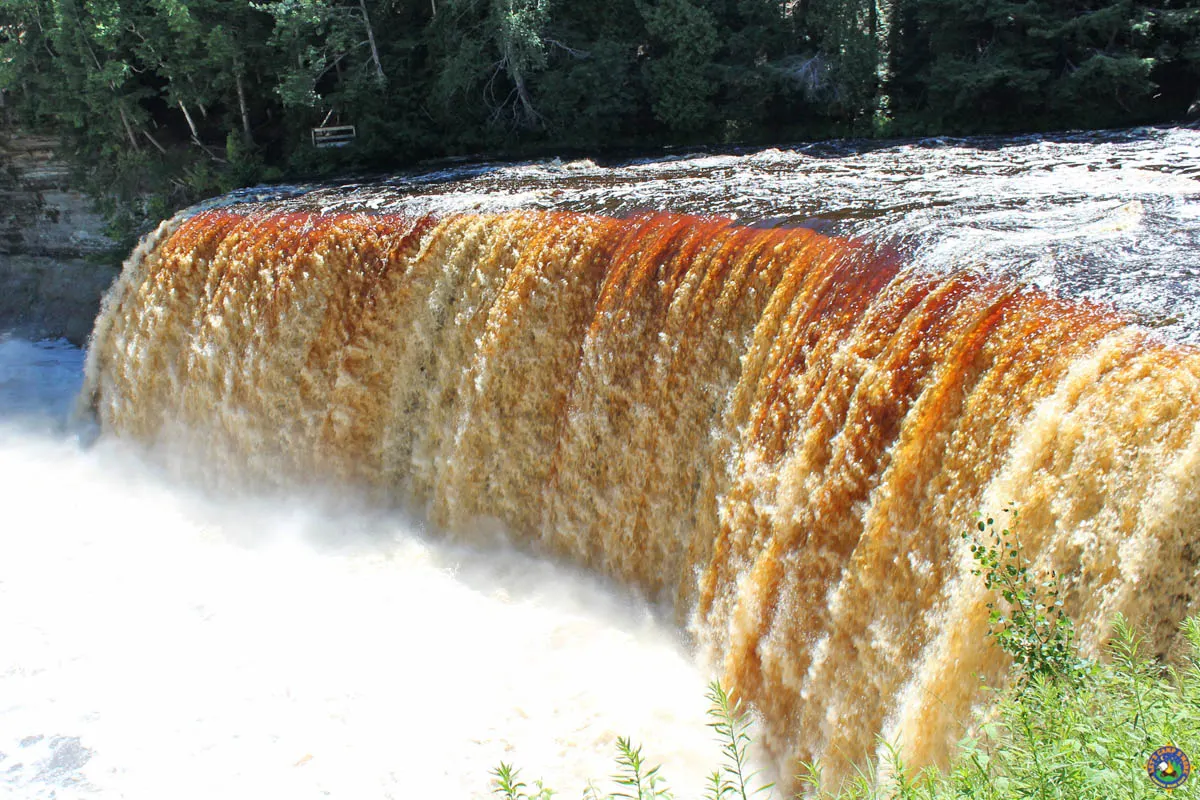 Mackinaw City Things To Do
Mackinaw City is a fun town with so much to do. Enjoy one of the following activities:
Ferry to Mackinac Island
Fort Colonial Michilimackinac State Park
Old Mackinac Point Lighthouse
Mackinaw Bridge Museum
Icebreaker Mackinaw Maritime Museum
McGulpin Point Lighthouse
Headlands International Dark Sky Park
downtown shopping
boat tours & rentals
Day Trips Near Mackinaw City
Are you planning on having the Mackinac area as your base camp? There are so many great opportunities within 2 hours of Mackinaw City.
Options to the South
Petoskey & Harbor Springs
The towns of Petoskey and Harbor Springs (45 minutes southwest) are delightful to explore. Situated on opposite sides of Little Traverse Bay, these picturesque cities offer great views, shopping, and dining. Hunt for Petoskey Stones along the shoreline.
Ocqueoc Falls
Enjoy hiking, picnicking, or a dip in the cascading falls at Ocqueoc Falls State Forest. Ocqueoc is just over an hour southeast of MC.
Hoeft State Park
One hour southeast of MC along Lake Huron is P. H. Hoeft State Park. One of Michigan's oldest, this state park is on the National Register of Historic Places. The sandy beach is great for swimming or watching Great Lakes shipping traffic.
Presque Isle
An hour and a half from MC is the Presque Isle Township. Visit the Old and New Presque Isle Lighthouses. Pay the admission for both sites, tour the museums, and climb the lighthouse stairs for incredible views of Lake Huron.
Upper Peninsula Ideas
The Upper Peninsula of Michigan abounds with recreational opportunities. Here are the must-do near the Mackinaw area.
Soo Locks
The world-famous Soo Locks connect the lower Great Lakes to Lake Superior. These locks, which operate on gravity, allow boats to transit the 21-foot difference in water levels.
Watch the process from a viewing platform. Experience the locks firsthand by taking a boat tour through them.
Great Lakes Shipwreck Museum
Not far from Tahquamenon Falls is the Great Lakes Shipwreck Museum. The museum includes information on wrecks from the Canadian and American sides of the lakes. The main attraction of the museum is the bell of the Edmonds Fitzgerald.
Kitch-iti-kipi Spring
Kitch-iti-kipi is Michigan's largest freshwater spring. A self-operated observation raft with a glass bottom shows the beautiful emerald-green pool.
Mackinaw City Campgrounds FAQ
Can you camp on Mackinac Island?
No. Overnight camping is prohibited on Mackinac Island.
What campground is closest to the ferry station to Mackinac Island?
Two companies offer ferry service to the island. Tee Pee Campground is closest to Shepler's Ferry, operating out of Mackinaw City on the south side of the bridge. KOA, Tee Pee, and Mill Creek have free shuttle runs to and from Shepler's.

Straits State Park and Tiki RV Park are closest to Star Line Ferry in St. Ignace, on the bridge's north side.

Do you need reservations for the Mackinac Island ferries?
No, ferry tickets are on a first-come basis, with ferries running frequently. Please arrive 15 minutes before your desired departure.
Is there a charge to cross the Mackinac Bridge?
Yes. Get fare information here.
Why are there different spellings for Mackinaw?
Mackinac (as in Bridge and Island) is short for Michilimackinac. When the British took control of the area, they changed the C to W to reflect the pronunciation.
Michigan Camping Itineraries