We just returned from our 3-week Circle Lake Michigan Camping Trip. We plan on writing a post on each of our destination and then a summary post, but for now you get a quick recap of the highlights.
Lake Michigan Camping Trip Recap
Ludington State Park Our first stop was Ludington. Our drive up what challenging with a flat tire, traffic on the south side, and stupid GPS directions. We were so relieved when we finally arrived. It was absolutely beautiful and we enjoyed a great sunset the first night.
After two nights at Ludington we headed to Sleeping Bear Dunes National Lakeshore. We ran into a friend of our daughter at the campground, which was a lot of fun for her. We enjoyed hiking the dunes and taking in the scenery.

On our way to camp in the Upper Peninsula, we stopped at Petosky State Park and collected Petosky stones. They are abundant but small. We will definately be returning to Petosky to camp in the next few years.
Upper Peninsula Michigan
We crossed the Mackinac Bridge and stayed at Straits State Park, which is at the north end of the bridge. Such great views!


A highlight of the trip was taking a ferry over to Mackinac Island. It was a lot of fun to ride our bikes around the island.
Our next stop was Sault Ste. Marie, where we stayed at Aune-Osborn Campground along the edge of the St. Mary's River. We got to see the largest Great Lakes freighters go by.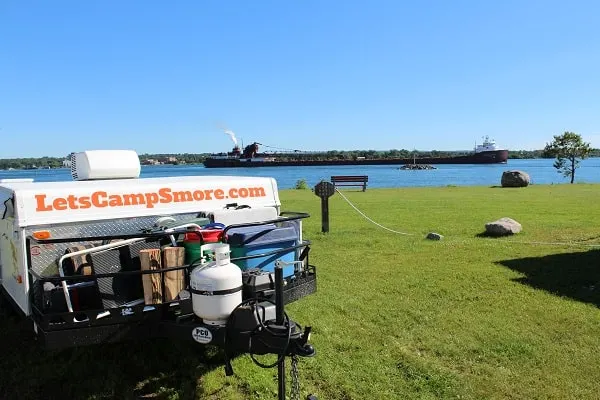 We also enjoyed a cruise through the Soo Locks. It was incredible to experience this 21 foot difference in water level between Lake Huron and Lake Superior.

Next was onto Tahquamenon Falls State Park, which are home to the second largest falls in the US east of the Mississippi. We also visited the Great Lakes Shipwreck Museum, which I have wanted to visit for as long as I can remember.

Lake Superior
Then it was onto Munising, which included playing in and along Lake Superior. We enjoyed a sunset cruise to view Pictured Rocks National Lakeshore. We fell in love with Lake Superior.

Our last stop in the UP was Fayette State Park. This historical place has an original smelting village.

Nearby is the incredible Kitch-iti-kipi or Big Spring. This is a MUST VISIT if you are in the area.

Door County, Wisconsin
Our trip felt like two trips in one. The first was 2-weeks in Michigan, which was following up by a week in Door County, Wisconsin. We stayed at Peninsula State Park. We've been to Door County before, but did different things this time.
We explored the east side of the peninsula which included a visit to the Cana Island Lighthouse.

The east side is also home to Cave Point County Park, which is great for cliff jumping into Lake Michigan. We all jumped, which was so much fun!

We also enjoyed making original art at Hands On Art Studio in Fish Creek. I welded and painted a guy on a bike. Diana made a glass mosaic of our blog logo. Our daughter welded and painted a kitty and made a glass mosaic of a ballerina.
The best part of Door County is the sunset. We shared a few sunsets live via our Facebook page. The videos of those can be found on the page.

Now it's back to reality. Our 6+ weeks of camping trips this year are over. We hope to camp 2-3 times this fall, although our daughter has a busy dance schedule. Over the next few months, we will be trickling out more in depth reviews of each play we stayed and what we did.