Enjoy this Wild Mushroom Chickpea Hash over the campfire or at home.

Note: I am not a mushroom expert; do not consume any mushroom that you are not 100% sure about.
During our stay at Ohiopyle State Park, we got to experience something special. A recent rain provided enough moisture for a large golden chanterelle mushroom bloom.
While I was walking near our campsite, I noticed something yellow on the ground. Upon closer inspection, I realized it was a small cluster of mushrooms. I was not sure if they were safe to pick and eat.
I noticed someone picking them, so I approached him and asked if he knew enough about them to verify what they were.
Golden Chanterelle Mushroom Hunting
The guy's name was Mike and he told me that they were, in fact, golden chanterelle mushrooms. Mike assured me that these were safe to eat, after cooking them.
I joined him on the hunt and we were able to pick a lot of them. Check out the video conversation that I had with Mike about living in Pennsylvania and mushroom hunting.
There were plenty of mushrooms, so we both got as many as we wanted along with other campers in the area.
I got so many that we were able to get two meals out of them. But before you can cook them, it is a good idea to soak them in water for a little while. This gets the dirt and bugs off of them, that makes them more pleasant to eat.
It was breakfast time so I took about a third of what I had gathered and decided to make mushroom omelets. Well, I wasn't sure I would get the mushrooms cooked all the way through before the egg cooked, so I pan fried the mushrooms first and then made scrambled eggs. Pretty much the same thing, right?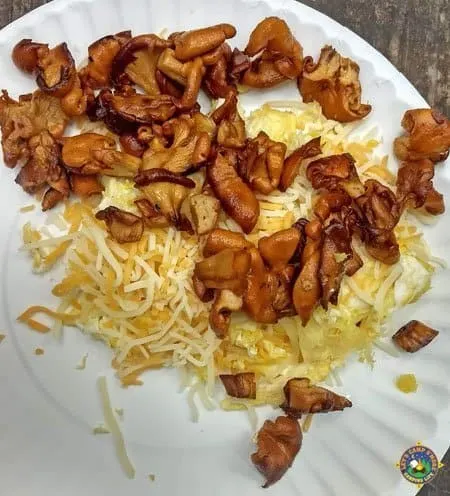 Golden Chanterelle Mushroom Chickpea Hash Recipe
That evening we made a Wild Mushroom Chickpea Hash over the campfire using the golden chanterelles.
You can see our chickpea hash recipe at the bottom of this post. We used bacon and yellow zucchini in our hash. Feel free to adapt the recipe to your favorite ingredients.

As usual, we cooked it all in a very large cast iron skillet over the campfire. The mushrooms added a very woody, earthy flavor to the meal.
Not only was it fun to eat what nature provided, but it was also pretty cool to meet someone with local knowledge who shared with us about mushrooms and other Pennsylvania things.

More Cast Iron Skillet Recipes you will Enjoy!
Pulled Pork Poutine
Cheese Curd Toss
Yield: 8 servings
Wild Mushroom Chickpea Hash
Create this chickpea hash with mushrooms and sweet potato.
Ingredients
2 cups mushrooms
1 pound bacon
2 large sweet potatoes
2 yellow zucchini
3 cans chickpeas
1 packet Italian season
1 teaspoon minced onion flakes
2 teaspoons minced garlic flakes
Instructions
Dice the mushroom, bacon, sweet potato, and zucchini.
Rinse and drain the chickpeas.
Heat up a large cast-iron skillet over the campfire.
Place the bacon and mushroom in the skillet and cook over the fire, stirring often.
Add the sweet potato and zucchini when the bacon is about ¼ of the way done. Continue to stir often so that the food does not stick to the skillet.
When the vegetables are almost done, add the spices.
Add the chickpea and stir around until cooked.
Notes
This recipe is very easy to adapt, using your favorite ingredients. Omit the bacon to keep it vegetarian.
We'd love to see what you come up with. Share a photo on Pinterest or our Facebook page.
Nutrition Information:
Yield:
8
Serving Size:
1 cup
Amount Per Serving:
Calories:

417
Total Fat:

22g
Saturated Fat:

7g
Trans Fat:

0g
Unsaturated Fat:

14g
Cholesterol:

56mg
Sodium:

972mg
Carbohydrates:

29g
Fiber:

7g
Sugar:

7g
Protein:

27g