See how easy and fun it is to make a No Bake Gingerbread Campsite.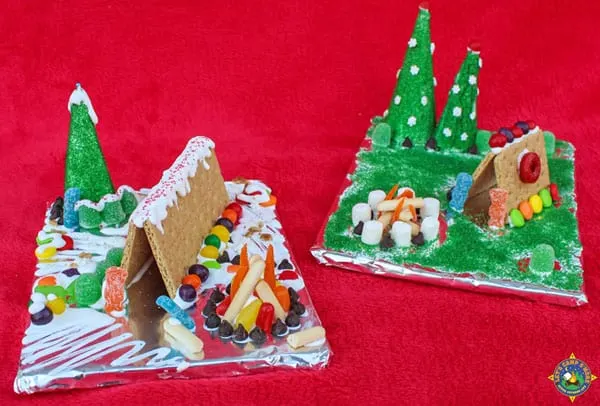 Right after Thanksgiving we get together with extended family and have a family craft day. This annual day includes making gingerbread houses. We had such fun this year that we decided to make a camping-themed gingerbread house. Make your own No Bake Gingerbread Campsite using graham crackers.
We created campsites with tents. Maybe we will create trailers next year.

How to Make a No Bake Gingerbread Campsite
Supplies
Graham Crackers
Sugar Cones
Candy
Sprinkles
Other edible decorations: mini marshmallows, chocolate chips, pretzel or cracker sticks, dried mango
cardboard covered with foil
royal icing
food coloring

Directions
Place some of the gingerbread icing in snack-size zippered plastic bags and make a small snip in one corner.
Add a few drops of green food coloring to the rest of the icing.
That two graham crackers and form a tent, using the icing to hold the tent together.
Spread icing on sugar cones to create trees.
Place the trees on the board and cover with green sugar sprinkles.
Decorate the campsite with desired candies.
Create a campfire using cracker or pretzel sticks.
Create the fire with dried mango or fruit strips.
Surround the fire with a ring of mini marshmallows or chocolate chips.

We added icing with green sugar sprinkles to one campsite to give it the look of grass. The other campsite had icing smeared on the foil to give it the look of snow on the ground.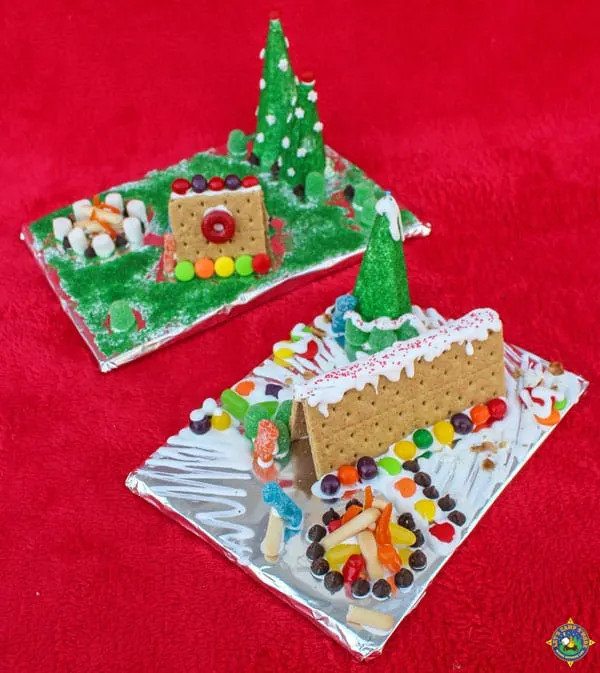 This is a great activity for the whole family. We had a really good time creating these cute gingerbread campsites.

Have you ever made a gingerbread house? You can use graham crackers like this to create your own style or buy an inexpensive kit to decorate. We've seen a trailer gingerbread kit in stores. We recommend that you buy extra candy because the kits have a small amount.
More Christmas Camping~