Check out our Pop Up Camper Remodel.
I am tired of all the brown in our pop-up camper. The cabinets are 'wood', the cushions are brown, the curtains are a few shades of brown, and the laminate floor looks like brown tiles.
It is just too much brown. I did not want to paint the cabinets or recover the cushions, so I decided to make it over with fun bright colors. This is how I updated the look.
My Pop Up Camper Remodel
The inspiration for our pop up camper interior makeover came from some camping fabric that I ordered online a few years ago. This cute fabric featured animals out camping. I knew I needed to use it in our trailer somehow. It would make some cute curtains, but I had not ordered enough. I decided to use it for the valance, even though there was not enough to make it ruffled.
Before we packed up the trailer left fall, I pulled all of the camper window curtains and valances out of the pop-up. I decided to sew my fabric on top of the existing curtain fabric. This made it so much easier because I did not have to remove the strip of fasteners. Moreover, it added another layer for darkening.
Pop Up Camper Ideas
Being frugal, I decided to use a sheet for the curtain fabric. I measured the curtains and drew the measurements out on graph paper and realized, that a flat queen sheet was the perfect size for the side curtains.
I searched and searched for a printed sheet that would go with the valance fabric. After several days of searching, I looked in our linen closet and realized that our current sheets were a good match. We have never used the top sheet so it was like brand new fabric. I added a turquoise strip along the sides for a pop of color.
I purchased a different printed fabric for the bunk end curtains, which I also sewed the same way as the side curtains. Check out how I sewed the camper curtains.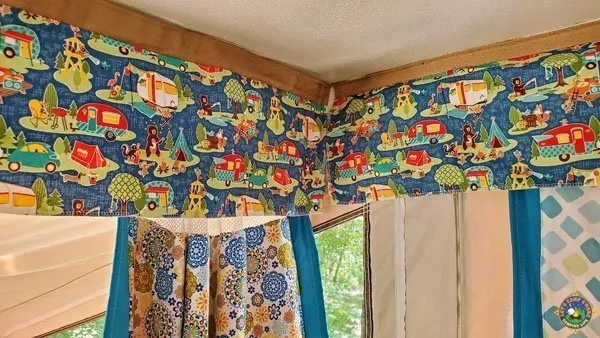 Matching Bedding
The next step was to find some bedding that matched the new curtains. I lucked out and found two quilts in the color palette on clearance for $5 each. They tie into the color scheme of our pop up trailer remodel perfectly and look like I stitched them. See how I made fitted sheets for our custom RV mattresses.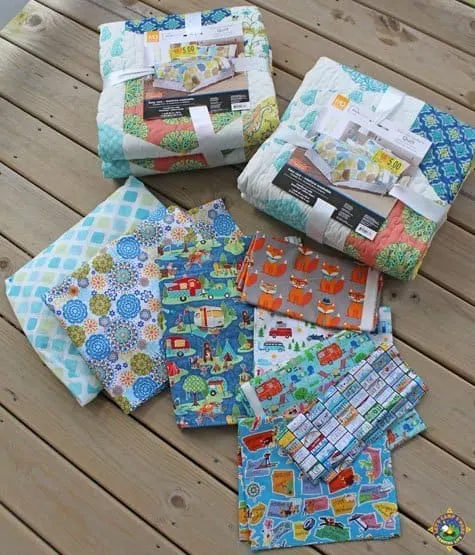 When I pulled the pillowcases and shams from our current bed set out of the closet, I remembered that the set came with a matching comforter. We now use it on the dinette bed where our daughter sleeps.
How to Make Custom Throw Pillows
I decided that the best way to tie everything all together and to cover up the remaining brown in our cushions was to make a bunch of throw pillows. A variety of camping fabrics were purchased at a local fabric store, including this cute s'mores fabric.
I gathered several throw pillows and
then sewed pillowcases and envelope coverslips for them. They turned out super cute!
I created two unique pillow covers using camping shirts. One was made with the popular camping PJ's from Walmart and the other was using this hilarious t-shirt. That was made with my daughter's shirt that she outgrew. Eric and I still wear ours and get many compliments on them.
While getting these photos ready to post, I realize that the bunk ends really need something more to brighten them up. I used the fabric scraps to sew up a fabric banner to go across above the pillows. Keep your bunk ends cool with these solar covers and these window shades.
Custom Quilt Keepsakes
The pop-up camper makeover was finished off the new design with beautiful handmade quilts by our late camping buddy, Robin. She made the most incredible one of the kind banners and mug rugs. I commissioned Robin to make a family banner and our blog logo. They are such keepsakes that bring up fond memories of her.
I added a splash of color to the floor with some inexpensive kitchen rugs. We did keep two of the brown rugs because they are such good quality. The 'our happy place' mat, which we got at Dollar Tree was put inside by the door.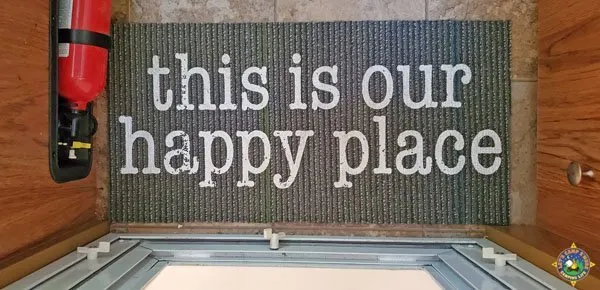 We are very pleased with the cute new look of our pop-up camper remodel. It all ties together so well. It is hard to pick out a favorite print, but I am partial to the foxes or states and Eric likes the license plates.