Create this easy DIY Roasting Forks Cover to protect your RV or camping gear during storage.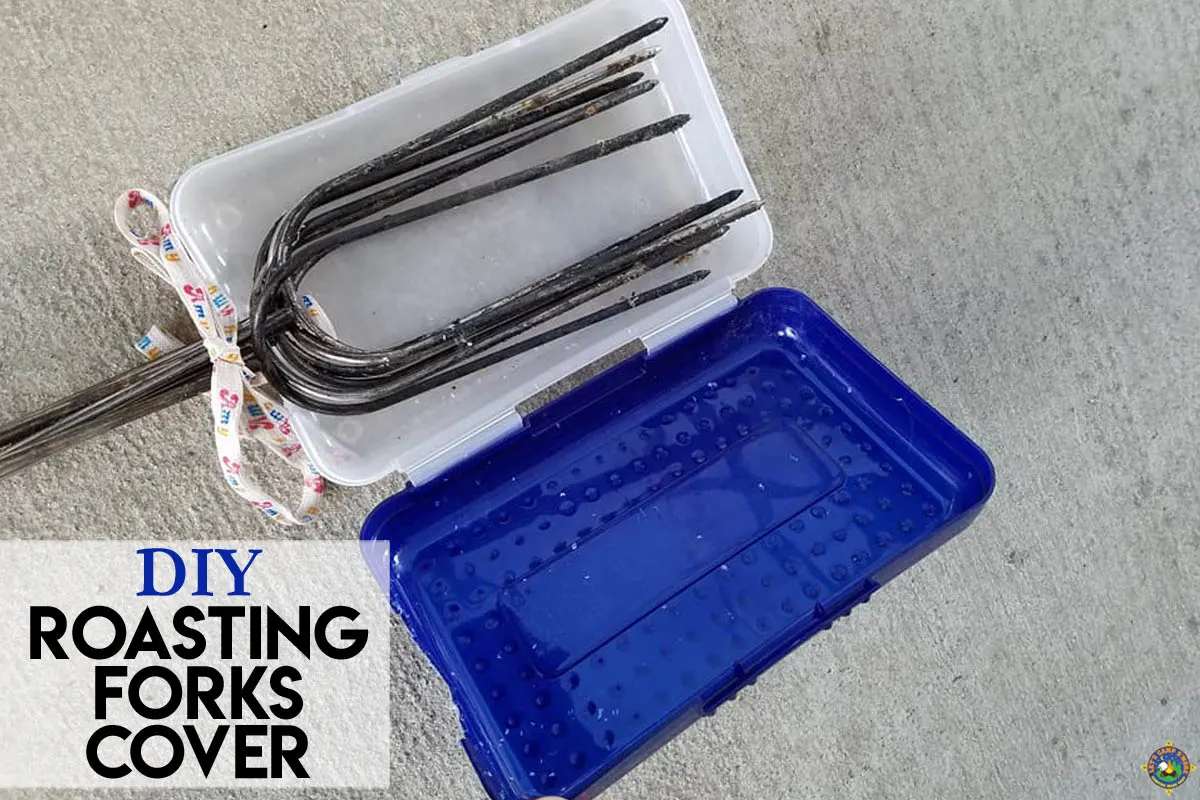 Have you ever come across a picture of a hack online and thought that is absolutely brilliant?
Well, we came across something this week on one of our Facebook camping boards that is a game-changer.
Amy Coleman posted her Marshmallow Roasting Forks Cover Hack that she created from a plastic pencil box.
This cover is genius because it protects the end of the roasting fork so that it doesn't damage your RV, camping gear, or even yourself when not in use.
We contacted Amy and asked her if we could feature her hack as part of the Let's Camp S'more Mod Squad. She agreed, so here is her project. Other mod squad hacks include a DIY Cooler Cover or Trailer Tongue Storage Bin.
You can find Amy on Instagram, Facebook, or Twitter.
DIY Roasting Forks Cover
This camping DIY project is super simple to make. You basically just need a plastic hinged pencil box. Another clever hack is this Fishing Pole Cover.
We ended up using a pocket knife, which is not pictured with the supplies below.
Amy used shoelaces with her name on them for her cover. So cute! We used basic black laces.

Make sure to check out these other great hacks: DIY Dutch Oven Liners, DIY Bike Rack, and DIY Fire Reflectors.
How to Make a Cover for your Roasting Forks
To make a roasting stick holder, you need to cut holes for the handles and shoelaces. We used both a drill and a knife. To get big enough holes we used a 7/8″ bladed drill bit.
Isn't this a great idea? It is a big improvement over the plastic shopping bag we wrap around the ends of our campfire marshmallow forks.
Thank you to Amy for sharing this clever Roasting Forks Case with everyone.
Do you have a unique camping hack or mod that you would like to have featured here a Let's Camp Smore? See our Mod Squad page and contact us so that you can be featured. Steve submitted this Awning Bag Hack.
Yield: 1 cover
DIY Roasting Forks Cover
Avoid a mess or injury when you make your own Roasting Fork Cover.
Additional Time
2 minutes
Materials
campfire roasting forks
a pencil box
a marker
a shoelace or ribbon
Tools
drill & drill bits
pocket knife
Instructions
Open up the pencil box and mark where your holes are going to be. Ours looks like a frowny face.
You will need to cut a larger hole on the side for the forks and small holes on the bottom of the box to wrap your shoelace through.
The lid of the box will snap closed to hold the forks in place.

We used a 7/8 drill bit to cut the holes in the side of the box. Amy cut her box with a different tool.
We used a 7/32 drill bit to cut the two holes in the bottom of the box to string the lace through.
When the drilling is done string your shoelace through the holes.
Open up the box and lay your marshmallow roasting forks inside. This pencil box case will hold 4-6 roasting sticks depending on the size.
Tie the shoe strings around the neck of the roasting forks to hold them in place. Closed the pencil box and your cover is in place.