Camp and fish at Shabbona State Park in Illinois.
Shabbona Lake State Park is a large recreational area located in North Central Illinois. It is a popular place to camp near Chicago. Many people are unsure of the spelling and think that it is Shabana State Park, but there are 2 Bs in Shabbona!
Camping at Shabbona State Park
The campground has 150 sites, many of which are shaded or partially shaded. Each site has electricity, a picnic table, and a very large fire ring.
The parking pads are gravel. Most sites are not level, so bring leveling blocks.
A lot of the sites have non-gravel areas for tents.
There are three distinct areas or what we call neighborhoods in this campground. Canvasback Cove and Merganser Circle are the reservable loops that are filled each weekend.
Teal Bay has all first come first serve sites, so it is possible to get a site without reservations. If the weather is nice, show up early!
There is one main bathhouse located where all three camping loops come together. Each side has three toilets stall and five shower stalls.
There are pit potties that are fairly well maintained located throughout the campground, along with trash bins.
Several sites in the loop part of Canvasback Cover have a lake view. The rest of the campground is located in wooded areas.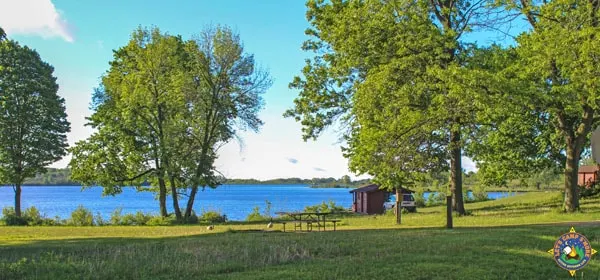 There are two cabins along the lake that can be rented. They each sleep 6.
We camp there during a few very heavy rainstorms. We were pleased to see that the campground has very good drainage.
Fish at Shabbona State Park
The man-made lake is very popular with people who like to fish. There is a boat launch with a large parking lot in the campground.
A camp store is located down by the lake that sells firewood, fishing gear, all sorts of camping essentials, snacks, and ice cream. They have boat rentals. There is a small restaurant located in the park.
There are easy hiking and walking trails in the park. People like to bike on the road too.
Shabbona State Park is located just south of Highway 30, approximately 5 miles east of I-39. It is a little bit closer to I-88 than I-80.
I guess you can say we like this Illinois State Park because we have camped here four times.

You can learn more about Shabbona State Park and make reservations here.
Check out these other Illinois Campgrounds