On our Circle Lake Michigan trip, we visited the Soo Locks in Sault Ste. Marie, Michigan.

The Soo Locks are the gateway from Lake Superior to the other Great Lakes. They handle the large freighter traffic in the area. Recreational boat traffic also goes through these world-famous locks, along with the smaller locks on the Canadian side.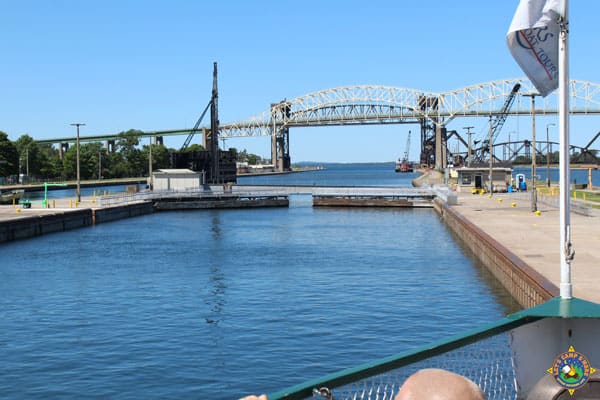 There is no charge for using the locks. The cost is covered with a diesel-gasoline tax from overland trucking.
Soo Locks by Land
The locks maintain a schedule of the traffic that will be moving through that day. You can call a phone number and listen to a recording telling you about the daily traffic ad better schedule your visit to make sure that a freighter will be locking through while you are there.
The locks have a two level viewing platform. Keep in mind, the locking process takes a fair amount of time so it is cool to see, but not fast-paced.

Since we stayed at the Aune-Osborn Campground along the edge of the St. Mary's River, we saw the freighters going by. We knew when they were coming upstream because a horn would sound at a nearby ferry crossing.

Soo Locks by Water
We highly recommend taking a cruise through the locks. You will go through both the American locks and the Canadian locks. Being on a boat as it locks through is a neat experience.
We went on a tour with Soo Lock Boat Tours. The knowledgeable guide narrates the history of the locks and all the major events that have happened to and around the locks.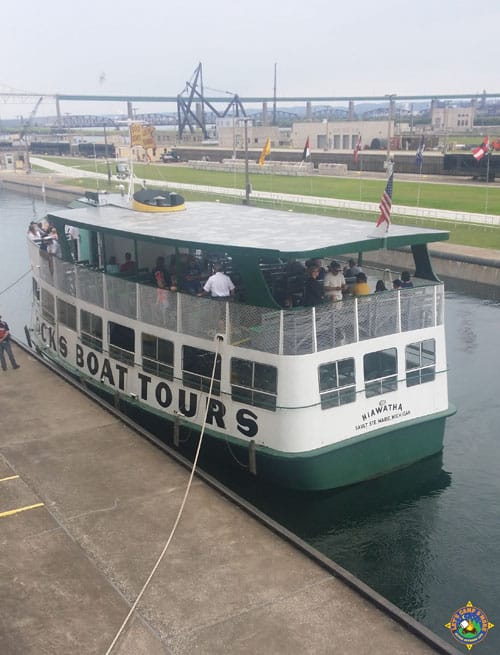 The Canadian locks are much smaller. In the past, they got damaged and when they repaired them, they made them smaller. Now they service mostly non-commercial, recreational- traffic.

The tour also talks about the major mining, refining and shipping of materials in the region.
Try to get to the tour early to find a seat on the top deck of the boat, because it has the best views.

By land or by water you cannot lose. Both these options offer a great perspective of the Soo Locks.
More Upper Peninsula Destinations