Explore one of the county's largest waterfalls east of the Mississippi at Tahquamenon Falls State Park. This amazing destination is a recommended stop in our Upper Peninsula Michigan Camping Itinerary.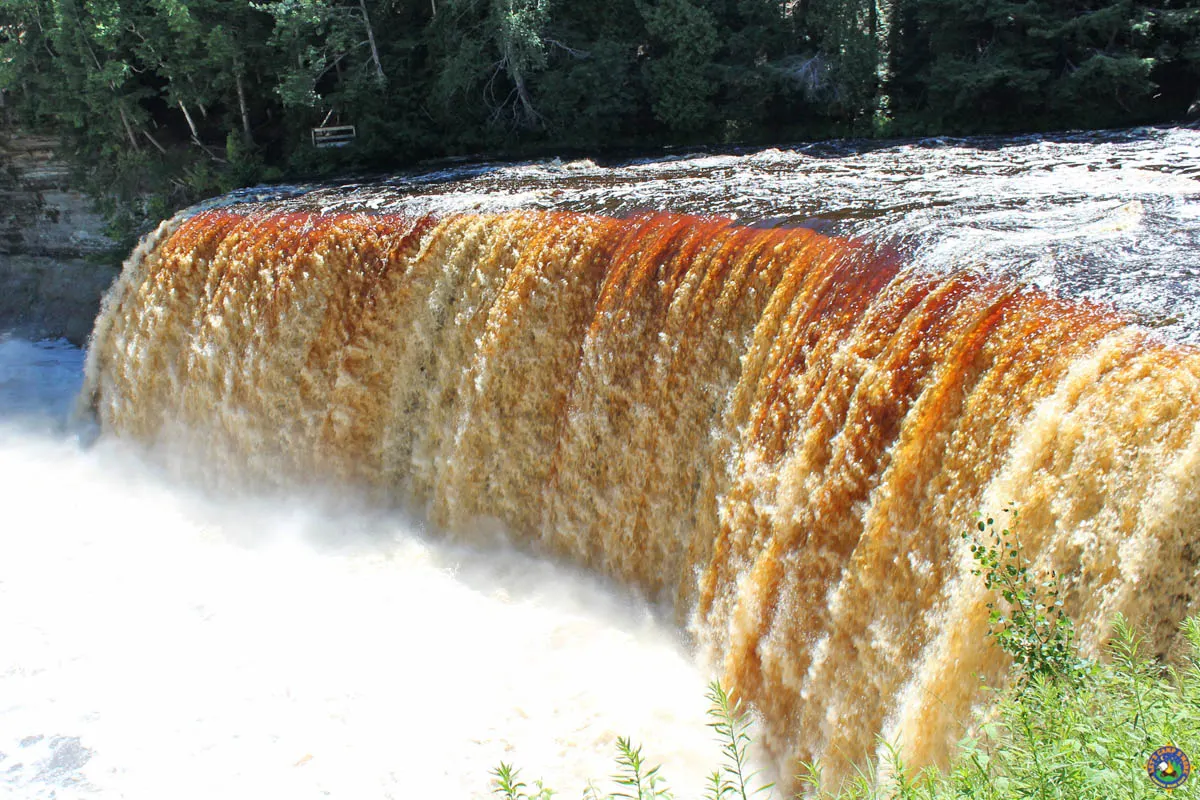 The fifth stop of our Circle Lake Michigan trip was Tahquamenon Falls. This beautiful state park is located a ways from Lake Michigan in the Upper Peninsula of Michigan, but it is worth the detour.

Tahquamenon Falls State Park is Michigan's second-largest park. This 46,179-acre park has two amazing sets of waterfalls and borders Lake Superior.
There are many activities to enjoy including camping, hiking, paddling, fishing, and many winter activities.

Tahquamenon Falls State Park Camping
There are four campgrounds in the park. We stayed on site 18 in the Portage campground, which is located near the Lower Falls.
Each site at this modern campground has an electrical hookup, a picnic table, and a fire ring.
Sites are fairly level, but many have big tree roots. Site 5, 7, 9, 11, and 13 are closest to the river.

The bathhouse is located in the middle of the campground. There are large bathrooms with several stalls, mirrors, outlets, and sinks.
The showers are individual rooms that open to a breezeway. This building is nice and clean.

Our visit to the area came after a weeklong rain. All this water had the falls flowing at near-record rates for late July.
They were quite powerful and impressive.
Paddle for an up-close view of the Lower Falls
The falls have a lower and upper section and both are fairly easy to walk to from the campground or dedicated parking lot nearby.
There are boat rentals where you can paddle across to an area that is only reachable from a 3-hour bus ride.
Part of the lower falls can be viewed from an observation platform that is reached from a wooden boardwalk.

Take part in a Ranger Walk
We visited upper falls as part of a ranger walk. The park ranger shared a lot of interesting details about the area, including what makes the river brown.

Fir trees are common in the area forests. These trees contain tannic acid. The tannic acid from the trees gets into the soil and then into the river.
This acid turns the water a muddy, rusty reddish-brown color. The Tahquamenon Falls are nearly always this color.
We highly recommend that you visit Tahquamenon Falls. It is such a beautiful place. While you are there make sure to visit the Great Lakes Shipwreck Museum.
Have you been to the UP? Start planning your Upper Peninsula Trip now!
We recommend that you stay at Aune-Osborn Campground in Sault Ste. Marie along with going to the Soo-Locks.
Get more information here.
Michigan Camping Itineraries