Use this Trailer Trash Bags printable to turn a container into a bag holder. It will help you keep the camper less cluttered and more organized.
When we camp, we use plastic store bags to collect our trash. These bags are aplenty and they are the right size for holding a day's worth of trash.
We throw them out each night as to not attract animals. We used to have these bags stuffed here and there and could not seem to find one when we really needed it.
I decided to get a container to hold bags. I realized a disinfecting wipes container was the perfect size for holding bags.
Instead of just writing on the used container, I created a cute Trailer Trash Bags label to wrap around the container.
I am providing them as a free download for you to use. I have also created Site Occupied Signs and a Kids' Activity Bundle.
Want to throw a camping-themed party? Check out these free camping party printables.
How to Create Your Trailer Trash Bags Container
To create the storage container for your trash bags, you will need the following items:
Empty disinfecting wipes container
Trailer Trash Bags printable
A printer
Scissors
Clear tape
Directions for Camping Trash Bag Holder
Remove the label from the wipes container.
Download the free label printable. See the link at bottom of this post.
Print out the Trailer Trash label. Please note that the free printable comes in two sizes. The larger will print on one legal-size paper. The smaller prints on two letter size papers.
Cut the printable to fit the container.
Tape one edge of the label in place to the back of the wipes container.
Wrap around the container and tape the other edge in place.
Fill with trash bags.
How cute is that? I created the labels in colors that match the four colors that disinfecting wipes come in.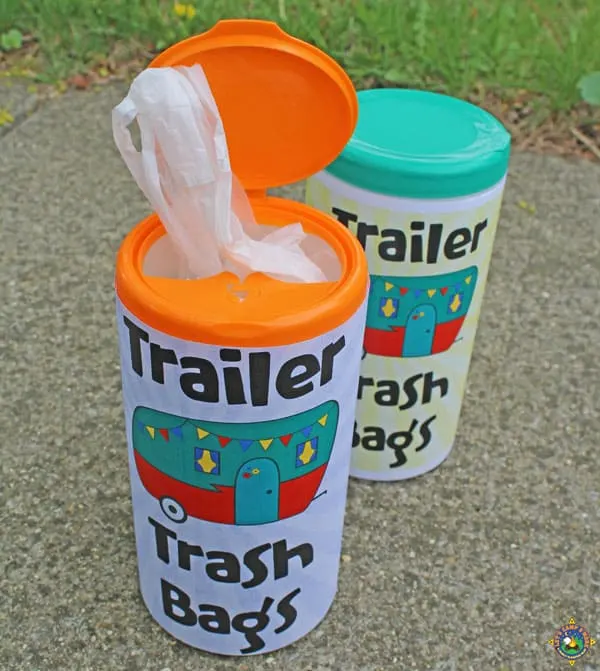 The printables come in two sizes and colors as shown here.
You can print the one large printable on legal paper or the smaller two-part on regular paper and tape it together to fit the container.
Enjoy! Please share your creation with us here on Pinterest.
Plan your next camping trip with a Meal Planner Template and Camping Packing List.