This camping fitness post is sponsored Silver&Fit.
We have had a very active camping season. We have traveled to Arkansas, Ohio, Tennessee, Michigan, and all over Illinois. We have been away 53 nights so far this year.
In Arkansas, we visited Crater of the Diamonds State Park, Brady Mountain Recreation Area, Petit Jean State Park, and Lake Charles State Park. Our favorite activity was hiking the canyons at Petit Jean. What a beautiful place!
Since that trip was in March, we encountered rain a few times. Those days we got exercise by taking an online exercise class from Silver&Fit outside under our RV awning.
Silver&Fit is a program that helps older adults stay active with daily exercise classes offered on Facebook Live and YouTube. They stream 9 live classes per day, 6 days per week. We like that the classes are uploaded, so we can take them anytime we want, especially while traveling. These fun classes are different levels, so there is something for everyone!
We kicked off summer with a trip to Ohio and Tennessee. We explored Cincinnati, Knoxville, and the Great Smoky Mountains. We kept up with our fitness by hiking and biking.

A highlight of this trip was riding bikes around the Cades Cove Loop. On Wednesdays during the summer, they close the road to vehicular traffic so that visitors can walk, run, or bike the 11-mile loop. Eric brought his bike along on that trip but I did not, so had to rent a bike at the Cades Cove Campground Store.
This was an amazing experience. This part of the Great Smoky Mountains National Park is one of the most visited. In addition to the biking, we drove the loop two other times and saw many bears.

Cades Cove is a lush valley surrounded by mountains. The big attraction is black bears. Visitors drive the one-way road in search of them. Traffic gets congested near sightings of bears and deer.
We did not see any bears on our bike ride but we saw a coyote, turkeys, and a barred owl. We also enjoyed seeing the numerous horses running through pastures towards the staples.

Hiking in the park is awesome. We took several trails. Our favorite was the Spruce Flats Falls trail. Do not let the name fool you; there are very few flat parts! This trail is not listed on the Great Smoky Mountains Trail Map, but it is popular nonetheless. It begins at the Tremont Institute.
In June, I discovered that I like going mountain biking. This realization happened by accident. We went camping at Comlara Park near Bloomington, Illinois because Eric was participating in a road bike fundraiser for the park. We also brought along his mountain bike and my regular mom-style bike. We rode out to the trails because we had heard they were great for beginners.
I enjoyed riding through the woods, so we decided to check out the trails at Kickapoo State Park. After a few different trips out there, we bought another mountain bike so we can ride together. This has dictated the rest of our summer.
Since biking has become our primary mode of exercise, our legs have gotten strong. We have found the need to stretch them frequently as to not get cramps. Once again, we have turned to Silver&Fit to help us with our fitness goals.

Our favorite classes are Flexibility & Balance and Mixed Format. We take intermediate or advanced classes. The instructors encourage you to work at your own pace. These classes help us stretch our legs and core and keep us flexible enough to hit the trails.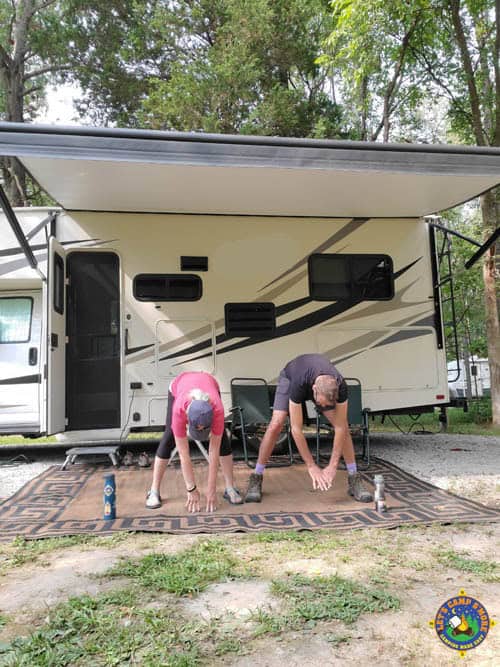 The highlight of our travels was our recent circle the mitten of Michigan camping vacation. Eric and I drove around the perimeter of the Lower Peninsula in our motorhome. We stayed in nine state parks and one municipal campground. We rode our bicycles over 100 miles throughout 10 different mountain bike trail systems. We were active and on the go, but still found time to stretch out with a few Silver&Fit classes.
It is difficult to pick out a favorite part of this incredible Michigan vacation. Both Lake Michigan and Lake Huron are so beautiful. We loved Holland, Petoskey, Ocqueoc Falls, and taking a tour boat to see Turnip Rock. I guess the favorite day was when we drove down M-23 and stopped for lunch at Seagull Point in Rogers City. The weather was perfect and we sat at a picnic table on the edge of crystal clear Lake Huron and were at peace. A few hours later, we visited the New Presque Isle Lighthouse. We could have stayed up at the top of that lighthouse for hours! The view was incredible.
That day reminded me of all the beautiful destinations that Silver&Fit International classes are streamed from. If you cannot exercise in a beautiful place, take a class from one. Get a printable Silver&Fit class schedule here.