You are invited to attend the 2020 Midwest Camping Rally in June at Kickapoo State Recreation Area in Illinois.
Do you love to camp and meet others with a passion for camping? Are you located in or near Illinois? Then you should plan to attend the camping rally that we are hosting.
Midwest Camping Rally June 5-7, 2020
Kickapoo State Park, Oakwood, Illinois
What is a camping rally?
If you have never been to a rally, you are in for a treat. A rally is a group campout that is organized by a camping club, organization, family, or friends. Ours will be a weekend filled with fun family-friendly outdoor activities. There are large and small group activities that you can opt-in or out of. The focal event of the weekend will be the potluck with a Dutch oven cooking contest on Saturday, June 6 at the Kickapoo Pavilion. You do not have to participate in the contest, but please bring a dish to share. There will be door prizes for each campsite.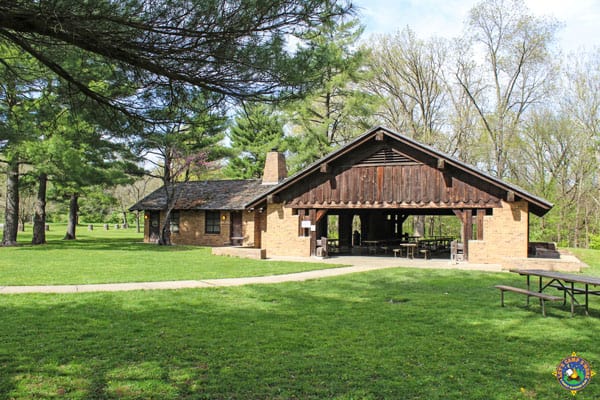 Here is the schedule of events, which will be updated as the event approaches. The most current information and discussion will be available on the Facebook event page.
Friday, June 5, 2020
5:30 PM Dinner (menu TBA) at Rally Site
8:00 PM Campfire at Rally Site
8:30 PM Night Sky Tour led by amateur astronomer Ken Plecki
Saturday, June 6, 2020
9:00 AM Hiking with Diana
9:00 AM Mountain Biking with Eric (bring your own bike)
11:00 AM Games
12:15 PM Camp Q&A (bring your lunch & a chair to the rally site and ask or answer camping questions)
2:00 PM Crafts
5:30 PM Dutch Oven Cook-Off (judging during potluck)
5:30 PM Potluck Dinner at the Pavilion (followed by door prizes)
6:30 PM Group photo
6:45 PM Cook-Off Awards & Door Prizes
8:00 PM Campfire
8:30 PM Best Decorated Campsite Winner Announced
Sunday, June 7, 2020
9:00 AM Campground Walk with Eric & Diana
We will have a group campfire on Thursday and Sunday night for people coming early or staying late.
Potluck Information
The potluck will take place at the Kickapoo Pavilion, which is located a bit away from the campground so we suggest driving. There is plenty of parking. The large pavilion is reserved for the entire day, so you are welcome to go set up early. There are numerous outlets for crockpots or Instant pots and a large grill available. It has restrooms. A large fireplace is available in case it is cold or rainy.
For the potluck, we ask that each family bring a dish to share. There will be a potluck thread discussion on the event page so that you can discuss what food to bring with others.
The Dutch Oven Cook-Off will have two prize categories; main/side and desserts. If you make a mean chili, have a great cobbler, or have another delicious recipe we encourage you to participate. It is going to be a fun low-key competition.
Friday Night Sky Tour
Avid camper and amateur astronomer Ken Plecki will be attending the rally and will lead a Friday Night Sky Tour. This will be a short presentation tour of the night sky including the moon, constellations, and planets using a laser. If conditions are good, we will be able to see satellites and meteors as well! We will meet at the rally site #60 and take a short walk in the dark to a viewing area. This activity is dependent on clear skies.
Who is this camping rally for?
This rally is for anyone who likes to camp! Whether you are in a tent, a pop-up camper, or even a motorhome you are welcome to attend. It is not just an RV rally. We encourage tent campers to attend too. As we always say, however you are camping you are doing it right! If you have some way to camp, please come join us.
When is this Illinois Camping Rally?
This camping event is in June of 2020, two weeks after an early Memorial Day weekend. We picked this weekend because the weather is usually good this early in the summer.
Where is the Midwest Camping Rally?
We picked Kickapoo State Park in East Central Illinois because it is a large recreation area with so much to do. It might not make the list of best campgrounds in Illinois, but we really like it. It is located right off Interstate 74 just west of Danville. In addition to the large campground, there are many deep fishing ponds and lakes, hiking and biking trails, playgrounds, a disc golf course, and numerous shelters for gatherings and day use. It is also home to the only National Scenic River in Illinois. There are rentals available so that you can paddle down the river in a kayak, canoe, or paddleboard. You can also go tubing. You can get rental information here. There is no entrance fee for this Illinois State Park.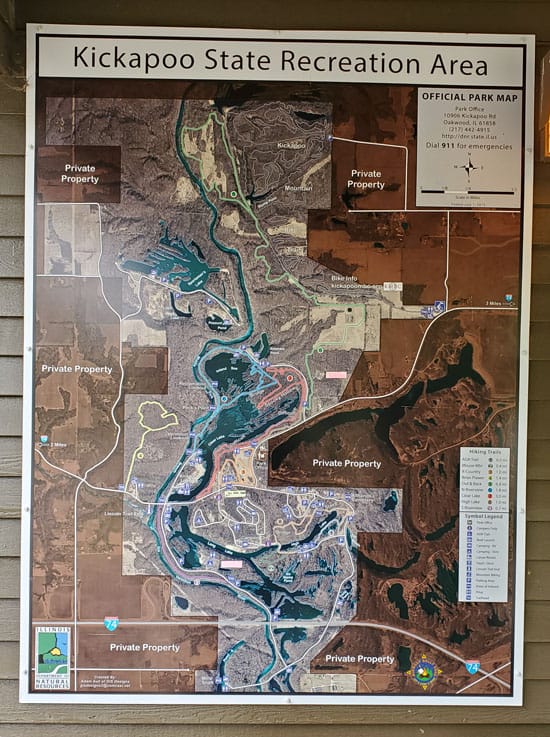 The campout will be in the Brian Plawer campground. This campground has 184 sites, half of which are non-electric tent sites and the rest are electric sites. There are a few 50 amp sites available throughout the campground.
The camping rally site is campsite 60 in the Miami loop. This site is located next to an open field, which will be great for games. We will be camping in site 58, arriving Thursday, June 4 and staying though Monday, June 8. Some attendees will arrive earlier and leave later.
How do I participate in this group campout?
You are required to book and pay for your own campsite to attend this camping event, but there is no cost to participate in the event itself. Campground reservations can be made through ReserveAmerica. Rates are $20/night with a $5 non-refundable reservation fee.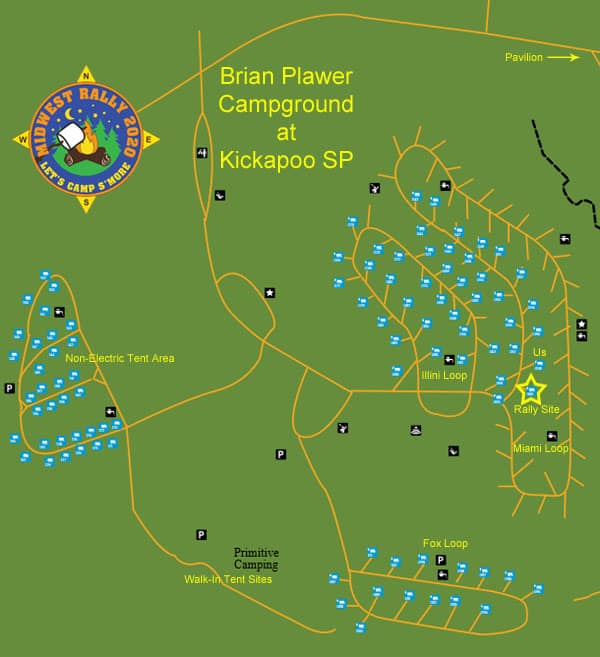 As you can see in the map above, the Midwest Camping Rally will be located in the Miami loop. That loop or the Illini loop are quite close. Feel free to book anywhere in the park. Half of the Miami loop is non-resolvable which does often fill up. The park itself usually has sites available especially tent sites, so it is not necessary to book way ahead of time but we cannot guarantee availability. We do suggest that you do make reservations at some point.
The sites at this campground are mostly level. Each site has a picnic table, a fire ring, and a lantern pole. RV sites have electricity only. Water faucets are available throughout the campground. There is a dump station. There are two bathhouses in the campground, each with two toilet and two shower stalls. Check out our full review of Kickapoo State Recreation Area.
The roads in the campground are good for walking, biking, scooters, and strollers. There is a large playground adjacent to the rally site. There is an old amphitheater located near the playground that is used to show a kid movie on Saturday nights.
Why should you attend this camping jamboree?
If you have gotten this far, you obviously like to camp. You should attend because it is a lot of fun to meet new camping enthusiasts. It is a great experience to meet others and discuss your camping travels. Someone might have an RV you have been interested in that you can ask questions about and see. Maybe another person has taken your dream trip and you can ask him or her for advice with planning your trip. You might hit it off with another family and plan to camp with them in the future. We have been attending RV rallies for years and have always had a great time, even when the weather was not great!
Other questions about the 2020 Midwest Camping Rally
Can I just come for the potluck? Yes! You can attend as little or as much of the event as you would like.
How many people are you expecting? As of February, there are 9 families booked. We will have attendees fill out an RSVP form in the spring so we can get a rough headcount.
I want to do the mountain biking, but I do not have a proper bicycle. Can I rent one? Yes. Get bike rental information here. Please leave other questions about biking as a comment below or at the FB event page.
Do I need to be close to the rally site? No. Camp wherever you want in the campground.
Can I bring my dog? Certainly. We just ask that you have positive control and keep it leashed.
What is the Camp Q&A? It is an opportunity to ask and answer questions about camping with other attendees. Please bring your questions or expertise to this casual discussion over Saturday lunch hour.
Will there be activities for teens? Yes! In April or May, we will have attendees RSVP and provide ages of kids attending so we can plan age-appropriate activities. This will include games and possibly a teen craft. Teens will enjoy the Friday Night Sky Tour. We suggest fishing, tubing, or padding, but families are on their own for these activities.
Can I help out with the event? YES! We would love to have your help. Opportunities include campfire caretaker, helping with kids crafts or games, or meal assistance for Friday or Saturday night.
Can my business sponsor this event? Yes, we are looking for activity sponsors and prizes. Please contact us to discuss these sponsorship opportunities.
Please let us know if you have any more questions. Hope to see you there!