Create campfire S'mores Nachos on your next camping trip. These dessert nachos can also be made on the grill or in the oven at home.
S'mores are the best! All that melted chocolate and gooey marshmallow combined with graham crackers are just the best camping dessert ever.
Why are S'mores called S'mores?
Have you ever wondered why s'mores are so popular? Obviously, it is the taste! All that chocolate goodness and marshmallow between two graham crackers.
It is the ultimate camping dessert sandwich. This recipe is not handheld, but you can eat it with your hands. It is the most popular post on this blog.
Who Invented S'mores?
Nobody knows exactly when s'mores were invented, but they first appeared in print in a Girl Scout publication in 1927. That credit goes to Loretta Scott Crew, who made 'some mores' by the campfire.
Somewhere along the way, it got shortened to s'mores. When you see the name of our blog, you know that we love that play on words!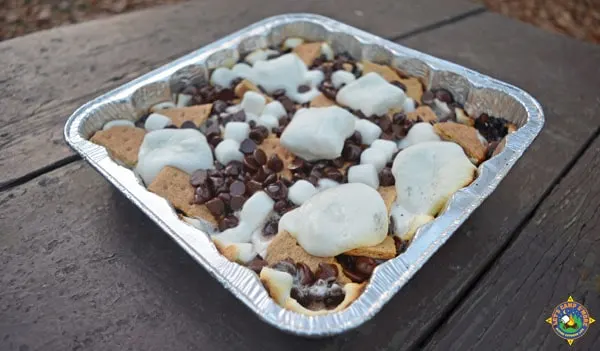 Grilled S'mores
We really love to eat, especially desserts. Who doesn't? We have created all sorts of camping sweets. There is our S'mores with Peeps, S'mores Dump Cake, and S'mores with Chocolate Frosting, but now we bring you grilled S'mores Nachos. You make these as part of a S'more Charcuterie Board.
For some reason, food just tastes better when it is cooked over the campfire. Why is that?
It is something that we have not been able to figure out. We just go with it and create new camping recipes, that we like to share with you.
Smores Nachos Camping Recipe
For this recipe, you need foil and a foil pan, along with your traditional s'more fixings.
These grilled s'mores are cooked over the campfire, on the grill, or in an oven at home.
If you are making these out at the campground and the fire pit does not come with a grate, use a portable one.
We make these s'mores nachos in an 8″x8″ foil pan. If you have a large family, you will want to make more in a larger pan. Everyone will want more, so maybe even two large pans.
Layer broken graham crackers, mini marshmallows, and semi-sweet chocolate chips in your pan. Top with a few regular-sized marshmallows.
We discovered that this recipe is just as good at home on the grill or in the oven.
Cooking Instructions for Smores Nachos
Grilling Instructions: We recommend that you make this recipe in a cast iron skillet when cooking on a grill. We do not top it with foil when we use this skillet.
We grilled these for about 7 minutes on our cast iron gas grill, but it could take longer depending on how hot your grill is. Keep a close eye on it to make sure it does not burn.
Oven Baking Instructions: Like with the grill, we recommend that you make this in a heavy skillet. Bake at 350 degrees for 10+ minutes.
You can get the marshmallows extra crispy by moving them to a rack high in the oven for a minute or two after it has baked. Keep a very close eye on the oven so that the marshmallows do not burn.
Camping Dessert Nachos
The fun thing about this campfire s'mores in foil pan recipe is that is very adaptable, not only in how it is prepared but also with the ingredients.
We love to have a Deluxe S'mores Nacho bar with a variety of toppings. All the different options are set out and we let everyone customize their own pan of nachos.
We love to use caramel bits, mint chips, bananas, peanut butter, strawberry jam, and sprinkles in addition to marshmallows, chocolate, and graham crackers. Just layer the ingredients you want.
Can you think of an ingredient that we left out?
Diana's very favorite way to enjoy these nachos is with pretzel chips, strawberry jam, and caramel bits. Strawberry and caramel are such an amazing combination that goes so well with the chocolate.
These amazing tastes are enhanced with the salt on the pretzels. Look at that gooey goodness!
Can you make Vegan S'more Nachos?
Yes! You can veganize this recipe with the proper ingredients. Start with vegan chocolate chips.
A majority of graham crackers have honey and confectioner's glaze. Confectioner's glaze is an additive that is made from beetles. Original, cinnamon, and low-fat cinnamon Kellogg's Grahams Crackers and original Nabisco Grahams are all vegan.
We really like vegan marshmallows. We think they have a better consistency after being roasted than traditional marshmallows.
By now you are sure to be salivating. We hope that you enjoy this great camping dessert as much as we do! This recipe is one of our most popular camping recipes.
Happy Campers will also enjoy these other chocolatey camping treats: Cherry Chocolate Lava Cake, Turtle Lava Cake, and Campfire Chocolate Chip Cookies.

Yield: 4 servings
Campfire S'mores Nachos
Grilled S'more Nachos are so easy to make over a campfire, on the grill, or even in the oven at home.
Additional Time
10 minutes
Ingredients
graham crackers
mini marshmallows
regular marshmallows
chocolate chips
Instructions
Break up graham crackers and spread them in the bottom of your foil pan.
The number of crackers you use will depend on the size of your pan.
We use two cinnamon graham crackers in our 8 by 8 in foil pan. We have made this with regular and cinnamon graham crackers, but we like the cinnamon better.
Sprinkle mini marshmallows on top of the graham crackers.
Scatter chocolate chip on top of the graham crackers.
Repeat with another layer of the three ingredients.
Place more chocolate chips on top along with a few regular size marshmallows.
Cover the pan with a piece of heavy duty foil, making sure to wrap it tightly around the edges of the pan.
Place the pan on the grate of a grill or over the campfire. Get grill and oven directions above in the post.
Like with regular s'mores, we find this grills best over coals as opposed to an open flame.
Cook until the marshmallows and chocolate melted.
You can lift a corner of the foil to make sure it's melted, or just use your nose to smell the chocolate.
Just make sure not to burn it.
Carefully remove the pan from the fire.
Take off the foil lid and enjoy.
Notes
Please let us know how your s'mores turn out by leaving a comment or photo here on Pinterest.
Recommended Products
As an Amazon Associate and member of other affiliate programs, I earn from qualifying purchases.
Nutrition Information:
Yield:
4
Serving Size:
1
Amount Per Serving:
Calories:

230